Why Alex and his bride HAD to have Zaca at their wedding!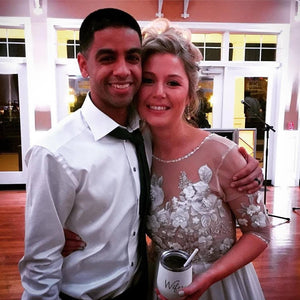 We Wanted Our Guests To Let Loose Without Worrying About The Next Day
"I stumbled on Zaca by accident and to be honest was skeptical at first, but I was so tired of getting hangovers that I decided to give it a shot. I was blown away with the results!
I was the person that had a glass of wine and would wake up with a hangover; not anymore thanks to Zaca! I spread the word to everyone I know about Zaca because I couldn't keep it to myself.
My wife and I were such big believers in the product that we put Zaca in every welcome bag at our wedding. We wanted our guests to let loose without worrying about the hangover that would come the next day. We had so many guests ask about Zaca the next morning because they were amazed that they didn't have a hangover. I am a lifelong customer of Zaca. Zaca is a part of my night out checklist. Wallet, phone, keys, zaca."

- Alex Pena
⭐⭐⭐⭐⭐
Zaca Chewable Customer
Check out out Recovery Kits for weddings, bachelorette and bachelor parties.