3 Ingredients To Help Avoid Annapurna Circuit Altitude Sickness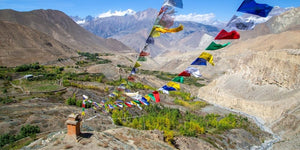 Table of Contents
You've arrived in Pokhara, having trekked for several days through the Himalayas. The Annapurna Circuit is one of the most popular treks in the world, and a bucket list item for many backpackers, world travelers and adventurers. 
But altitude sickness can strike even those who have spent weeks getting in shape. Here are 3 ingredients to avoid altitude sickness while hiking the Annapurna Circuit.


Annapurna Circuit Altitude Sickness
The Annapurna circuit is one of the most popular treks in Nepal. It is a challenging yet rewarding trek that takes you through diverse and dramatic landscapes, beautiful villages and some of the highest mountain passes in the world.
The trail circumnavigates the Annapurna Massif, crossing the Thorong La Pass at 5416 meters (17769 feet), which is one of the highest trekking passes in the world. For this reason, altitude sickness is something you need to be prepared for. Altitude sickness prevention is better and easier than struggling to fight it off after you already have it.


How Do You Get Altitude Sickness
Climbing mountains can be a good opportunity to see the world's unique and beauty. However, climbing also has a risk of danger. One of them is altitude sickness.
Altitude sickness is a condition where blood flow to the brain decreases due to lack of oxygen at high elevations. Altitude sickness, also known as acute mountain sickness (AMS) can occur when you ascend too quickly to heights above 2438 meters or 8000 feet. 
Altitude sickness condition will cause symptoms such as:
dizziness

shortness of breath

fatigue

sleeping problems

vomiting
Altitude sickness can cause considerable discomfort, but it is not typically life-threatening. However several potentially fatal diseases have similar symptoms initially. High altitude cerebral edema (HACE), for example is often misdiagnosed as altitude sickness and the condition may progress, where you need medical attention immediately.


3 Ingredients To Avoid Annapurna Circuit Altitude Sickness
If you're not used to being at such altitudes, then you may be wondering how reverse altitude sickness or how to avoid altitude sickness on the Annapurna Circuit.
If you wonder how to prevent altitude sickness, here are three ingredients with scientific altitude research to cook up the perfect recipe for avoiding Annapurna Circuit altitude sickness:


1. Glutathione helps altitude sickness
Research has shown that your body loses glutathione in high altitudes at a fast rate, up to 45%.¹
Glutathione has shown to be very effective at helping altitude sickness.
It is
 an antioxidant that helps to detoxify your body and fight free radical damage.


When you're at high altitudes, your body can get tired, which reduces its ability to detoxify itself and fight oxidative damage. This is why it's important to take glutathione in
altitude sickness pills
 (or tablets) before you start hiking the Annapurna Circuit and during your trek.
2. Dihydromyricetin (DHM) helps altitude sickness
Dihydromyricetin (DHM) is another herbal remedy used widely in Asian countries like China, India, Korea, and Japan.


You see, DHM is an herbal extract that comes from the Japanese raisin tree.
It's been widely used in Chinese culture to treat ailments such as nausea and fever.
One study showed DHMs ability to improve physical performance by preventing hypoxia induced
injury to your cellular mitochondria.² Therefore helping to increase your exercise tolerance at high altitudes and potentially lessen other altitude illnesses.²
3. Glutamine helps altitude sickness
Another ingredient that can help you prevent Annapurna Circuit altitude sickness.


A Brazilian study
 showed 
that inflammation can worsen mood and cognition for people with hypoxia (low oxygen), and supplementation with glutamine may help reduce these effects.⁴
Glutamine is an amino acid which is found in all cells of the body and plays an important role in protecting against damage, as well as helping the immune system fight off infections and assisting cellular hydration.


The combination of these three ingredients -- glutathione, dihydromyricetin (DHM), and glutamine -- can be powerful to fight off the negative effects of altitude.


Our Best Weapon For Altitude

Our chewable hydration tablets contain all three of these altitude ingredients -- glutathione, dihydromyricetin (DHM), and glutamine. Originally these gained popularity in our home state of Colorado for all the altitude usages for visitors, travelers and skiers. Try our chewable hydration tablets today and be best prepared for your Annapurna Circuit trek!









SOURCES:
1. Effect of high altitude (7,620 m) exposure on glutathione
https://pubmed.ncbi.nlm.nih.gov/11320641/
2. Dihydromyricetin Improves Physical Performance under Simulated High Altitude
https://journals.lww.com/acsm-msse/fulltext/2014/11000/Dihydromyricetin_Improves_Physical_Performance.6.aspx
3. Continuous and intermittent exposure to the hypoxia of altitude: implications for glutamine metabolism and exercise performance
https://bjsm.bmj.com/content/34/3/210 
4. The Possible Importance of Glutamine Supplementation to Mood and Cognition in Hypoxia from High Altitude
https://www.ncbi.nlm.nih.gov/pmc/articles/PMC7760805/