6 Reasons Zaca Are The Best Cycling Hydration Tablets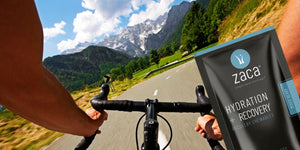 If you're a cyclist, you've probably heard that hydration is essential for cycling success. We'll reveal below 6 reasons why we believe Zaca has the best cycling hydration tablets.


Cycling Hydration Tablets
Cycling hydration tablets are a must for long rides, especially on those where you haven't been able to take in that much on the bike. When you are pushing yourself really hard, you want the best cycling hydration tablets on the market with proven results. 
Hydration is key for health and performance, but drinking water alone isn't going to keep you optimally hydrated. And consuming a lot of water frequently throughout the course of your journey can be difficult, sometimes tough on your stomach.
Let us introduce you to Zaca hydration tablets. Not only the best cycling hydration tablets to keep you hydrated that are natural, other benefits can include reducing cramps as well as helping to keep your energy levels up when riding for long periods of time. 
We'll review below why Zaca are the best cycling hydration tablets with six reasons.


6 Reasons Zaca Are The Best Cycling Hydration Tablets
Cycling is an excellent form of exercise, whether you're commuting to work, enjoying a leisurely ride on the weekend, or in a cycling competition. However, engaging in any strenuous activity for more than an hour can leave you dehydrated.
This is especially true when you're cycling. You might not notice the effect of dehydration until it's too late: heat exhaustion, fatigue and lack of concentration.
Zaca was designed to help you stay hydrated and enhance your performance whether you're a professional athlete or just doing what you love.
Each Zaca chewable tablet contains a proprietary blend of antioxidants, herbs, and amino acids that help keep you hydrated and feeling great.
With the taste of a natural berry and more than three times the ingredients than your average sports drink, Zaca is great for athletes and anyone else who needs to replenish.


Let's dive into the 6 Reasons Why Zaca Are The Best Cycling Hydration Tablets:


1. Natural without BS ingredients.
Zaca hydration tablets are made
with premium ingredients and under strict quality standards.


Natural based ingredients free of artificial sweeteners and colorings, and formulated with natural fruit extracts for a refreshing berry flavor.


These tablets have been carefully formulated with gmo free and gluten free herbs
antioxidants, herbs, and amino acids --
 including glutamine and glutathione to help replenish and boost your body during heavy activity.


2. Performance enhancing science.
Made with glutamine, best known in athletic circles, has a myriad of benefits to a cyclist backed by vast amounts of research.
Research shows the enhancement of water absorption and electrolytes from glutamine to improve hydration.¹


Studies by the College of New Jersey

 

showed significant ergogenic benefits from glutamine.²

 

It helped increase time to exhaustion, which could be a big edge for cycling.

²


Glutamine studied that it could help to minimize muscle damage and oxidative stress.³


Especially for athletes who engage in endurance sports like cyclists, 

glutamine supplementation is quoted to be a 

fatigue reducing.

³
For more research and studies done on the glutamine, you can visit the blog where we've written in depth about the science behind them Zaca's
chewable hydration tablets
.
3. C

onvenient, portable pouches to take anywhere.

Zaca comes in a convenient, portable pouch that you can take anywhere.
Without the headaches of mixing with water, you can simply pop these tiny chewables while cycling to help optimize your hydration.


Two hydration chewables come in every packet, tear open and eat whenever you need them.


4. Sugar free hydration.
If you're looking for a healthier option, Zaca is sweetened naturally without sugar using xylitol and stevia, so no risk of the jitters or stomach upset.


For long exhaustive and prolonged exercise like cycling, sugar can cause a spike and crash and energy levels. Complex carbohydrates consumed before can be better than sugar for a slower release of energy.


Whether on a diet like
keto
or wanting to avoid sugar for performance reasons, zaca is a top choice for sugar free hydration.
5. 3x stronger formula.
In just two chewable tablets, Zaca is packed with 1100mg of ingredients.
Many hydration products give you either less nutrition, or more basic vitamins that are consumed in the average healthy diet.


Featuring amino acids, antioxidants and herbs that can't be acquired by an average diet.


Formulated with glutamine to help hydration with increased absorption of water and electrolytes, and glutathione for maximal antioxidant protection for oxidative stress.


Zaca hydration tablets give you more bang for your buck than traditional sports drinks.


6.  Faster absorption.
Zaca hydration chewables can be eaten at any time needed, and with rapid absorption, customers report feeling results in as fast as 20 minutes.


No more mixing powders, popping pills or dissolving tablets.


For cyclists looking for a fast, easy way to keep hydrated before, during, and after a race, zaca is the perfect solution.


While you may have come across a few products out there, we've found most of them to be underpowered or incomplete hydration for cycling compared to Zaca.
Cyclists and triathletes need the best cycling hydration tablets for protecting your body from dehydration and staying focused on the road or race venue. 


Power Your Cycling With Zaca

Zaca cycling hydration tablets tablets wins hands-down for their ability to provide effective rehydration quickly, conveniently, healthier -- and science-backed with a performance enhancing powerful formula you won't find anywhere else.
Try Zaca's cycling hydration tablets today!







SOURCES
1. Effects of an alanyl-glutamine-based oral rehydration and nutrition therapy solution on electrolyte and water absorption in a rat model of secretory diarrhea induced by cholera toxin
https://pubmed.ncbi.nlm.nih.gov/12044816/
2. Examination of the efficacy of acute l-alanyl-l-glutamine ingestion during hydration stress in endurance exercise
https://www.ncbi.nlm.nih.gov/pmc/articles/PMC2851582/
3. Glutamine as an Anti-Fatigue Amino Acid in Sports Nutrition
https://www.ncbi.nlm.nih.gov/pmc/articles/PMC6520936/