Flyby Pills vs Zaca Chewables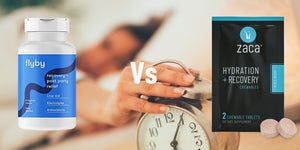 If you're looking to buy Flyby Pills or learn more about them, this is a must-read review. As a complete guide on Flyby Pills, we answer all of your questions and also compare them to our Zaca Chewables.


Flyby Pills
Flyby Pills, which also known as Flyby Recovery Pills and Flyby Hangover Pills, are a dietary supplement that aims to help you recover faster from drinking. 
The Flyby company, although its unknown where they're based out of, makes some other products on top of the Fly Pills including Flyby electrolyte gummies, Flyby electrolyte tablets and capsules, Flyby electrolyte liquid, Flyby beef liver capsules, Flyby collagen peptides, and Flyby massage guns. Quite a unique lineup of products that seem to fall into wellness category.


Do Flyby Pills Work?
In our review of Flyby Pills, it appears that they do work.
What what extent they work, we don't know, but Flyby Recovery Pills has a 4.1 star rating on Amazon.
We'll dive in more of how Flyby works below.


How Do Flyby Pills Work?
Flyby recovery pills are a dietary supplement that claims to help support recovery after drinking alcohol.
The pills contain a combination of ingredients such as milk thistle, DHM, electrolytes, vitamin C, and magnesium, among others.
Flyby Recovery Pills work based on 3 different factors:
1. Replenishes Vital Nutrients
With so many vitamins and minerals that are lost due to drinking, Flyby can help replenish them.


2. Supports The Liver
This helps the body support a healthy liver, which plays a key role in detoxification.


3. Helps Post-Drinking Drag
Boost the body's ability to recover.


These key factors are what makes Flyby help your body recover from drinking.


When Should I Take Flyby Pills?
The directions to take Flyby Pills say to take 3 capsules before drinking with food and water, and 3 more capsules before bedtime.


Flyby Pills Ingredients
Flyby pills are made with a blend of ingredients that include main ingredients such as — DHM, L-Cysteine, Taurine, and Milk Thistle. Along with a blend of supporting minerals (electrolytes) and vitamins including B1, B6, and B12.
Flyby Proprietary Formula:
Chlorophyll
Milk Thistle (Silymarin)
Dihydromyricetin (DHM) (Ampelopsis Grossedentata)
L-Cysteine HCL
Prickly Pear Powder 4:1
Panax Ginseng (80% Ginsenonsides)
Lotus Leaf Extract (Nelumbo Nucifera) 10:1
L-Theanine
L-Leucine

Alpha Lipoic Acid

Taurine
Chivory Root
Spirulina
Flyby Vitamins and Minerals:
Vitamin C (Ascorbic Acid)
Vitamin B1 (as Thiamine HCl)
Vitamin B2 (as Riboflavin)
Pantothenic Acid (B5 as d-Calcium Pantothenate)
Vitamin B6 (as Pyriodoxine HCl)
Folic Acid (B9)
Vitamin B12 (as Methylcobalamin)
Chloride (Potassium Chloride)
Potassium (Potassium Chloride)
Dosum (Sodium Chloride)
Zinc (as Zinc Gluconate)
Magnesium (as Magnesium Oxide)
Other Ingredients:
Hydroxypropyl Methylcellulose
Microcrystalline Cellulose
Magnesium Stearate
Silicon Dioxide


FlyPills Review
In our review of Flyby Recovery Pills, we did find a few downsides to the product. The formula includes synthetic vitamins, an isolated version of DHM, and questionable added ingredients.
3 Downsides of Flyby Pills:
1. Synthetic Vitamins
Most of Flyby's vitamins, including vitamin C and B vitamins, are synthetic. This means they are a chemical version of the natural vitamin the body is meant to use.³ ⁴ ⁵


For example, synthetic Vitamin B6 called Pyridoxine in Flyby is made from petroleum ester, hydrochloric acid, and formaldehyde — and can inhibit natural B6 within the function of the body.³ ⁵


2. Isolated DHM
Flyby is formulated with an isolated form of DHM (dihydromyricetin) that's extracted from Vine Tea (ampelopsis grossedentata). DHM-concentrated raw materials are known to only be available from China.


The concentrated DHM has concerns about safety due to its intrinsic characteristics called chiral-chemical structure (chirality).⁶ An example of another chiral molecule that most people know is the artificial sweetener aspartame.


3. Questionable Added Ingredients
Flyby Recovery uses added ingredients to make the pills that could bring concern — including hydroxypropyl methylcellulose, and microcrystalline cellulose. Please note, these added ingredients are usually in small amounts, like with Zaca, causing less of an issue.


Hydroxypropyl methylcellulose (HPMC) is a semi-synthetic form of natural cellulose polymer.⁸ ⁹ Microcrystalline cellulose is not absorbable and could cause laxative effect or dehydration problems.⁷ ⁹


Overall in our review of Flyby Pills, these are the 3 downsides we found — synthetic vitamins, isolated DHM, and questionable added ingredients.


Comparison Chart: Zaca vs FlyBy
In our Flyby review and comparison — we believe Zaca comes out ahead as the more pure, least synthetic and faster solution.
In the comparison, these are the factors that Zaca beat Flyby — including not using an isolated DHM, no synthetic vitamins, performance enhancing, multi-purpose formula, fast acting chewables, quick to take, Japanese raisin formulated, higher quantity of bioavailable ingredients, made in on-the-go packets, and no water required.
| | | |
| --- | --- | --- |
|   | Zaca | Flyby |
| Amazon Review Star Rating | 4.4 | 4.1 |
| DHM Formulated | ✔️ | ✔️ |
| Liver Support | ✔️ | ✔️ |
| Party Aid Support | ✔️ | ✔️ |
| Herbal | ✔️ | ✔️ |
| High In Antioxidants | ✔️ | ✔️ |
| GMO Free | ✔️ | ✔️ |
| Amino Acid Fortified | ✔️ | ✔️ |
| Gluten Free | ✔️ | ✔️ |
| Vegan Friendly | ✔️ | ✔️ |
| Not Isolated DHM | ✔️ |   |
| No Synthetic Vitamins | ✔️ |   |
| Performance Enhancing | ✔️ |   |
| Multi-Purpose Formula | ✔️ |   |
| Fast-Acting | ✔️ |   |
| Quick To Take | ✔️ |   |
| Japanese Raisin | ✔️ |   |
| Only Bioavailable Ingredients | ✔️ |   |
| On-the-go Packets | ✔️ |   |
| No Water Required | ✔️ |   |
In conclusion, we believe Zaca has a slightly more pure, cleaner formula using no synthetic vitamins, using full-spectrum Japanese Raisin instead of isolated DHM, and having the fastest delivery in chewables.


5 Advantages Of Zaca Chewables
Zaca chewables are made to help you rehydrate, replenish, and recover.
Taking a different approach than other products, Zaca uses less ingredients but with much higher strength. With Japanese Raisin, Glutathione, Glutamine, and Prickly Pear — this formula is not only strong for liver support but helps you bounce back faster.
Here's the 5 advantages of using Zaca Chewables:
1. Fast-Acting Chewables
No more hassle of mixing powders or taking pills. Zaca chewables are fast-acting with a combination of pure, potent nutrients to get maximum absorption and quick results.


These chewables have a pleasant berry taste that customer love and are suitable and easy to take for people of a wide range in ages.


2. No Synthetic Vitamins
If you're looking for a supplement that uses whole food sources instead of synthetic vitamins, Zaca is the right choice for you. These chewables contain no harmful chemicals, so they're gentle on your body.


Synthetic vitamins are known at the very least to be less bioavailable. By using natural, gmo-free, high-quality herbs — Zaca provides greater absorbability of nutrients.


3. Formulated With Japanese Raisin
Zaca harvests the full Japanese Raisin plant, also called
Hovenia Dulcis extract
, to maximize the functional benefits. By uses the fruit, seeds, and peduncle — you maximize results while also containing the DHM flavonoid.
Most products use a concentrated form of DHM typically derived from Vine Tea. While there's studies on DHM, it doesn't have the historical use like in Traditional Chinese Medicine and is missing other key components in Japanese Raisin.


4. Multi-Purpose Benefits
Zaca is for much more than just hydration and liver support. The combination of herbs, amino acids, and nutrients help the body rehydrate, replenish and recover fast.


Whether traveling, flying, hiking, running, climbing, drinking, or doing other strenuous activities — Zaca gives your body the fuel to feel and perform your best. Unlike most products in this space, you can get many multi-purpose benefits from Zaca.


5. Take On-The-Go
The Zaca Chewables are a great way to take your vitamins in on-the-go packets. Packed with all the essential nutrients you need, they're easy to transport and convenient to take.


Easily pop packets in your purse, backpack, or luggage and you'll always have them handy when you need them most. Simply open and eat 2-4 chewables, and without water required these are perfect for airplane travel too.


These conclude the five advantages of Zaca that give you an edge over other options — which includes being fast-acting chewables, using no synthetic vitamins, formulated with the Japanese Raisin plant, many multi-purpose benefits, and made in on-the-go packets.


Top-Rated Zaca Chewable Supplement

Made with natural ingredients and no synthetic vitamins, these chewables help you rehydrate, replenish, and recover. Zaca is formulated with liver supporting herbs including Japanese Raisin, along with performance and hydration enhancing amino acids to give you maximum results. Whether drinking, traveling, or exercising — you can pop 2-4 chewables when you need it most. Try Zaca chewables today and bounce back faster.
SOURCES:
1. Flyby Pills, Flyby Recovery Pills, Flyby Hangover Pills
https://www.flyby.co/products/recovery-capsules
2. Flyby Recovery Pills - Electrolyte Capsules w/ Dihydromyricetin (DHM), Milk Thistle, Vitamin B12 - Hydration & Headache Support Pills - Dehydration Relief Supplement - 90 Count
https://www.amazon.com/Flyby-Prevention-Dihydromyricetin-Chlorophyll-N-Acetyl-Cysteine/dp/B078GTWR5J/
3. Avoid This List Of Synthetic Vitamins To Protect Your Gut
https://thehealthyrd.com/avoid-this-list-of-synthetic-vitamins-to-protect-your-gut/
4. Synthetic Vitamins
https://ntischool.com/synthetic-vitamins/
5. Natural vs. Synthetic Vitamins – What's the Big Difference?
https://sunwarrior.com/blogs/health-hub/natural-vs-synthetic-vitamins
6. What Is Chirality And Why Does It Matter For Skincare?
https://learn.artofskincare.com/what-is-chirality/
7. Microcrystalline cellulose sources, health risks
https://www.naturalpedia.com/microcrystalline-cellulose-sources-health-risks.html
8. Hydroxypropyl methylcellulose sources, health risks
https://www.naturalpedia.com/hydroxypropyl-methylcellulose-sources-health-risks.html
9. Cellulose & Methylcellulose: Can They Be Ruining Your Health? Part 1—Ingredients
https://stillnessinthestorm.com/2018/09/cellulose-methylcellulose-can-they-be-ruining-your-health-part-1-ingredients/