GU Hydration Tablets vs Zaca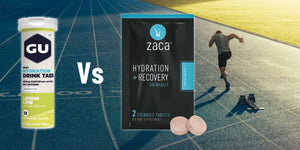 As a supplement company founded over a decade ago, we fully review GU Hydration Tablets to share everything you need to know and then compare them to our Zaca Hydration Chewables.


GU Hydration Tablets
GU Hydration Tablets are a fast and portable way to replenish electrolytes during your workout and help hydration. As an effervescent tablet, you simply drop them into water and drink after dissolving.
These GU Hydration Tablets contain electrolytes, mainly sodium and potassium in each serving. This combination of minerals makes them an ideal choice for runners, cyclists, and overall athletes who need additional replenishment during their activity or for prolonged periods of exercise.
GU Energy Labs — the maker of GU Hydration Tablets — offers a variety of products in addition, including GU Roctane Energy Drink Mix, GU Liquid Energy, GU Energy Chews, GU Energy Gels, GU Stroopwafels, and ROCTANE Electrolyte Capsules.


Flavors Of GU Hydration Tablets
GU Hydration Tablets come in four different berry and citrus flavors.
GU Hydration Tablets flavors:
Orange
Strawberry Lemonade
Tri-Berry
Lemon Lime
Are There Electrolytes In GU?
Yes, there are electrolytes in GU.
GU Hydration Tablets consists of two electrolyte minerals, sodium and potassium. In total, there's 320 milligrams of sodium and 55 milligrams of potassium.
When Should I Take Hydration Tablets?
Hydration Tablets are the ideal way to replenish your body before, during or after exercise.
There's numerous activities and situations to take hydration tablets, these include:
You're exercising vigorously
You're in hot or humid weather and sweating heavily
You're traveling somewhere or on a flight
You've been sick with vomiting or diarrhea
You're in an athletic competition
You're vacationing or climbing in high altitudes
You're skiing, hiking, running, cycling, working out, etc.
These are the many activities when you should take hydration tablets.


Should You Take Hydration Tablets Before Or After Drinking?
Hydration tablets could be taken before or after drinking, but it depends what kind you're taking.
For GU Hydration Tablets, you could take them before, while, or after drinking to help replenish your sodium and potassium levels.
For Zaca Hydration Chewable Tablets, you can take them after drinking at bedtime to help replenish and recover while you sleep.


While GU Tabs contain the top two electrolytes, sodium and potassium, it's missing some of the other key ones. 
Adding electrolyte minerals like magnesium, phosphorus, and chloride — would make a more complete electrolyte replenishment.
In conclusion of this review of GU Hydration Tablets, we think it's a good product but with a few downsides — including added sugar, inflammatory safflower oil, synthetic vitamins, and limited electrolytes.


6 Advantages Of Using Zaca Hydration 
We believe Zaca is a more robust and powerful hydration alternative to GU tablets.
These fast-acting chewables help you rehydrate, replenish and recover — using strong and natural ingredients. 
Here's 6 Advantages Of Using Zaca:


1. Zero Sugar
Zaca contains no sugar or artificial sweeteners. It's naturally sweetened with stevia and xylitol. So you can enjoy our chewables guilt-free without any of the health risks associated with sugar, and with all the hydration and recovery benefits.
2. No Synthetic Vitamins 
Zaca is one of the few nutritional supplement companies that don't use synthetic vitamins in their products. Instead, we use natural ingredients like whole food extracts of Prickly Pear that naturally contains vitamin C, potassium, and magnesium to provide your body with real nutrition.
3. Powerful Antioxidants 
Zaca is a great source of powerful antioxidants — including glutathione, the body's master antioxidant. Antioxidants are essential for keeping your body healthy and fighting off oxidative stress that comes from exercise, workouts, high altitudes, and traveling.
4. Non-GMO Ingredients

You can be confident that our products are non-GMO, and verified by an independent third party organization that our products do not contain GMOs (genetically modified organisms). We proudly use only non-GMO ingredients to achieve the healthiest chewables possible.
5. Performance-Enhancing Amino Acids 
Zaca contains performance-enhancing amino acids that are crucial for muscle growth, repair, and recovery. Glutamine, the most important, also helps increase water absorption in the body.
6. Fast-Acting
Zaca is a fast-acting formula that come in a chewable, that gives you the most convenience and quick-use. No messing around with powders or tablet to mix with water, you can take these chewables on-the-go in portable packets.
Gain an edge with Zaca due to these six advantages — the combination of being sugar free, no synthetic vitamins, powerful antioxidants, non-GMO ingredients, performance enhancing amino acids, and fast-acting chewable delivery.



GU Hydration Vs Zaca Hydration Comparison
Putting GU Hydration to the test up against Zaca, we compare the two so you know the differences.
From doing our GU hydration review — we find that our Zaca chewables are more powerful with a more benefit-loaded formula, and a healthier ingredient list.
In the comparison, Zaca is the better alternative than GU for the following reasons— GMO free, portable packets, beat fatigue, bioavailable nutrients, soy free, liver supporting, high in antioxidants, standardized herbs, sugar free, free of synthetic vitamins, no water required, easy to take, keto & diet friendly, performance-enhancing amino acids, and fast-acting.
Zaca vs Sustain Sport Comparison Chart: 
| | | |
| --- | --- | --- |
|   | Zaca | GU |
| Calories | 5 | 10 |
| Carbs | 3g | 6g |
| Sugar | 0g | 1g |
| Hydration Support | ✓ | ✓ |
| Performance Support | ✓ | ✓ |
| Multi-Purpose | ✓ | ✓ |
| Travel Friendly | ✓ | ✓ |
| Gluten Free | ✓ | ✓ |
| Vegan Friendly | ✓ | ✓ |
| Take On-The-Go | ✓ | ✓ |
| Tastes Great | ✓ | ✓ |
| | ✓ | ✓ |
| | ✓ | ✓ |
| | ✓ | ✓ |
| Portable Packets | ✓ |   |
| | |   |
| GMO Free | ✓ |   |
| Bioavailable Nutrients | ✓ |   |
| Soy Free | ✓ |   |
| Liver Support | ✓ |   |
| High In Natural Antioxidants | ✓ |   |
| Standardized Herbs | ✓ |   |
| Sugar Free | ✓ |   |
| Free of Synthetic Vitamins | ✓ |   |
| No Water Required | ✓ |   |
| Easy To Take | ✓ |   |
| Keto & Diet Friendly | ✓ |   |
| Performance-Enhancing Amino Acids | ✓ |   |
| Fast-Acting | ✓ |   |
In our review of GU Drinks Tabs versus Zaca Chewables — Zaca leads with cleaner, healthier ingredients, and more benefits due to the herbs and amino acids used in the formula.


Zaca Hydration + Recovery Supplement
Our Zaca supplement gives you what you need to rehydrate, replenish, and recover. Whether you're traveling, running, competing, hiking, drinking, working out — these chewbales help you bounce back faster. Designed with a proprietary blend of herbs and antioxidants, including glutamine that enhances water absorption. Take the 2-4 chewables on-the-go in portable packets when you need them most, or during activities.
Try Zaca hydration + recovery chewable tablets today and fuel your performance.
SOURCES:
1. GU Hydration Tablets - GU Hydration Drink Tabs
https://guenergy.com/products/hydration-drink-tabs
2. Oral rehydration salts
https://www.who.int/publications/i/item/WHO-FCH-CAH-06.1
3. 10 Reasons Why Sugar Is Bad for Your Health
https://www.atkins.com/how-it-works/library/articles/10-ways-sugar-harms-your-health
4. The Truth About Safflower Oil Health Claims
https://perfectketo.com/safflower-oil/
5. Natural vs. Synthetic Vitamins – What's the Big Difference?
https://sunwarrior.com/blogs/health-hub/natural-vs-synthetic-vitamins
6. GU Energy Hydration Electrolyte Drink Tablets, Enhanced Endurance Sports Drink for Running, Cycling, Triathlon, 4-Count (48 Servings), Assorted Flavors
https://www.amazon.com/GU-Energy-Hydration-Electrolyte-Assorted/dp/B0756QVFM5