9 Tips to Avoid Mt. Whitney Altitude Sickness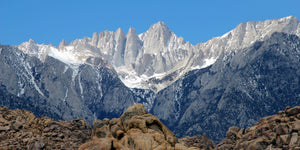 By: Beth Rush
Managing Editor at Body+Mind


You must experience the Pacific Crest Trail if you're a fan of the great outdoors — at least the section that runs through the Sierra Nevadas. Although not everyone who braves this trek tackles Mt. Whitney, it's worth a side trip. You'll find it on the border of Sequoia National Park and Inyo National Forest in Northern California.¹
Those who go will need to plan plenty of extra time — at least several days. You might also have to do a bit of additional prep work, as this mountain bears the distinction of being the highest in the lower 48 states, and scaling it will literally take your breath away.²
However, the view of the night sky alone makes the trip worth it. Plus, you get some groovy bragging rights. Are you ready to plan your itinerary? Here are nine tips to avoid Mt. Whitney altitude sickness.


What Is Altitude Sickness?
Many novice climbers think inclement weather is the biggest danger they may encounter in the wild. It's true that shifting patterns, fueled by climate change, can create dangerous precipitation conditions,³ spurring mudslides and avalanches.³ Pay attention to reports and check with experienced area guides — heed their advice if they recommend rescheduling your excursion.
However, experienced mountaineers understand that altitude sickness may pose as much of a hazard as sleet or hail. Those who dismiss their symptoms and try to push through despite how they feel can die within hours from severe forms like HAPE or HACE.⁴
Even dedicated hikers and climbers can experience altitude sickness on Mt. Whitney. It can strike anyone ascending above 8,000 feet, and this monster tops 14,000. What should you look for?


Symptoms of Mt Whitney Elevation Sickness
Symptoms of Mt Whitney altitude sickness can feel like the world's worst hangover — or some types of migraine. Be alert for the following signs:
Fatigue
Headache
Nausea
Vomiting
Dizziness
Loss of appetite
Shortness of breath
Trouble sleeping
Don't take a risk. Stop at the first sign of such symptoms.


Climbing Mt. Whitney
Scores of people attempt to climb Mt. Whitney every year. You'll need to stop and get a permit when you enter the Mt. Whitney zone. Those entering from the east can do so from the Inyo National Forest, and those coming from the west can visit Sequoia or Kings Canyon National Park.

The most popular route to the summit is 10 miles. However, you may still need to camp out for a few days to let your body adjust to the elevation. There are other trails, including a circuitous 60-mile route that can take a week or more.


What to Do if You Get Mt. Whitney Altitude Sickness
If you suspect you have altitude or elevation sickness, please stop. Don't attempt to go any higher for at least 24 to 48 hours to give your body time to recover and adjust to the lower oxygen levels.⁵

Rest and rehydrate by drinking plenty of water — no alcohol. Chow down on carbs to replenish your body's stores.

After a day or two, your body should adjust. However, if you don't improve after 24 hours, descend at least 1,600 feet.


How Avoid Mt Whitney Altitude Sickness Naturally — 9 Tips
The best treatment for elevation sickness is to avoid it in the first place. Here are nine tips to prevent Mt Whitney altitude sickness naturally.
1. Go Slow
Altitude sickness occurs as your body adjusts to lower oxygen levels. Symptoms develop if you don't give it time to do so — and yes, folks coming from sea-level elevations might struggle more than those accustomed to high altitudes.


2. Sleep Low
A tried-and-true trick among mountaineers is to climb high and sleep low. Make your base camp a few hundred feet lower than your highest hiking point so your body can recover and suck up all that sweet oxygen overnight.


3. Take Bedtime Seriously
High altitudes increase stress on your body. You'll likely feel more tired than usual, which is good — you should sleep at least seven to nine hours a night to adequately recover.
Lay off the caffeinated beverages
and stick to water to make it easier to fall asleep at night.
⁶


4. Eat Plenty of Carbohydrates
Your body needs oxygen to digest, and carbohydrates are easier for your system to process than protein or fats. Load up to increase your energy levels — you need
more at elevations above 10,000 feet
.
⁷


5. Stay Super Hydrated
Water is a must. After all, it's two parts hydrogen to one part oxygen. Furthermore, you dehydrate twice as quickly at high altitudes, so sip up.


6. Avoid Overexertion
You're a mountain climber and, therefore, an athlete. However, this isn't the time to go hard or go home. Remember the No. 1 rule — if you develop signs of altitude sickness, stop. Also, recall that your body needs a while to adjust to decreasing oxygen levels, so take your time getting to the summit. Enjoy the journey.


7. Avoid Alcohol
Alcohol dehydrates you. Additionally, drinking on the mountain can give you
quite the raging hangover
, thanks to the stress the climb already puts on your body.
It also leads to foolish mistakes and falls, which are not good when on the edge of a mountain. Stay sober until you reach the bottom — then, you can hit the bar and show off your sweet climbing pics over a pint.


8. Supplement Glutathione
Certain supplements can help with hydration and avoiding altitude sickness. Those containing l-glutathione get high ratings from fellow mountaineers who know the ropes. Research shows this antioxidant
decreases by 45% at high altitudes
,
⁸
and you need it to carry out multiple body processes.
9. Talk to Your Doctor
Acetazolamide is a prescription glaucoma medication that also eases altitude sickness symptoms. Talk to your doctor before your trip to see if you could benefit from an emergency supply.


In conclusion, these 9 tips can help you avoid Mt Whitney altitude sickness ─ including going slow, sleeping low, taking bedtime seriously, eating plenty of carbs, staying super hydrated, avoiding overexertion, avoiding alcohol, supplementing glutathione, and talk to your doctor.


Natural Altitude Supplement

Are you ready to tackle Mt. Whitney? Start planning your itinerary today. Consider taking Zaca with you, these chewables are the perfect supplement to pack for your trek. They're made with just four active ingredients, including l-glutathione, to help you rehydrate, replenish, and recover. Taking one to two packets a day leading up to your trip and supplementing on your trek can help you boost your performance. Try Zaca Chewable Tablets today and fuel your mountain trip.
SOURCES:
1. Seeing and Climbing Mt. Whitney
https://www.nps.gov/seki/planyourvisit/whitney.htm
2. 7 Reasons Why You Should Climb Mt. Whitney This Winter
https://www.theoutbound.com/alex-e-163524/7-reasons-why-you-should-climb-mt-whitney-this-winter
3. Climate Change's Impact on Health
https://www.microhealthllc.com/climate-changes-impact-on-health/
4. High altitude pulmonary edema-clinical features, pathophysiology, prevention and treatment
https://www.ncbi.nlm.nih.gov/pmc/articles/PMC3617508/
5. NHS Altitude Sickness
https://www.nhs.uk/conditions/altitude-sickness/
6. How to Get Proper Sleep Hygiene
https://bodymind.com/how-to-get-proper-sleep-hygiene/
7. Why Do You Need to Drink a Lot of Water at a High Altitude?
https://www.livestrong.com/article/435265-why-do-you-need-to-drink-a-lot-of-water-at-a-high-altitude/
8. Effect of high altitude (7,620 m) exposure on glutathione and related metabolism in rats
https://www.researchgate.net/publication/12014787_Effect_of_high_altitude_7620_m_exposure_on_glutathione_and_related_metabolism_in_rats