Purple Tree Pills vs Zaca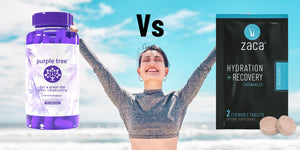 Purple Tree liver pills, or Purple Tree Celebration Vitamin Pills are marketed as a dietary supplement that supports liver health to "celebrate good times". If you're looking to buy Purple Tree Pills, then this guide is for you. We'll review Purple Tree Pills, how they work, and compare them to our Zaca chewables.


Purple Tree Pills
Purple Tree Labs is the company that produces Purple Tree Pills. The company was founded in 2017 and is based in the United States.
Purple Tree Pills is the flagship product made for liver support — by pairing DHM with Willow Bark, plus vitamins and electrolytes to help metabolize alcohol.¹
In addition to its liver support supplement, Purple Tree Labs also produces other supplements that support hydration, mood, and stress.


Purple Tree Pills How It Works
Purple Tree Pills for the liver contains a blend of natural ingredients that help to detoxify and cleanse the liver. Claimed to be unique by pairing DHM with White Willow Bark.
Here's 3 keys to how Purple Tree Pills work:
Supports Liver Health
The liver is an essential organ that helps filter toxins such as alcohol from the body. Purple Tree liver pills contain ingredients such as DHM and milk thistle, which is believed to have liver-protective properties.
Replenish Key Nutrients
Alcohol is known to deplete nutrients, and Purple Tree helps to replenish some key vitamins and minerals including B1, B2, B6, B12, zinc, and magnesium.
Helps You Feel Better After Drinking Alcohol
Overall, the product is designed to help you recover from a night of drinking alcohol.


Purple Tree Pills Ingredients
Purple Tree Pills is a product made of vitamins, minerals, natural herbs, and some fillers and coloring. Here's a full ingredient list below.
Vitamins & Minerals:
Vitamin B1 (thiamine HCL)
Vitamin B2 (riboflavin)
Vitamin B6 (pyridoxine HCL)
Vitamin B12 (methylcobalamin)
Magnesium (magnesium oxide)
Zinc (zinc oxide)
Manganese (manganese bisglycinate)
Purple Tree Proprietary Blend:
Dihydromyricetin (DHM)
Milk Thistle Seed Extract (silybum marianum)
White Willow Bark Extract (salix alba)
Cactus Prickly Pear Leaf Extract Opuntia (opuntia ficus indica)
Other Ingredients:
Rice Extract
Rice Flour
Gelatin Capsule
Coloring (from purple carrot)
An upside is these ingredients are labeled as GMO-free by Purple Tree Pills.


Purple Tree Pills DHM
It is unclear where the DHM is derived from in Purple Tree Pills.
Most isolated DHM (Dihydromyricetin) is known to come from Vine Tea (Ampelopsis grossedentata), not the cherished Japanese Raisin Tree that has been used in Traditional Chinese Medicine for centuries.
Furthermore, while DHM clearly has science behind it, because it's isolated from the plant it's missing key flavonoids and components that work synergistically in the body.


Purple Tree Pills Review
In our review of Purple Tree Pills, we did find a few downsides of the product. 
3 Downsides of Purple Tree Pills:
1. Synthetic Vitamins
Three of Purple Tree Pills are using synthetic vitamins — vitamin B1, vitamin B2, and vitamin B6. Made with thiamine HCL, riboflavin, and pyridoxine HCL, these sources are natural. Synthetic vitamins such as these are known to be less bioavailable, may negatively effect gut health, and sometimes can reduce the amount of natural vitamin in the body. ³ ⁴ ⁵


2. Low Bioavailable Minerals
Not all minerals (electrolytes) are created equal, and some forms are better than others. Reviewing Purple Tree Celebration Pills we found that they use oxide minerals — magnesium and zinc — which are shown to be less bioavailable. Zinc Oxide for example, is shown to be on the lowest end of bioavailability compared to other forms of the mineral.⁷ Absorption was shown to be nearly 50% less than zinc citrate and zinc gluconate.⁸


3. Isolated DHM
While DHM is known to have many studies backing it, it's missing key flavonoids and components providing essentials benefits from the Japanese Raisin tree plant. It's not disclosed by Purple Tree Pills which source they use for DHM, but most supplements are using Vine Tea (Ampelopsis grossedentata). The majority of the studies we find are on Japanese Raisin and not Vine Tea.


In conclusion, Purple Tree Pills can be a good product but it uses some questionable ingredients in our view. Synthetic vitamins and low bioavailable minerals are not up to our standards as the purest, highest quality nutrients that can be used. And some of these synthetics are known to have negative effects, such as vitamin B6.


We put Purple Tree Pills to the test and reviewed it against Zaca. Which supplement is better?
From our Purple Tree Pill Review — Zaca is the purer, more bioavailable supplement with much more multi-use benefits.
In the review, here are the factors that Zaca beats Purple Tree in — amino acid fortified, gluten free, vegan friendly, no synthetic vitamins, performance enhancing, multi-purpose formula, fast acting chewables, quick to take, formulated with Japanese raisin, in on-the-go packets, and no water required.
| | | |
| --- | --- | --- |
|   | Zaca | PurpleTree |
| DHM Formulated | ✔️ | ✔️ |
| Liver Support | ✔️ | ✔️ |
| Party Aid Support | ✔️ | ✔️ |
| Herbal | ✔️ | ✔️ |
| High In Antioxidants | ✔️ | ✔️ |
| GMO Free | ✔️ | ✔️ |
| Amino Acid Fortified | ✔️ |   |
| Gluten Free | ✔️ |   |
| Vegan Friendly | ✔️ |   |
| No Synthetic Vitamins | ✔️ |   |
| Performance Enhancing | ✔️ |   |
| Multi-Purpose Formula | ✔️ |   |
| Fast-Acting | ✔️ |   |
| Quick To Take | ✔️ |   |
| Japanese Raisin | ✔️ |   |
| On-the-go Packets | ✔️ |   |
| No Water Required | ✔️ |   |
To conclude, we believe Zaca uses better, more pure, healthier, and more bioavailable ingredients and without the use of synthetic vitamins.


5 Advantages of Zaca Chewables
Zaca helps you rehydrate, replenish, and recover. With fast-acting chewables, you can take it on-the-go when you need it most. Fortified with Japanese Raisin (containing DHM), Prickly Pear, and Glutathione — Zaca was designed for superior liver support.
Let's dive into the advantages of Zaca over Purple Tree Pills and many other products.
Here's 5 advantages of Zaca Chewables:
1. No Synthetic Vitamins
At Zaca we understand that the body wants natural ingredients it recognizes. Synthetic vitamins have been shown to be less bioavailable, and sometimes even reduce the natural vitamin in the body.³ ⁴ ⁵ Zaca does not use any synthetic vitamins for these reasons, but has naturally occurring ones from plants like Prickly Pear.


2. Fast, Convenient Chewables
No popping pills or mixing powders. You can take Zaca chewables on-the-go, and without water required. Whether traveling, or out on the town, you can eat these fast-acting chewables when you need it most.


3. Japanese Raisin Formulated
Rather than using an isolated form of DHM, Zaca is formulated with the full-spectrum Japanese Raisin extract (Hovenia Dulcis). This assure you get the full benefits of this miraculous plant, as many of the studies are based on this.


4. Multi-Purpose Formula
Zaca is not just for supporting your liver, it's a multi-purpose supplement that can be used for everything in life — such as traveling, hiking, exercising, running, performance, heat, sports, and more. With the combination of antioxidants, amino acids, and herbs, these powerful chewables will help you bounce back faster.


5. Pure, Diet-Friendly Ingredients
From gluten free and low carb to vegan friendly and gmo free, Zaca meets many diet requirements that other supplements don't. Using pure ingredients, you can be assured a safe and healthy option to meet your needs.


Overall, these five advantages of Zaca give you an edge — including no synthetic vitamins, fast and convenient chewables, japanese raisin formulated, multi-purpose formula, and using diet-friendly pure ingredients.


Top-Rated Zaca Chewables

With Zaca, you can be hydrated, replenished, and ready to go! Our Japanese Raisin infused chewable supplement is liver support enhanced to help you recover faster. And fortified with a superfood blend including Prickly Pear and Glutathione. Take these fast-acting chewables to feel results quickly. Conveniently made in on-the-go packets, take 2-4 chewables when you need it most. Try Zaca chewables supplement with liver aid and feel-better faster.
SOURCES:
1. Purple Tree Celebration Vitamin Pills 
https://www.gotpurpletree.com
2. Purple Tree Pills How It Works
https://www.gotpurpletree.com/how-it-works
3. Avoid This List Of Synthetic Vitamins To Protect Your Gut
https://thehealthyrd.com/avoid-this-list-of-synthetic-vitamins-to-protect-your-gut/
4. Synthetic Vitamins
https://ntischool.com/synthetic-vitamins/
5. Natural vs. Synthetic Vitamins – What's the Big Difference?
https://sunwarrior.com/blogs/health-hub/natural-vs-synthetic-vitamins
6. Purple Tree Celebration Vitamin Pills | Rapid Hydration, Liver Detox, Better Mornings | Dihydromyricetin DHM, Milk Thistle, Electrolytes, Vitamin B, Willow Bark, Quercetin (30 Pills)https://www.amazon.com/Celebration-Hydration-Mornings-Dihydromyricetin-Electrolytes/dp/B08PDTMCD9
7. A highly bioavailable zinc source in support of human health
https://www.jungbunzlauer.com/fileadmin/content/_PDF/PRINT_PROJECTS/Article_facts/JBL_AR_A_highly_bioavailable_zinc_source_2020-101_01.pdf
8. Study: Zinc Citrate Shows Superior Absorption Compared to Zinc Oxide
https://www.nutritioninsight.com/news/study-zinc-citrate-shows-superior-absorption-compared-to-zinc-oxide.html