5 Best Supplements To Take Before Drinking Alcohol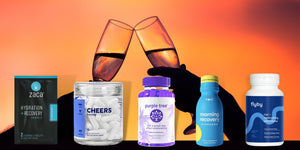 As a common social activity, drinking alcohol can lead to various negative effects on the body. As a leader in liver supporting supplements, we'll share with you the best supplements to take before drinking alcohol.


Supplements To Take Before Drinking Alcohol
Since alcohol puts stress on our bodies, it's most optimal to support our system before consuming it.
By incorporating the right supplements into your routine before drinking alcohol, you can potentially minimize some of the negative consequences associated with alcohol consumption.
Let's explore the five best supplements to consider before indulging in alcoholic beverages.


The Negative Effects Of Alcohol
Excessive alcohol consumption, and sometimes even one drink, can take a toll on your physical health in several ways including the dreaded hangover.
Negative Effects Of Alcohol On The Body:
Headache
Fatigue
Weakness
Dehydration
Muscle aches
Liver stress
Heating effect
Weakened immune system
Nausea or vomiting
Stomach pain or digestion issues
Decreased cognitive function
Sleeping problems
Anxiety
Irritability
Sweating
The potential risks and negative effects push many to be proactive in taking supplements. While there is no cure, supporting your body with the right nutrients can help support healthy functions.


5 Best Supplements To Take Before Drinking Alcohol
Alcohol is known to cause dehydration, disturb sleep patterns, and deplete essential nutrients in the body. By choosing the right supplements to take before drinking alcohol, you can support your natural mechanisms to maintain healthy balance in the body.
To know what are the best vitamins to take before alcohol, let's dive into the five best supplements.
5 Best Supplement You Can Take Before Drinking Alcohol:
1. Zaca Recovery Chewables
Zaca Chewables, a convenient and effective supplement, has been a long-time pioneer in the recovery industry since 2008.


These chewable tablets are made with a blend of natural ingredients, including prickly pear extract, japanese raisin (containing DHM), glutamine, and glutathione. With a science-backed formula, Zaca gives you the nutrients you need to bounce back faster.


Based in Colorado, a lot of Zaca's research was based on having drinks in high altitude conditions.


Benefits of Zaca include:


Easy-to-use chewables
Superior liver aid (with japanese raisin)
Rehydrate with glutamine
Powerful antioxidant blend for free radical damage
Revive and recover faster
Strong formula
GMO-free and no artificial ingredients added
No added sugar
Convenient, portable packets
Clean ingredients
Directions: Take 2 chewables while drinking alcohol and 2 at bedtime.


2. Cheers Restore
Popularized on Shark Tank, Cheers Restore is an after-alcohol-aid supplement pill that aims to help you feel better after drinking.


Its primary focus is supporting your liver through a blend of ingredients including DHM, vitamins, and minerals. By taking Cheers Restore before drinking, you can potentially wake up feeling refreshed and revitalized the next day.


Cheers advertises their high amounts of DHM at 1,200 mg.


Benefits of Cheers include:


Liver support
Electrolytes (sodium & potassium)
Feel 50% better
B vitamin fortified
One downside we find is the use of synthetic vitamins such as vitamin c and vitamin b12. Synthetic vitamins can be less effective and absorbable. Isolated DHM also has possible safety concerns due to the chemical structure.


Directions: Take 2-4 capsules after your last drink.


3. Purple Tree Celebration Pills
Made with a formula to promote healthy liver function and r
eplenish key nutrients including vitamins and electrolytes. DHM, prickly pear, and milk thistle are all used in combination.
Benefits of Purple Tree include:


Replenish electrolytes and vitamins
Supports healthy liver function
Lead better mornings
Strong formula
Clean ingredients
The downsides, similar to Cheers, is the use of some synthetic vitamins (B1,  B2, and B6) and isolated DHM. These factors can effect bioavailability.


Directions: With water, take 2-3 pills before, during, or after drinking alcohol.


4. Morning Recovery
Morning Recovery is a shot with claims to be clinically proven to improve symptoms after drinking.


In research users showed up to 80% improvement when consuming alcohol. Morning Recovery is made with electrolytes, milk thistle, and DHM to hydrate while drinking.


Benefits of Morning Recovery include:


Liver supporting
Clinical research
DHM from hovenia dulcis extract
Herbal blend
Non-gmo
A downside is the 9 grams of added sugar and the numerous synthetic vitamins including vitamin C, B6, and folic acid.


Directions: Take one bottle either before, during, or after drinking.


5. Flyby Recovery Pills
Advertised as a hangover prevention supplement, Flyby Recovery pills are another supplement to take before drinking alcohol.


With a a comprehensive formula including vitamins, electrolytes, and herbs, Flyby helps support healthy liver function, replenish nutrients, and reduce post-drinking drag. Claims to help
hangxiety
, Sunday scaries, and the "I'm never drinking again" feeling.
Benefits of Flyby include:


Support healthy liver function
Replenish nutrients
Vitamin B complex
Non-gmo
A downside of Flyby alike many of the other drinking supplements is it contains synthetic vitamins and isolated DHM. Again, which can lower absorbability.


Directions: Using 3 capsules at a time, take before drinking alcohol, and before bed.


In summary, incorporating one of these five supplements to take before drinking alcohol can help support and replenish your body with what it needs. The top choices to consider include Zaca Recovery Chewables, Cheers Restore, Purple Tree Celebration Pills, Morning Recovery, and Flyby Recovery.


Comparison Chart: Supplements To Take Before Drinking Alcohol
As detailed above, this chart compares the top supplements to take before drinking alcohol.
| | | | | | |
| --- | --- | --- | --- | --- | --- |
|   | Zaca | Cheers | Purple Tree | Morning Recovery | Flyby |
| Amazon Review Star Rating | 4.5 | 4.2 | 4.3 | 4.3 | 4.0 |
| Liver Support | ✔️ | ✔️ | ✔️ | ✔️ | ✔️ |
| DHM Formulated |  ✔️ |  ✔️ |  ✔️ |  ✔️ |  ✔️ |
| Hovenia Dulcis derived DHM  | ✔️ |   |   | ✔️ |   |
| Herbal Blend | ✔️ |   | ✔️ | ✔️ | ✔️ |
| Antioxidant Support | ✔️ | ✔️ | ✔️ | ✔️ | ✔️ |
| No Water Needed | ✔️ |   |   |   | ✔️ |
| High In Antioxidants | ✔️ |   |   | ✔️ | ✔️ |
| GMO Free | ✔️ |   |   | ✔️ | ✔️ |
| Amino Acid Fortified | ✔️ | ✔️ |   |   | ✔️ |
| Gluten Free | ✔️ |   |   | ✔️ | ✔️ |
| No Added Sugar | ✔️ | ✔️ | ✔️ |   | ✔️ |
| No Synthetic Vitamins | ✔️ |   |   |   |   |
| Multi-Purpose Formula | ✔️ |   |   |   |   |
| Fast-Acting | ✔️ |   |   | ✔️ |   |
| Quick To Take | ✔️ |   |   | ✔️ |   |
| On-the-go Packets | ✔️ |   |   |   |   |
We found in most features, Zaca stood out against the rest.
Should You Take Vitamins Before Or After Drinking?
Are vitamins or supplements to be taken before drinking alcohol or after? From the research and in our experience, both before and after can work.
No matter the supplement — taking vitamins before, during, and after are generally helpful. At the minimum, we'd recommend taking a supplement after drinking or before bed. Second to that, optionally taking some vitamins before or during drinking will usually add enhanced benefits to your night and the next morning.


Should I Take A Multivitamin Before Drinking Alcohol?
While most multivitamins contain a helpful B complex, they are not specifically formulated for the liver.
Taking a multivitamin before drinking might not get maximum results. Particularly, you'll want a more liver focused supplement for recovery as mentioned in our list above.


Top Choice Supplement Before Drinking

Elevate your drinking experience with Zaca Recovery Chewables. Specifically designed to support healthy liver function and replenish nutrients, you can bounce back faster with these easy-to-use chewables. With a powerful and enhanced formula, Zaca is crafted with naturally occurring DHM from hovenia dulcis, glutathione, and prickly pear. Conveniently in on-the-go packets, take 2-4 fast acting chewables before and after drinking. Try Zaca Recovery Chewables today and enjoy feel-great mornings.
SOURCES:
1. How Alcohol Affects Your Body
https://www.webmd.com/mental-health/addiction/ss/slideshow-alcohol-body-effects
2. Alcohol's Effects on Health And Hangovers
https://www.niaaa.nih.gov/publications/brochures-and-fact-sheets/hangovers#
3. Cheers Restore Pills
https://cheershealth.com/products/restore
4. Cheers Restore | Supplement with DHM + L-Cysteine | Feel Better After Drinking & Support Your Liver | 12 Doses | Dihydromyricetin, Cysteine, Milk Thistle, Prickly Pear, B-Vitamins, Ginger | Supplement Before Drinking Alcohol
https://www.amazon.com/Cheers-Formerly-Hangover-Dihydromyricetin-Prevention/dp/B079P7FXTW/
5. Purple Tree Celebration Vitamin Pills (30 capsules)
https://www.gotpurpletree.com/product-page/purple-tree-pills-30
6. Purple Tree Celebration Vitamin Pills,Capsule | Rapid Hydration, Liver Detox, Better Mornings | Dihydromyricetin DHM, Milk Thistle, Electrolytes, Vitamin B, Willow Bark, Quercetin (30 Pills)
https://www.amazon.com/Celebration-Hydration-Mornings-Dihydromyricetin-Electrolytes/dp/B08PDTMCD9/
7. Morning Recovery - The Drink Before You Drink
https://www.morelabs.com/products/morning-recovery
8. Morning Recovery Electrolyte, Milk Thistle Drink Proprietary Formulation to Hydrate While Drinking for Morning Recovery, Highly Soluble Liquid DHM, Original Lemon, Pack of 6
https://www.amazon.com/Recovery-Electrolyte-Proprietary-Formulation-Drinking/dp/B07PJ239B6/
9. Flyby Recovery Capsules - Take After Drinking
https://www.flyby.co/products/recovery-capsules
10. Flyby Recovery [ Hangover Pill ] Hangover Kit | DHM Hangover Pills | Travel Ready- Wedding Kit for Hangover Remedy | Rapid Detox for After Party Hangover Drinking - Cheers!
https://www.amazon.com/Flyby-Recovery-Hangover-Wedding-Drinking/dp/B078GTWR5J/