Zermatt Altitude Sickness: Must-Read Guide & 6 Steps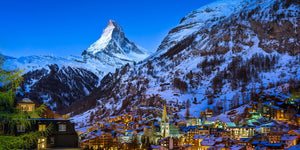 Famous for mountaineering and skiing, Zermatt Switzerland is a a destination that offers so much for visitors. Altitude sickness can be a concern for many though. As a high-altitude based company, we'll share everything you need to know about Zermatt altitude and our top steps to avoid Zermatt altitude sickness.


Zermatt Altitude
Zermatt altitude sits at a base of 5310 (1620 m) feet above sea level. With a summit at 12792 feet high (3899 m), Zermatt has a massive vertical drop of 7,477 feet (2,279 m).
Zermatt altitude - 5,310 ft (1,620 m)
Zermatt summit altitude - 12792 ft (3899 m)
Zermatt is a picturesque village in the Swiss Alps of Switzerland, situated at the foot of the iconic Matterhorn mountain and known for its world-class ski slopes, hiking trails, and stunning alpine scenery. Just over border, Breuil-Cervinia in Italy shares the same mountain ski area with Zermatt.
Zermatt-Matterhorn, known as Matterhorn Ski Paradise, is a winter wonderland with over 350 km (217 miles) of ski slopes that cater to skiers and snowboarders, and a popular summer destination for hiking and mountain biking enthusiasts. Zermatt-Matterhorn is considered the highest skiing resort in the Alps, and even features highest cable car station in Europe that goes up to Matterhorn Glacier Paradise offers breathtaking panoramic views.
Gornergrat altitude - 10,285 ft (3,135 m)
Matterhorn Glacier Paradise altitude - 12,740 ft (3,883 m)
Jungfraujoch altitude - 11,362 ft (3,463 m)
Täsch altitude -  4,754 ft (1,449 m)

Matterhorn altitude - 14,692 ft (4,478 m)
When visiting Zermatt, it's essential to take take precautions with its elevation being so high.


How High Is Zermatt Altitude?
The elevation of Zermatt goes to 12792 feet (3899m). The town and base of Zermatt is at a lower altitude of 5310 ft (1,620 m).
According to Mountain Medicine, high altitude starts at 4900 feet. Zermatt well exceeds that height even at its lowest altitude base. Its town has a similar elevation to Denver and Boulder Colorado, all considered to be at high altitudes.


Do People Get Altitude Sickness In Switzerland?
Yes, people get altitude sickness in Switzerland, and specifically Zermatt has a high risk.
Altitude is noted to start at 1524 meters (5,000 ft), but nearly 50% of people will get altitude sickness at altitudes over 3048 meters (10,000 ft).¹³ As one of the highest countries in Europe, Switzerland's average elevation is 4429 ft (1350 m). It's home to 48 peaks that reach 4,000 meters (13,123 feet) or more.
Switzerland altitude - 4,429 ft (1,350 m)
With the high peak of Zermatt sitting at 3899 meters (12792 ft), altitude sickness can be very common, especially for travelers coming from sea level.


Do People Get Altitude Sickness In Zermatt?
Yes, it's common for people get altitude sickness in Zermatt — and even more so if skiing, hiking or exploring the mountains that increase in altitude.
The town of Zermatt is at 5,310 feet (1,620 m), and with the mountains like Matterhorn going to 12792 ft (3899 m), altitude sickness increasingly becomes a greater risk. Over 10,000 feet can cause a 50% risk for altitude sickness.
If visiting Zermatt you should be well prepared for altitude sickness, which we'll cover more below with important steps you can take.


Zermatt Altitude Sickness
Zermatt altitude sickness, also known as acute mountain sickness (AMS), is caused by the decreased oxygen levels with the thinner air.
Physiological and oxidative stress takes a toll on the body, which can lead to symptoms such as headaches, fatigue, and nausea.
Common symptoms of altitude sickness at Zermatt:
Headaches
Dizziness
Fatigue or weakness
Loss of appetite
Trouble breathing or shortness of breath
Nausea or vomiting
Difficulty sleeping
Be on the lookout for these Zermatt altitude sickness symptoms, which can typically develop within 6-24 hours after arrival.


6 Steps To Avoid Zermatt Altitude Sickness
How can I prevent altitude sickness in Zermatt or Switzerland? Many who are visiting Zermatt to ski or vacation ask this question.
As a company with over ten years of high-altitude experience based in Colorado, we have extensive research on what steps you can take to better avoid altitude sickness. 
Based on research, here's our 6 steps to avoid Zermatt altitude sickness:
1. Hydrate Properly
Proper hydration is critical in Zermatt where the air can be dehydrating. Wilderness Medical Society states that fluid loss can be twice as fast in higher elevations.¹⁵


To stay hydrated, drink plenty of water throughout the day even if you don't feel thirsty, half your body weight in ounces is a good minimum. Dark yellow urine can be a sign you're dehydrated.


2. Climb High, Sleep Low
The "climb high, sleep low" method is a proven strategy used commonly by mountaineers to help prevent altitude sickness. This method involves spending the day skiing or hiking at higher altitudes, but sleeping at a lower altitude.


Ski Zermatt-Matterhorn for a few hours and then return back to the base altitude. The town of Zermatt and its hotels are at lower elevations of 5,310 feet (1,620 m) compared to the mountain peaks, which gives your body a chance to acclimatize and adjust better.


3. Limit Alcohol
Alcohol can dehydrate the body and exacerbate potential risks, including lowering your sleep quality and even oxygen saturation levels.¹⁶ This makes it more challenging for your body to acclimatize to the higher altitude.


While it may be tempting to indulge in après-ski drinks or enjoy wine at dinner, limiting alcohol consumption is an essential step for the first day or two in Zermatt.


4. Get Enough Sleep
At Zermatt's higher altitudes, acclimating can be taxing and tiring to your body. Get enough sleep, which is key for your body to repair, recover, and help blood flood and oxygen.¹⁷


7-9 hours is commonly recommended for optimal sleep, and getting plenty of natural sunlight during the day has been shown to help melatonin production.


5. Initially Avoid Strenuous Activity
While you're probably visiting Zermatt to ski or explore the magnificent Swiss Alps, doing too much too fast can be hard on your body. Strenuous activity such as skiing and hiking will increase physiological stress on the body and make it hard to adjust.


Avoid strenuous activity initially, at least your first 1-2 days visiting or until you feel free of altitude sickness symptoms. Take it easy and take breaks anytime you feel overly fatigued or trouble breathing.


6. Take Antioxidants
Oxidative stress is one of the biggest threats to your body when at higher altitudes.¹⁸ It was discovered in India that high altitude conditions can even deplete your glutathione levels, which is referred to as your master antioxidant.²⁰


Taking antioxidants (including glutathione) is a very helpful step when visiting Zermatt and the Swiss Alps, which can help to neutralize the free radicals that cause oxidative stress.¹⁹


In summary, take these steps to help avoid Zermatt altitude sickness — including hydrating properly, climbing high and sleeping low, limiting alcohol, getting enough sleep, avoiding strenuous activity, and taking antioxidants.


Top Travel & Altitude Supplement

Zaca chewables are perfect solution for travelers, skiiers and adventurers — that quickly helps your body rehydrate and recover. Our formula includes powerful ingredients like glutathione with natural antioxidant support. Whether needing performance or replenishment, these chewables are an essential addition to any traveler's kit. Made in on-the-go packets, you can easily take 2-4 chewables a day during travel. Try Zaca's chewable supplement today and fuel your mountain journey.
SOURCES:
1. Zermatt Elevation
https://en.wikipedia.org/wiki/Zermatt
2. Breuil-Cervinia
https://en.wikipedia.org/wiki/Breuil-Cervinia
3. Zermatt Ski Area & Altitude
https://www.matterhornparadise.ch/en/Experience/Zermatt-ski-area
4. How To Visit Matterhorn Glacier Paradise & Elevation
https://www.earthtrekkers.com/how-to-visit-matterhorn-glacier-paradise/
5. Facts Matterhorn Ski Paradise
https://www.zermatt.ch/en/Lifts-pistes/Panoramakarten-Facts/Summer-panorama-map
6. Zermatt Ski Resort Elevation
https://www.onthesnow.co.uk/valais/zermatt/ski-resort
7.  Zermatt Skiing & Snowboarding
https://www.zermatt.ch/en/ski
8. Gornergrat Elevation
https://en.wikipedia.org/wiki/Gornergrat
9. Klein Matterhorn Elevation
https://en.wikipedia.org/wiki/Klein_Matterhorn
10. Jungfraujoch Elevation
https://en.wikipedia.org/wiki/Jungfraujoch
11. Täsch Elevation
https://en.wikipedia.org/wiki/T%C3%A4sch
12. Matterhorn Elevation
https://en.wikipedia.org/wiki/Matterhorn
13. Patient education: High-altitude illness (including mountain sickness)
https://www.uptodate.com/contents/high-altitude-illness-including-mountain-sickness-beyond-the-basics
14. How To Overcome Altitude Sickness In Switzerland
https://switzerlandtravel.swisshikingvacations.com/altitude-sickness/
15. Why Do You Need to Drink a Lot of Water at a High Altitude?
https://www.livestrong.com/article/360485-how-to-train-for-high-altitude-hiking
16. Effects of Alcohol
https://www.ahajournals.org/doi/full/10.1161/01.HYP.29.6.1278#
17. Sleep: The Secret Ingredient of Injury Recovery
https://www.orthocarolina.com/media/sleep-the-secret-ingredient-of-injury-recovery
18. High altitude and oxidative stress
https://pubmed.ncbi.nlm.nih.gov/17482529/
19. Oxidative Stress and Diseases Associated with High-Altitude Exposure
https://www.ncbi.nlm.nih.gov/pmc/articles/PMC8868315/
20. Effect of high altitude (7,620 m) exposure on glutathione
https://pubmed.ncbi.nlm.nih.gov/11320641/