The Best Hangover Kit Wedding Favors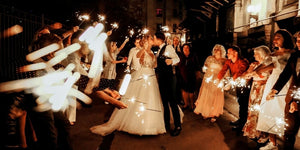 What is the best hangover kit wedding favors? This is a question quite often from brides and grooms who are looking to buy top notch hangover kit wedding favors. You want the best kit you can find, yet you don't want to fork out all of your hard earned money on a product that nobody will like or use on their special day.
Whether the happy couple is looking to celebrate the big day in Las Vegas or just a weekend getaway, it is always great to have a hangover kit wedding favors for the party after the wedding. For many, an alcohol-themed wedding favor is always welcomed.
Here we review one hangover kit wedding favor your guests will love!
The Best Hangover Kit Wedding Favors
A hangover kit wedding favor is a great way to thank your guests for coming to your wedding. It is also a great way to help them recover from the night before.
At Zaca, we create a Hydration + Liver Aid chewable that is a hit at weddings. Couples from across the country purchase our chewables to include as favors in wedding hangover kits.
Zaca chewables help your guests rehydrate, replenish, and recover faster.
Here's 5 reasons why it's the best hangover kit wedding favor:
Some of us really enjoy the party after a wedding: the dancing, the laughter and the joy. Some of us could use a little extra help in enjoying those things, though.
That's why Hangover Kit Wedding Favors using zaca are perfect for those who had imbibed too much the evening before or needed a helping hand on the big day—and they may have helped save some guests by making sure they were well hydrated!
1. They help with BOTH hydration, plus liver aid!
It's good to have a product that doesn't just help with drinking.
Guests will be coming in from all areas, local and out of state -- and they will be delighted with something that not only helps with drinks but also traveling, immune support and general hydration.
2. Science-back ingredients for wedding favor.
Just one ingredient alone, Hovenia Dulcis, was shown in a South Korean study to alleviate the hangovers in alcohol-induced subjects.¹
Hovenia Dulcis comes from Japanese Raisin tree and is popularly grown throughout many Eastern Asian countries. Its been known to have liver supporting properties and used in Tradtional Chinese Medicine for centures.
Zaca chewables are loaded with Hovenia Dulcis.
3. Indivudualy wrapped packets.
You don't need to split up any product.
Zaca comes in individually wrapped packets that are small enough to fit into any wedding survival hangover kit, no matter how large or small you make them.
Not only great for guests to use at the wedding, they can take them with them anywhere they go without taking up too much space. Not to mention, perfect for bachelorette survival kits and bachelor parties!
4. Classy hangover kit wedding favor.
These won't look tacky like many hangover kit wedding favors. 
Zaca comes in beautifully, chic packets that look classy to fit the tone and look of any wedding. 
5. This wedding favor tastes great.
Taste is important, especially when sipping fine wines and champagne at a wedding. 
Zaca's chewables are berry flavored and have a higher rating than most products on the market. The flavor is rated 4.6 by Amazon customers.
In the end, remembering to keep your guests' health and well-being in mind when you're thinking up hangover kit wedding favors is utmost important. Zaca is not only a thoughtful gesture, it also assures that everyone will have a good time at the wedding and reception—and even other wedding festivities leading up to the big day. Buy zaca for your hangover kit wedding favor today!
SOURCES:
1. A standardized extract of the fruit of Hovenia dulcis alleviated alcohol-induced hangover in healthy subjects
https://pubmed.ncbi.nlm.nih.gov/28750942/