10 Reasons Zaca Is The Best Rated Glutathione Supplement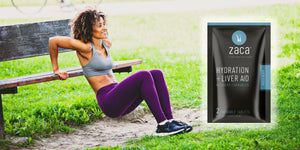 Why is Zaca the best rated Glutathione supplement? It's all about quality and effectiveness. We use science in our development procedure, then we test it to make sure it works before we put it on the market. But don't just take our word for it. Here is a list of 10 reasons why Zaca is the best rated glutathione supplement on the market, and on Amazon.


10 Reasons Zaca Is The Best Rated Glutathione Supplement
As you may not know, Zaca is one of the best rated glutathione supplements based on 3rd party Amazon customer reviews at 4+ star reviews. As one of the only glutathione chewable tablets, we're going to dive deeper though on why we think Zaca is the best rated glutathione supplement.
There are thousands of glutathione supplements on the market, but few are backed by science, quality and results. Zaca chewables are a premium glutathione supplement that contains only the highest quality ingredients with the science to back it up.
Here are ten reasons why Zaca is the best rated glutathione supplement:


1. Fermented, Standardized Glutathione (Setria)
Zaca uses a branded, industry-leading form of L-Glutathione called Setria, made from three amino acids: cysteine, glycine and glutamic acid.


Setria is a fermented and standardized form of Glutathione. The fermentation takes place under strictly controlled conditions to ensure superior quality and purity compared to other brands. Via an enzyme process, it avoids using synthetic and petrochemical ingredients.


And it's standardized so that you know exactly how much active ingredient you're getting with every Zaca chewable. Being a 
Setria glutathione supplement
 makes Zaca a superior choice.
2. Clinically Proven to Increase Glutathione Levels Up to 260%
Setria Glutathione in Zaca has been clinically proven to increase glutathione levels between 30% to 260% in as little as one month.² This was achieved through an independent clinical study conducted at Penn State University College of Medicine, which also showed significant increases to the participants Glutathione levels.


Specific increased glutathione levels shown are:
Whole blood glutathione levels increased up to 30%¹
Red blood cells glutathione levels increased up to 35%¹
Buccal cells glutathione levels increased up to 260%¹
3. Three Added Nutrients For Effectiveness
Zaca is uniquely formulated with more than Glutathione. Reinforced with Glutamine, Prickly Pear and Hovenia Dulcis, this is a superior combination of ingredients for maximized results.


While many Glutathione supplements use only Glutathione, such as many Glutathione pills, Zaca recognizes the synergistic benefits of adding other antioxidants, amino acids and herbs.


The combination of these ingredients give these vast health benefits:
liver support
antioxidant boost
aid immune function 
recovery support
increase glutathione levels
increase hydration
toxin detox
A best rated glutathione supplement should include other nutrients for the added and synergistic benefits like Zaca.


4. Robust Liver Aid
Not only is Glutamine a superior nutrient for 
liver aid
 and liver function, Zaca also includes a secret weapon for liver support known as Hovenia Dulcis.
Hovenia Dulcis extract
 that comes from a high altitude tree has been cherished in Asian culture and traditional medicine for hundreds of years as a liver tonic. Whether looking for liver health or even liver support when drinking alcohol, Hovenia Dulcis is a top choice.
Glutathione and alcohol
 is also known as a remedy, by aiding liver detox and helping liver function to process and eliminate alcohol.
Using these two best 
liver aid ingredients
, Zaca functions not only as a Glutamine supplement but as a 
Hovenia Dulcis supplement
 too with all the added liver aid benefits. It's definitely the best rated glutathione supplement when it comes to liver health.
5. High Antioxidant Support
Zaca combines three ingredients with high antioxidant properties. With Glutathione that's considered the body's master antioxidant, the chewable tablets also are formulated with Prickly Pear and Hovenia Dulcis that are known for their high antioxidant levels.


Whether you're looking for general free radical damage protection, exercise oxidative stress support, traveling antioxidant boost, or high altitude glutathione replenishment, Zaca chewables gives the most ample antioxidant support.


With triple the ingredients for antioxidant support, is yet another reason we consider Zaca the best rated glutathione supplement.


6. Two-fold Immune Booster
The Setria Glutathione in Zaca is clinically proven to boost natural killer activity by two-fold. With 200% more natural killer activity, you can enhance your body's immune system and first line of defense.


Whether viruses, infection, bacteria, disease or general stressors of the body's immune system, this Glutathione is proven is help protect your body when you need it most.


7. Body Detoxifier
Zaca's Glutathione is a body detoxifier that can help eliminate toxins from the cells, and protects them from damage.


Glutathione naturally helps protect your body from illness, environmental toxins, and stress. Including detoxification of harmful compounds such as heavy metals, chemicals, and alcohol from the body.


Being standardized and with high bioavailability, in the category of detoxification Zaca is the best rated glutathione supplement.


8. Portable, On-The-Go Chewables 
Zaca is easy to take with you when you're on-the-go. We offer convenient single serving packets that you can take anywhere.


Being convenient and portable, they're perfect for when you're traveling, working out, or just being active. Small and easy to carry in your purse or backpack, so you can take them with you wherever you go. You can even toss them into your gym bag or car console for an extra boost.


You don't have to worry about taking them with water because they're chewable tablets you can eat anytime. You can just pop a chewable whenever you need some Glutathione support.


This is another reason for being the best rated glutathione supplement where no other product provides this level of ease, convenience, or portability like Zaca in a chewable tablet.


9. Clean Formula
Zaca is a premium-quality, natural, vegan, and sugar free health supplement. Its ingredients are 100% natural and safe for both children and adults.


The chewables loaded with Glutathione are 100% free of gluten, wheat, dairy, soy, fillers, harmful stimulants, artificial colors or flavors. Our formula contains only natural ingredients such as the fermented Glutathione and herbs such as Prickly Pear.


Whether you're looking for an allergen-free product, or a diet friendly product include being keto friendly, vegan friendly, paleo friendly, and kosher friendly -- Zaca is the best rated glutathione supplement when looking for a clean product.


10. GMO free
Last but not least, Zaca is made GMO free.
Many possible side effects can be caused by the genetically engineered organisms and foods (GMO's) -- risks can include toxicity, immune system suppression, loss of nutrition, allergic reactions, liver toxicity, antibiotic resistance, stomach problems, and insulin regulation issues.


Due to these many risks and consumers wanting a natural product, we at Zaca make our supplement completely GMO free. Another big reason that separates Zaca from other options as the best rated glutathione supplement.


Try Zaca's glutathione supplement today and give your body the best protection.
FAQ's
Zaca Glutathione Supplement Benefits?
Glutathione supplement benefits from Zaca are wide due to its unique and robust formula, including three other key ingredients in addition to its Setria L-Glutathione.


These glutathione supplement benefits include liver function support, immune boost, boost antioxidants, faster recovery, alcohol detox, increases glutathione levels, enhance hydration, and detoxification of toxins


Is Glutathione Gluten Free From Zaca?
While we've answered 
is glutathione gluten free
 in another article, the short answer is yes Zaca's glutathione is gluten free. It depends on manufacturing purity, but Zaca uses the purest form to assure it's free of gluten and grains in every process.
Which Glutathione Supplement Is Best?
If you're searching "which glutathione supplement is best", you've come to the right spot. Read our list above of the 10 reasons Zaca is the best rated glutathione supplement.


To find which glutathione supplement is best, you not only want the best antidotal evidence by having the highest rated customer reviews, but also meeting the highest quality criteria and effectiveness. In the list we review all the reasons why we think Zaca meets all these requirements.
Try Zaca's Glutathione Supplement

For the 10 reasons above, Zaca's glutathione supplement is one of the most effective and natural supplements available. This unique formula supports your body's natural defenses, detoxification, recovery, liver aid, and immune support so you can feel your best. Taking just one chewable daily, or a pack of chewables when you need it most provides effective and comprehensive protection for you. Try Zaca glutathione supplement today and feel better faster.
SOURCES:
1. Setria Glutathione Infographic
https://setriaglutathione.com/en/setria-glutathione-infographic
2. Randomized controlled trial of oral glutathione supplementation on body stores of glutathione
https://pubmed.ncbi.nlm.nih.gov/24791752/
2. Setria Glutathione Studies
https://setriaglutathione.com/en/glutathione-studies
3. Setria Glutathione Antioxidant
https://setriaglutathione.com/en