Top 5 Hovenia Dulcis Alcohol Benefits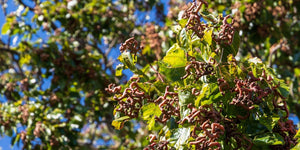 You might like a drink or two, but no one likes the after-effects of drinking alcohol. Next time you drink alcohol, you might want to consider supplementing Hovenia Dulcis, which is touted for its many alcohol-aiding properties to help your liver and your hangovers. We'll review the top 5 Hovenia Dulcis alcohol benefits that are backed by science.


What is Hovenia Dulcis?
Hovenia Dulcis, or Japanese Raisin Tree as it is also known, offers numerous health benefits and is grown throughout eastern Asia. The peduncle (stalk), seeds and fruit of the plant are all used for different purposes in traditional Chinese medicine for hundreds of years, where it is believed to be good for treating ailments.
More recently, science has discovered the healing components in Hovenia Dulcis such as DHM, which why you may see DHM alcohol cure touted.


5 Hovenia Dulcis Alcohol Benefits
Hovenia Dulcis extract has many uses, especially health benefits that have a scientific and anecdotal backing. Whether you want to drink alcohol in a healthy way or simply remove toxins from the body, you should consider the unique Hovenia Dulcis as a supplement from the research behind it.
Here's The Top 5 Hovenia Dulcis Alcohol Benefits Back By Science:
1. Hovenia Dulcis restores liver antioxidants like glutathione¹
A study done out of Shanghai China discovered that Hovenia Duclis can help protect the liver from alcohol-induced injury.¹ It does this by lessening the activities of alanine aminotransferase (ALT) and aspartate transaminase (AST), and restoring antioxidant enzymes such as glutathione.


2. Increase alcohol dehydrogenases (ADH) enzymes to help break down alcohol²
Beijing University of Chinese Medicine studied Hovenia Dulcis showing that it could alleviate alcohol toxicity.² Done so by increasing the alcohol-eating enzymes alcohol dehydrogenases (ADH) which aids the metabolism of alcohol in the liver and restricting the absorption of alcohol in the gastrointestinal tract.


3. Hovenia Dulcis significantly decreased hangover symptoms³
2017 research done in South Korea showed many anti-hangover effects from Hovenia Dulcis.³ Theorized that it helps to hamper inflammatory response to alcohol, Hovenia Duclis showed signifcant decreases in hangover symptoms on the twenty-six adults.


4. Hovenia Dulcis can protect liver function⁴
A study showed Hovenia Dulcis extract to have strong antioxidant properties, and reduced alcohol-induced oxidative liver injury. Proving it has hepatoprotective effects, the ability to prevent liver damage, and be a superior liver aid.⁴


5. Hovenia Dulcis may decrease alcohol concentration in blood⁵
A 2001 Beijing study discovered that Hovenia Dulcis may reduce blood alcohol concentration of acute alcohol toxicity in mice.⁵



Final Thoughts
Hovenia Dulcis alcohol benefits are substantial, and is a very viable natural ingredient to supplement for when consuming alcohol. From protecting liver function to as a liver aid to improving the symptoms of a hangover, this ingredient would be wise one in any medicine cabinet.
Want to supplement a high-quality Hovenia Dulcis extract? Try our Hovenia-infused liver aid chewables today!
1. Semen Hoveniae extract protects against acute alcohol-induced liver injury in mice
https://pubmed.ncbi.nlm.nih.gov/20673184/
2. Influence of Hovenia dulcis on alcohol concentration in blood and activity of alcohol dehydrogenase (ADH) of animals after drinking
https://pubmed.ncbi.nlm.nih.gov/17048612/
3. A standardized extract of the fruit of Hovenia dulcis alleviated alcohol-induced hangover in healthy subjects
https://pubmed.ncbi.nlm.nih.gov/28750942/
4. Hepatoprotective effects of Hovenia dulcis seeds against alcoholic liver injury and related mechanisms investigated via network pharmacology
https://www.ncbi.nlm.nih.gov/pmc/articles/PMC7327782/
5. Effects of fruits of Hovenia dulcis Thunb on acute alcohol toxicity in mice
https://pubmed.ncbi.nlm.nih.gov/11402730/