Top 3 Natural Supplements For Altitude Sickness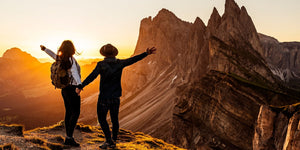 If you've ever been to a higher elevation, you know that altitude sickness can be crippling. If you're looking for natural supplements for altitude sickness, at Zaca we have researched and tested herbs so you know what natural supplements work and how our natural altitude supplement can help you.


Top 3 Natural Supplements For Altitude Sickness
The air is thinner at high altitudes which can cause altitude sickness. Altitude sickness can make you feel weak and tired. It can also make it hard for you to breathe properly and may lead to headaches, nausea and vomiting. 
Natural supplements for altitude sickness are safe and effective. They can help you recover faster and avoid the negative effects of low oxygen levels.
Being a Colorado-based company, we've done a lot of research on altitude sickness and picked our top 3 natural altitude supplements. Also to mention, all three of these are sold in the Rocky Mountains.
These natural supplements for altitude sickness include:


1. Zaca Chewables
As the #1 trusted pick in Colorado, Zaca's
chewable altitude supplement
are designed to help counteract the physiological effects of high altitude. Zaca, founded in 2008, is the perfect companion for your next adventure whether it be a mountain hike or a long flight.
Zaca is a combination of antioxidants and herbs including Glutathione, DHM and Glutamine that provides rehydration, replenishment and recovery. These natural
herbs for altitude adjustment
are proven to be safe and effective, and also multi-use because of the proprietary formula.
Made with natural ingredients, Zaca chewables are GMO free and gluten free so they're healthy for your body. And while they are great-tasting, there's no artificial flavors or sweeteners used. These are created as the most natural option available.


Lastly, being a chewable tablet allows you to take Zaca on-the-go without the hassles of pills, powders or drinks. The most convenient supplement, so you can feel your best and enjoy your high altitude trip.


2. Boost Oxygen
Altitude sickness is mainly due to the lower oxygen levels. Oxygen is essential for your body to function properly. It helps regulate your metabolism, creates cellular energy and supports a healthy immune system. Boost oxygen is meant to help replace lost oxygen to give your body a boost.


Improve your performance, decrease recovery time and support your body's normal response to respiratory stress with this advanced, all-natural canned oxygen supplement.


Boost Oxygen is made with 95% pure oxygen that even aviators use, and filled into portable canisters that can be taken anywhere.


3. Acli-Mate Mountain Sport Drink
Acli-Mate Mountain Sport Drink is a natural supplement designed to help ward off altitude sickness.


The drink, which is made with herbs such as
Ginko Biloba
, Schizandara and Rhodiola, can be taken before you hit the road simply by mixing with 12oz of water.
This natural supplement for altitude sickness is perfect for anyone who leads an active lifestyle and experiences symptoms of acute mountain sickness (AMS).


While it appears to be made with natural ingredients, we could not find any direct info to confirm it's GMO free or gluten free like Zaca. Furthermore, it's made with sugar, while also doesn't disclose how much sugar it contains.


Try Colorado's #1 Altitude Supplement

Zaca is a natural, herbal way to help with high altitude adventures. Each chewable tablet is packed with more than 1100mg of the world's highest-altitude tested herbs and antioxidants that have been proven effective. Zaca chewables are perfect for anyone during long travel and flights, competing in high altitude athletic events, or simply traveling to higher elevations. Try Zaca's chewable tablets today and enjoy your next trip with the confidence.