Parker Colorado Altitude: And 5 Tips To Avoid Altitude Sickness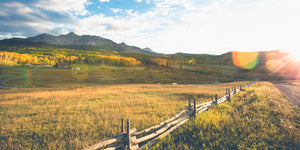 If you're planning a move to Parker Colorado or visit the area, altitude sickness commonly surprises visitors. As a local Colorado company, we'll reveal to you everything you need to know about Parker Colorado altitude and five tips to avoid Parker altitude sickness.


Parker Colorado Altitude
Parker Colorado altitude is 5,869 feet above sea level. This is over 500 feet higher than the mile high city of Denver just 20 miles away.
Parker Colorado altitude - 5,869 feet (1,789 m) 
Parker Colorado is located next to the foothills of the Rocky Mountains, just south of Denver. The city is known for its suburbian lifestyle while being nearby outdoor recreation opportunities and the mountains, including hiking, biking, skiing and fishing. 
Parker sits in between Denver and Castle Rock, while also being an easy drive away from Colorado Springs.
At these Parker Colorado altitudes, you should be prepared for altitude sickness especially if coming from sea level.


Is Parker Colorado In The Mountains?
No, Parker Colorado is not in the mountains.
It's located along the Front Range, which is why Parker can get confused with being part of the Rocky Mountains. Although not in the mountains, Parker Colorado is still considered high elevation for visitors.


Parker Colorado Altitude Sickness
Parker Colorado altitude sickness is caused by low levels of oxygen in the blood than at sea level. The climate of Colorado is also very dry, combined with increased respiration you'll likely experience faster fluid loss.
According to Dr. Ben Honigman, 8% to 10% of visitors of Denver get altitude sickness.² Since Parker is higher in altitude than Denver, that risk will go up. Furthermore, he says 25% to 30% of visitors of the mountains will get altitude sickness.²
The symptoms of Parker Colorado altitude sickness can include headaches, nausea or vomiting, dizziness and difficulty sleeping.
Parker Colorado altitude sickness symptoms:
headache
dizziness
nausea or vomiting
trouble breathing
feeling malaise
difficulty sleep or insomnia
loss of appetite
Be on the lookout for feeling any symptoms listed above within 24 hours after arriving. We'll share our best tips below to help you avoid Parker Colorado altitude sickness.


5 Tips to Avoid Parker Colorado Altitude Sickness
Whether you're visiting Colorado for its beautiful mountains, ski resorts, outdoor activities — or just to spend time in Parker Colorado, the high altitudes are a real threat to visitors.
While this may not seem like a big deal to someone from Colorado or who spends time at higher elevations — if you're coming from sea level and don't take precautions, then you may experience altitude sickness when visiting Parker Colorado and surrounding areas.
As a local company that has years experience and research with altitude, we'll share our top tips to help you avoid Parker Colorado altitude sickness.
Here's 5 Tips to Avoid Parker Colorado Altitude Sickness:


1. Maximize Hydration
The first thing to do when you're planning to visit Parker Colorado is to drink lots of water. The higher you go, the more fluid you'll need, and altitude sickness can become a serious problem.


The combination of dry air, increased respiration, and physical exertion makes dehydration more likely at higher altitudes like in Parker Colorado or in the Rocky Mountains.


To prevent dehydration on your trip, load up on fluids before departure and continue drinking water throughout each day while you're at high altitude. It's recommended by experts to drink at least half your body weight in ounces of water a day. Increase that even more with any outdoor activity or exercise.


TIP:
To maximize hydration, take Zaca
hydration tablets
to help increase water absorption.
2. Rest & Take It Easy
When you first arrive at a high-altitude destination such as Parker Colorado, take it easy for a couple of days.


Don't plan any strenuous activities during this time period — just get used to being at your new elevation and acclimatize as much as possible before setting out on any adventures.


If you do feel any symptoms of Parker Colorado altitude sickness, it's true that you will feel better if you stay in bed and rest.


In fact, experts say that sleep can help increase blood for for oxygen and nutrient delivery to cells, and help inflammation.³ Sleep at least 7-9 hours to get proper rest, which helps your body adjust and recovery better.


3. Limit Alcohol
With great restaurants and breweries, limiting alcohol in Parker Colorado can be difficult. However,
alcohol and altitude
do not mix well.
Alcohol will make it harder for your body to adjust and recover. Oddly, the symptoms of a hangover and altitude sickness are very similar, from headaches to nausea.


Limit alcohol until your body adjusts to the Parker Colorado altitude.


4. Acclimate Slowly
If you're planning to go to the Rocky Mountains while on your Parker visit, acclimate slowly to avoid ruining your mountain adventure.


You can do this by simply staying in Parker Colorado for a few nights before heading to any high altitudes. Give yourself time to adjust by moving up in elevation gradually over several days rather than going straight from sea level to over 8,000 feet, like in
Breckenridge
or Vail.
Many visitors heading for Colorado's many mountain destinations, such as skiers and climbers, will stay a night or two in Denver to follow this same tried and true tip. It helps allow you body to adjust to avoid altitude sickness.


5. Supplment Glutathione
Glutathione, known as the body's master antioxidant, was shown in research to deplete in high altitude by up to 45%.⁴


By supplementing glutathione, you can help raise your glutathione levels. Not only does this powerful amino acid fight off oxidative stress, it can boost your immune system as well.


This concludes our list of tips to avoid Parker Colorado altitude sickness — including by maximizing hydration, resting and taking it easy, limiting alcohol, acclimating slowly, and supplementing glutathione.


Colorado's Favorite Altitude Supplement

For those visiting Colorado's higher altitudes, Zaca is a local favorite. Whether traveling to the mountains for a ski trip or visiting Denver for work, Zaca chewables can help you rehydrate, replenish, and recover. These fast-acting chewables are loaded with glutathione to boost antioxidants. This one-of-a-kind formula provides your body the fuel it needs for mountain adventures, all in easy-to-use packets to take on-the-go. Simply take 2-4 chewables a day, or as needed. Try Zaca Chewables and power your body for your next high altitude trip.
SOURCES:
1. Parker Colorado
https://en.wikipedia.org/wiki/Parker,_Colorado
2. Don't let altitude sickness ruin your trip to Colorado
https://www.denverpost.com/2016/11/23/altitude-sickness-tips-colorado/
3. Sleep: The Secret Ingredient of Injury Recovery
https://www.orthocarolina.com/media/sleep-the-secret-ingredient-of-injury-recovery
4. Effect of high altitude (7,620 m) exposure on glutathione
https://pubmed.ncbi.nlm.nih.gov/11320641/