Patagonia Altitude Sickness: Must-Read Guide & 6 Tips To Avoid It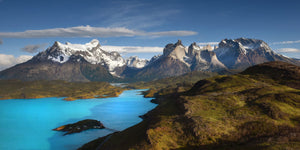 For its unique beauty, Patagonia attracts visitors worldwide, but many underestimate the effects of higher altitudes. In this complete guide, having vast experience with high elevations we'll share with you everything you need to know about Patagonia altitude and our best tips how to avoid Patagonia altitude sickness.


Patagonia Altitude
Being a region in Chile and Argentina, Patagonia has a wide range in altitude from sea level to the highest peak of Cerro San Valentín at 13,314 feet high.
Patagonia altitude - 0 to 13,314 ft (0 to 4058 m)
Patagonia is a region located at the southern end of South America, encompassing parts of both Argentina and Chile. As a popular destination for wildlife enthusiasts and nature lovers — it is characterized by stunning natural landscapes, including glaciers, mountains, forests, coastline, and desert.
Patagonia Desert (Steppe) altitude - 300 to 5000 ft (91 to 1524 m)
The region is home to several national parks, including Los Glaciares National Park in Argentina and Torres del Paine National Park in Chile. These parks attract visitors from around the world who come to hike, camp, climb, and explore the unique beauty of the area.
Torres del Paine National Park altitude - 8,200 ft (2,500 m)
Los Glaciares National Park altitude - 4,900 ft (1,500 m)
With such diverse landscapes including the Patagonian Desert, the Andes mountains, and grasslands — the Patagonia altitude varies a lot based on where you visit. 
High altitude mountains in Patagonia:
Monte San Valentín altitude - 13,314 ft (4058 m)
Monte San Lorenzo altitude - 12,159 ft (3706 m)
Volcán Lautaro altitude - 11,762 ft (3585 m)
Cordón Mariano Moreno altitude - 11,434 ft (3485 m)
Cerro Arenales altitude - 11,276 ft (3437 m)
Cerro Fitzroy altitude - 11,171 ft (3405 m)
Cerro Mellizo Sur altitude - 10,958 ft (3340 m)
Cerro Bertrand altitude - 10,804 ft (3293 m)
Torrecilla altitude - 10,377 ft (3163 m)
Peak 3160 altitude - 10,367 ft (3160 m)
Cerro Torre altitude - 10262 ft (3128)
As you can see, the altitude of Patagonia has a wide range depending on were you visit and what you're doing. Hikers, climbers, and outdoor explorers can be exposed to some very high heights.


Does Patagonia Have High Altitude?
Yes, Patagonia has high altitude but it depends where you visit.
International Society for Mountain Medicine designates that high altitude starts at 4,900 feet.⁹ High altitude mountains in Patagonia include Monte Fitz Roy at 11,171 feet in altitude and Cerro Torre at 10,262 feet in altitude. Even Patagonia Steppe, the desert lands of Patagonia, reaches 5,000 feet high.


What Is The Highest Point In Patagonia?
The highest point and mountain in Patagonia, Monte San Valentín, stands at 13,314 feet above sea level.


Do You Need Diamox For Patagonia?
Diamox is a prescription drug for altitude sickness, you should consult your doctor if you need this medicine for Patagonia.
Patagonia Altitude Sickness
Patagonia altitude sickness, also known as acute mountain sickness, occurs because the lower oxygen level at higher altitude. As you climb in elevation, your body has to adjust to having less oxygen

—also i

ncreased respiration, dehydration, and oxidative stress can play a role too.
Your body may not be able to make this adjustment quickly enough, resulting in symptoms such as shortness of breath and fatigue. These symptoms develop usually with 6-24 upon arrival at high altitudes
Symptoms of Patagonia altitude sickness may include:
headache
nausea (or vomiting)
trouble breathing
dizziness
loss of apetite
confusion and disorientation
difficulty sleeping or insomnia
malaise or feeling ill
Keep an eye out for any of these symptoms of Patagonia altitude sickness. Read our tips below to be best prepared for your trip.


7 Tips To Avoid Patagonia Altitude Sickness
If you're planning a trip to this stunning region at the southern end of South America, altitude sickness can put a damper on your Patagonian adventure.
But don't worry! We have years of high-altitude experience to share our top tips with you. With a little preparation and know-how, you can help avoid altitude sickness and enjoy all that Patagonia has to offer.
Here's 7 Tips To Avoid Patagonia Altitude Sickness:
1. Stay well hydrated
It's important to stay well hydrated at all times during your trip. It's estimated by the Wilderness Medical Society that you lose water twice as fast at high altitudes, and increase respiration is a result too.¹¹ 
Common recommendations is to drink half your weight in ounces of water a day. If hiking or climbing, you likely want to drink even more.
TIP:
To boost hydration, add sea salt (electrolytes) to your food, and take Zaca
hydration chewables
to help enhance water absorption.
2. Avoid Overexertion
Don't try to do too much too soon — even simple activities can be exhausting until your body adapts. Strenuous activity such as hiking or climbing can make altitude adjustment harder.
Avoid overexerting your body and take it easy the first few days you go higher in altitude. Rest as needed and take many breaks. 
3. Acclimate Slowly 
Don't try to ascend in altitude too high too fast. Your body needs time to adjust to the change in oxygen levels, this process can take a few day to even a few weeks in severe cases.
For example, El Chaltén is a popular starting point for many hikes but only sits at 1345 feet. If you're going to climb nearly mountains, this is a great place to stay and will ease your increase in elevation before heading to higher points.
4. Get A Good Nights Rest
Research shows that sleep is the secret ingredient to recovery.¹² And it can help increase blood flow and oxygen.¹² This can be vital for high altitudes, while at the same time altitude sickness can counteract and cause sleep issues or insomnia.
Get a good nights rest, 7-9 hours of sleep is optimal. To enhance your circadian rhythms for sleep, get plenty of natural sunlight during the day and sleep in complete darkness.
5. Limit Alcohol 
Before you travel to Patagonia, it's important to know that alcohol consumption can worsen altitude sickness. The results from alcohol include dehydration, lower sleep quality, decreased blood oxygen saturation.¹³
Symptoms of a hangover can be similar as well, including fatigue and headache. Limit alcohol your first day or two a higher altitudes, or until you feel no symptoms of altitude sickness.
6. Take Antioxidants 
Oxidative stress, that causes free radical damage, has been found to be a contributor to the issues a high altitudes.¹⁴ Antioxidants can be a promising solution to help fight it off.¹⁵
One study out of India discovered high altitudes to deplete glutathione by 45%. Supplementing antioxidants can help increase your levels naturally and combat oxidative stress.¹⁶
In conclusion, these top researched tips can help you avoid Patagonia altitude sickness — which includes staying well hydrated, avoiding overexertion, acclimating slowly, getting a good nights rest, limiting alcohol, and taking antioxidants.


Top Rated Travel & Altitude Supplement
Zaca chewables provide your body with the vitamins and nutrients your body needs to help you not only feel better, but also perform at your peak. These chewable provide a wide range of nutrients, including glutathione, which helps boost your antioxidant levels. All of its ingredients work together to support wellness during travel and in high altitude. Made in on-the-go packets, simply take 2-4 chewables a day or as needed.
Try Zaca's chewable supplement today and rehydrate, replenish, and recover faster.
SOURCES:
1. Cerro Torre Elevation
https://en.wikipedia.org/wiki/Cerro_Torre
2. Patagonian Desert Elevation
https://en.wikipedia.org/wiki/Patagonian_Desert
3. Monte San Valentín Elevation
https://en.wikipedia.org/wiki/Monte_San_Valent%C3%ADn
4. Torres_del_Paine_National_Park Elevation
https://en.wikipedia.org/wiki/Torres_del_Paine_National_Park
5. Los Glaciares National Park
https://en.wikipedia.org/wiki/Los_Glaciares_National_Park
6. Highest Elevation Peaks of the Patagonian Andes
https://www.peakbagger.com/range.aspx?rid=217
7. Patagonia
https://en.wikipedia.org/wiki/Patagonia
8. Patagonia Altitude
https://www.summitpost.org/patagonia/171078
9. Effects of high altitude on humans
https://en.wikipedia.org/wiki/Effects_of_high_altitude_on_humans
10. Fitz Roy Elevations
https://en.wikipedia.org/wiki/Fitz_Roy
11. Why Do You Need to Drink a Lot of Water at a High Altitude?
https://www.livestrong.com/article/360485-how-to-train-for-high-altitude-hiking
12. Sleep: The Secret Ingredient of Injury Recovery
https://www.orthocarolina.com/media/sleep-the-secret-ingredient-of-injury-recovery
13. Effects of Alcohol
https://www.ahajournals.org/doi/full/10.1161/01.HYP.29.6.1278#
14. High altitude and oxidative stress
https://pubmed.ncbi.nlm.nih.gov/17482529/
15. Oxidative Stress and Diseases Associated with High-Altitude Exposure
https://www.ncbi.nlm.nih.gov/pmc/articles/PMC8868315/
16. Effect of high altitude (7,620 m) exposure on glutathione
https://pubmed.ncbi.nlm.nih.gov/11320641/
17. El Chalten Elevation
https://en.wikipedia.org/wiki/El_Chalt%C3%A9n