Prime Hydration Sticks vs Zaca Hydration Chewables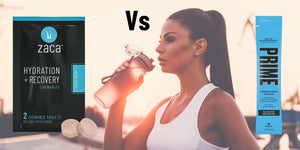 As a supplement company with years of experience being founded in 2008, we review Prime Hydration Sticks and compare them to our Zaca Hydration Chewables.


Prime Hydration Sticks
Endorsed by the famous YouTubers Logan Paul and KSI, Prime Hydration Sticks are a new hydration powder.
Prime Hydration Sticks are a portable water supplement that helps to maintain your body's electrolyte levels, and are touted as the ultimate recovery supplement. These powder sticks are good for use during exercise, hiking, biking, competing, or as a daily supplement.
Promoted as using 10% coconut water — combined with B vitamins, electrolytes, antioxidants, and BCAA for muscle recovery.
Prime Hydration Sticks are a more convenient alternative to their Prime Hydration Sport Drink. They're easy to carry and can be taken anywhere when you're on-the-go.


Congo Brands Actually Owns Prime Hydration
Despite most people thinking Logan Paul and KSI own Prime Hydration, Congo Brands actually owns Prime Hydration.
Sportsmanor reports that the YouTubers only own 20% of the company combined, and act more as endorsers than owners for the company.¹


Prime Hydration Stick Flavors
Prime Hydration Sticks come in a variety of flavors including:
Ice Pop
Blue Raspberry
Tropical Punch
Lemon Lime
Prime Hydration Sticks Ingredients

Prime Hydration Sticks is a product that is made of a combination of various ingredients, some of which are natural and others are synthetic.
These hydration sticks are made with:
10% coconut water
B vitamins including B6 and B12
Electrolytes including Magnesium and Potassium
Antioxidants including Vitamin C, A and E
BCAAs including L-Isoleucine, L-Valine and L-Leucine
While Prime Hydration Sticks have some natural ingredients including coconut water and sea salt, many of the vitamins, antioxidants, and sweeteners are synthetically made.
The full ingredients of Prime Hydration Sticks include:
Citric Acid, Coconut Water From Concentrate (Allergen), Natural Flavor, Dipotassium Phosphate, Magnesium Citrate, Sucralose, Ascorbic Acid (Vitamin C), L-Isoleucine, L-Valine, L-Leucine, Sea Salt, D-Alpha Tocopheryl Acetate (Vitamin E), Acesulfame Potassium, Retinyl Palmitate (Vitamin A), Pyridoxine Hydrochloride (Vitamin B6) Cyanocobalamin (Vitamin B12).


Prime Hydration Sticks Review
In our review of Prime Hydration Sticks — while there's many potential benefits for hydration and recovery, we don't think it's a healthy hydration option due to the use of synthetic vitamins, synthetic antioxidants, sugar, and artificial sweeteners.
We'll dive into the details of these ingredients below, including the side effects and downsides of being synthetic.


4 Side Effects And Downsides Of Prime Hydration Sticks
As a review of Prime Hydration Sticks, we identified four side effects and downsides. This is on the high side compared to even other hydration products we've reviewed, this makes us question the naturalness and healthiness of Prime Hydration.
Here's 4 side effects and downsides of Prime Hydration Sticks:
1. Contains Sugar 
Hydration products like Prime Hydration containing sugar claim it to be a good thing. But is it?


This claim that sugar is good for hydration is rooted in the World Health Organization (WHO) doing research on treating severely dehydrated children with acute diarrhea.⁴ The formula they used contained sugar and salt, and was called Oral Rehydration Solution (ORS).


The conclusion on this history of sugar usage for hydration is that while it may be useful in extreme dehydration as proved, overall it's actually pretty harmful to your health. Downsides of sugar include weight gain, high blood pressure, diabetes, liver problems, cavities and teeth issues, poor sleep, bad mood, and aging.⁵


Prime Hydration Sticks contain 2 grams of sugar per serving. Although it is on the lower end of sugar-containing hydration drinks, using Prime on a daily basis or using multiple sticks at a time could be bad for your health.


2. Synthetic B Vitamins
Prime Hydration Packets and Prime Hydration Sports Drinks use synthetic B vitamins. Synthetic B vitamins have been shown to not absorb as easily as natural forms, and some are made from toxic chemicals.


Vitamin B6 (pyridoxine hydrochloride) - This synthetic form of vitamin B6 is made formaldehyde, hydrochloric acid, and petroleum ester.⁶ Not only does it have low bioavailability, it can disrupt natural forms of B6 in the body.
Vitamin B12 (Cyanocobalamin) - This synthetic form of vitamin B12 is made from cyanide. which is known to be a highly toxic chemical.⁶
These synthetic forms of vitamin B or B complexes are not optimal for the body nor absorption.


3. Synthetic Antioxidants
Just like the synthetic vitamin Bs used, Prime Hydration Packets use synthetic antioxidants too. This creates problems again such as low absorbability.


Vitamin C (L-ascorbic acid) - Vitamin C is missing vital bioflavonoids and other cofactors when synthetically made.⁶ Often derived from GMO corn syrup, ascorbic acid could also kill your good gut bacteria.⁷
Vitamin A (retinyl palmitate) - This form of Vitamin A is a synthetic alternative made from palmitic acid and retinol, and it considered by the FDA to be a human reproductive toxicant.⁸
You want the most natural and bioavailable antioxidants for optimal results, not these synthetic forms.


4. Artificially Sweetened
Prime hydration packets are artificially sweetened with sucralose and acesulfame potassium. While this can lower the sugar count, there's numerous downsides and health consequences to using artificial sweeteners.


Sucralose - Known by the brand name Splenda, sucralose has been shown to have a worse effect on your gut than other artificial sweeteners.⁹ It has been linked to leaky gut by harming intestinal walls and has been associated with weight gain.⁹
Acesulfame Potassium - Similar to Sweet and Low®, this synthetic sweetener could cause changes in gut microbiota, increase changes of weight gain and headaches, and some questions its safety in recent studies.¹⁰
It's important to be aware of the health consequences and we think it's much healthier to use natural sweeteners.


These downsides and side effects of Prime Hydration Sticks show them to not be a healthy or natural option — and containing non-bioavailable and potentially toxic ingredients.


Is Prime Okay For Kids?
No, we do not recommend using Prime Hydration Packets for kids.
While a lower sugar count like Prime is something parents look for, replacing sugar with artificial sweeteners is not a healthy way to go.
Due to the many synthetic vitamins and artificial sweeteners, along with some sugar content, you should not have your kids take Prime.


5 Advantages Of Zaca Hydration Chewables
As a better alternative to Prime Hydration Sticks — Zaca is a natural, healthier option to hydrate and recover.
Zaca was founded in 2008 as a family-owned business and as a pioneer in the recovery industry. We'll reveal the advantages of using Zaca's hydration chewables below.
Here's 5 advantages of using Zaca Hydration Chewables:
1. Fast-Acting Chewables
These chewables are fast-acting

—

making them ideal for use during sports or exercise activities, going out for the evening, need a quick pick-me-up while hiking, biking on long rides, or when on-the-go traveling.


Just two chewable tablets will provide you with 1,100 mg of nutrients, fast. You can take them before, during and after exercise to help you stay hydrated.


The chewables digest quickly after eating, so you can get back to enjoying your activity quickly. They make it easy to take them on the go or when you're in a hurry.


2. Natural & Fermented Vitamins
Zaca chewables are made with natural ingredients that you can trust — fermented and naturally derived to help you rehydrate, replenish, and recover.


Natural nutrients with flavonoids and other co-factors increases their bioavailability and digestibility compared to synthetic versions of these nutrients found in many hydration products like Prime,
Liquid IV
and
SiS
.
Zaca does not use synthetic ingredients due to their chemical makeup, potentially toxic profile, low absorbability, and decreased results.


3. No Sugar or Artificial Sweeteners
Zaca hydration chewables contain only natural ingredients that are good for your body and taste amazing. No sugar or artificial sweeteners means there's no unhealthy consequences like with other sports drinks.


These chewables are made with real fruit flavors, safe and delicious sweeteners including xylitol and stevia, and no artificial colors.


Sugar and artificial sweeteners such as sucralose in Prime Hydration Packets can cause potential problems such as weight gain and disrupt your gut health.


4. Performance Enhancing Amino Acids
Our chewable tablets contain a special blend of performance-enhancing amino acids that can help with muscle recovery, hydration, and fatigue.


Using the best dipeptide of
l glutamine
, called l-alanyl-l-glutamine, you get a myriad of benefits on top of it helping with hydration by improving water retention in cells.
This proves to be a much stronger formula than just electrolyte or mineral based nutrients that most hydration products have.


5. Low Carb and Diet Friendly
We know that many of our customers are on diets, so we wanted to make sure that our chewable product was low carb and diet friendly.


Zaca Hydration Chewables contains only 2 carbs, 5 calories, and no sugar. In addition, no soy, gmo free,
keto friendly
, vegan friendly, paleo friendly, and no artificial sweeteners or flavors.
Unlike other hydration drinks and powders, you can enjoy Zaca if you're on a diet.


The combination of these advantages makes Zaca a superior option for hydration, recovery, and performance — which includes being fast-acting via chewables, formulated with natural and fermented ingredients, using no sugar or artificial sweeteners, featuring performance-enhancing amino acids, and being low carb and diet friendly.


Zaca Hydration Vs Prime Hydration Comparison
Zaca Hydration Chewables and Prime Hydration Sticks are both hydration and recovery products. But which supplement is better?
From doing a Prime Hydration Sticks review — we believe Zaca is by far the healthier, powerful, and more bioavailable option.
The ways Zaca is different and has advantages over Prime Hydration Sticks include — vegan friendly, nut free, bioavailable nutrients, soy free, liver supporting, high in antioxidants, standardized herbs, sugar free, free of synthetic vitamins, no water required, easy to take, keto & diet friendly, amino acid enhanced, and fast-acting.
Zaca vs Prime Comparison Chart: 
| | | |
| --- | --- | --- |
|   | Zaca | Prime |
| Calories | 5 | 20 |
| Carbs | 2g | 6g |
| Sugar | 0g | 2g |
| Hydration Support | ✓ | ✓ |
| Performance Enhancing | ✓ | ✓ |
| Multi-Purpose | ✓ | ✓ |
| Travel Friendly | ✓ | ✓ |
| Gluten Free | ✓ | ✓ |
| Vegan Friendly | ✓ | ✓ |
| Take On-The-Go | ✓ | ✓ |
| Beat Fatigue | ✓ | ✓ |
| Tastes Great | ✓ | ✓ |
| Portable Packets | ✓ | ✓ |
| GMO Free | ✓ | ✓ |
| Vegan Friendly | ✓ |   |
| Nut Free | ✓ |   |
| Bioavailable Nutrients | ✓ |   |
| Soy Free | ✓ |   |
| Liver Support | ✓ |   |
| High In Natural Antioxidants | ✓ |   |
| Standardized Herbs | ✓ |   |
| Sugar Free | ✓ |   |
| Free of Synthetic Vitamins | ✓ |   |
| No Water Required | ✓ |   |
| Easy To Take | ✓ |   |
| Keto & Diet Friendly | ✓ |   |
| Amino Acid Enhanced | ✓ |   |
| Fast-Acting | ✓ |   |
With the combination of these factors on our comparison review — Zaca comes out as the cleaner, healthier, and better hydration alternative.


Zaca Hydration + Recovery Chewables

Give yourself a boost of hydration and recovery in one chewable with Zaca. Formulated with an amino acid-rich formula that enhances performance, increases hydration, and improves recovery. It's now easier and healthier than ever to power through your toughest workouts, endure long travels, survive a night out, and boost your body on adventures. Take these on-the-go packets when you need them most, simply eat 2-4 chewables to feel your best. Try Zaca hydration + recovery chewables today to hydrate better and healthier.
SOURCES
1. Logan Paul Expects to Earn $5 Billion From His PRIME Energy Drink Company
https://www.sportsmanor.com/boxing-news-logan-paul-expects-to-earn-5-billion-from-his-prime-energy-drink-company/
2. Prime Hydration - Prime Hydration Sports Drink - Prime Hydration Sticks
https://drinkprime.com/
3. Prime Hydration Drink Mix - Blueberry (6 On The Go Sticks)
https://www.vitaminshoppe.com/p/prime-hydration-stick-blue-raspberry-6-sticks/prh0006
4. Oral rehydration salts
https://www.who.int/publications/i/item/WHO-FCH-CAH-06.1
5. 10 Reasons Why Sugar Is Bad for Your Health
https://www.atkins.com/how-it-works/library/articles/10-ways-sugar-harms-your-health
6. Natural vs. Synthetic Vitamins – What's the Big Difference?
https://sunwarrior.com/blogs/health-hub/natural-vs-synthetic-vitamins
7. Synthetic Vitamins
https://ntischool.com/synthetic-vitamins/
8. What is Retinyl Palmitate: Chemical Free Living
https://www.forceofnatureclean.com/chemical-free-living-retinyl-palmitate/
9. Sucralose: 5 Reasons to Avoid This Artificial Sweetener
https://draxe.com/nutrition/sucralose/
10. What Is Acesulfame Potassium and Is It Safe?
https://draxe.com/nutrition/what-is-acesulfame-potassium/