Sustain Performance Hydration Drink Sport vs Zaca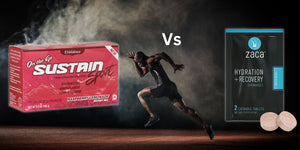 As a Colorado-based supplement company with a lot of experience on hydration, we review Sustain Performance Hydration Drink Sport and compare it to our Zaca Supplement.


Sustain Performance Hydration Drink Sport
What is Sustain Performance Hydration Drink?
Sustain Performance Hydration Drink is a sports drink powder that contains electrolytes, vitamins, and antioxidants. Advertised to maximize your performance by helping you rehydrate, rebound, and recover.
Made by Melaleuca which was founded in 1985, it's a company designed as direct sales similar to Herbalife and Amway. Reps get paid a commission for referring customers to Melaleuca.
Melaleuca Sustain Performance Hydration Drink is just one of over 450 health and wellness products they offer, doing over 2 billion a year in sales for categories including personal care, nutrition, home cleaning, and cosmetics.


Sustain Sport Benefits
The Sustain Performance Hydration Drink is the first product in the sport category for Melaleuca that is aimed at performance and hydration.
Sustain Performance Hydration Drink Sport is ideal for anyone who wants to supplement essential electrolytes, including: athletes, those who train hard, people who lead active lifestyles or those who spend long days at work or out running errands.
The powder formula for Sustain Sport uses vitamin B's (B2 and B12), vitamin C, Vitamin E, magnesium, potassium, calcium, and sodium.
Sustain Sport Benefits:
Hydration
Endurance
Performance 
Electrolyte replenishment
Antioxidant and vitamin boost
Low-calorie
While Melaleuca's website has a low amount of information on their Sustain Performance Hydration Drink Sport, this summarizes the benefits we found on the product.


Sustain Sport Performance Hydration Instructions
Melaleuca's Sustain Sports Performance Hydration Drink comes as a powder available in a jar and in on-the-go packets.
Sustain Sport instructions: Empty 1 packet (8 g) into 16 ounces of water, then mix or shake.


Flavors Of Melaleuca Sustain Sports Performance Hydration Drink
Melaleuca Sustain Sports Performance Hydration Drink comes in a variety of flavors. Those flavors include:
Raspberry Lemonade
Lemon Blast
Ruby Red Grapefruit
Orange Splash
Sustain Sport Performance Hydration Drink Ingredients
Sustain Sport vitamin and mineral formula includes:
Sodium - 65 mg (3% DV)
Calcium - 54 mg (4% DV)
Potassium - 32 mg
Vitamin C - 10 mg (10% DV)
Vitamin E - 3 mg (20% DV)
Riboflavin - 0.1 mg (8% DV)
Vitamin B12 - 1.4 mcg (60% DV)
Magnesium - 15 mg (4% DV)
While this formula appears to be good, you have to read the "full ingredient" list. This is the full nutrient list below, which draws some concerns on the quality of the ingredients being unnatural and unhealthy.
FULL INGREDIENTS: Crystalline fructose, citric acid, natural and artificial flavors, malic acid, calcium lactate, sodium citrate, salt, ascorbic acid, potassium chloride, natural color, sucralose, silicon dioxide, magnesium oxide, d-alpha tocopheryl acetate, ribose, cyanocobalamin, riboflavin.
Based on the ingredients listed, we'll dive in deeper below about the quality issue concerns with Sustain Sport.


Does Sustain Sport Have Caffeine?
No, Sustain Sport Drink does contain caffeine.


Sustain Performance Hydration Drink Review
In our review of Sustain Performance Hydration Drink — we identified synthetic vitamins, synthetic antioxidants, and artificial sweeteners that are unnatural and unhealthy for your body.
We'll go into depth on our review below about five downsides of using Sustain Performance Hydration Drink.


5 Downsides To Using Sustain Sport
After reviewing the ingredients in Sustain Sport, we identified components that make this sports drink have potential negative health consequences.


Here's the 4 downsides to using Sustain Sport Packets:


1. Synthetic Vitamins
Melaleuca Sustain Performance Hydration Drink powders contain synthetic vitamins, including vitamin B2 and B12. The problem is that synthetic vitamins are shown to not absorb as well, and some are made from toxic chemicals.


Vitamin B2 (riboflavin) - Riboflavin is a synthetic form of vitamin B2, made from acetic acid and nitrogen shown to have decreased absorbability and excreted through the urine faster.⁵
Vitamin B12 (cyanocobalamin) - Synthetic vitamin B12 is made from cobalt and cyanide, which is a known toxin.⁵
At Zaca, we use only natural and fermented nutrients, which also contain the naturally-occurring flavonoids and cofactors to optimize absorption and benefits.


2. High In Added Sugar
Sugar started being used in hydration products based on the research done by the
World Health Organization
to treat severely dehydrated children with acute diarrhea.⁷ The problem is, those are extreme circumstances and not based on daily use.
Sustain Sport contains 6 grams of sugar. Nowadays we know sugar is bad for you and can lead to numerous health issues including gaining weight, cavities, sleeping problems, diabetes, liver damage, mood changes, and aging.⁸


3. Synthetic Antioxidants
One of the most popular antioxidants, Vitamin C, is used by Sustain Sport in synthetic form. This is typically made from GMO corn, is missing key naturally-occurring components that the body needs, and and even kill good gut bacteria.⁹


Vitamin C (ascorbic acid) - Ascorbic acid is the synthetic form of vitamin C made from genetically modified corn sugar and acetone (yes, nail polish). It's missing key flavonoids and phytonutrients that make this vitamin work optimially.⁵
We believe in using pure vitamins such as using Prickly Pear that contains natural-occurring Vitamin C.


4. Harmful Artificial Sweeteners
On top of using sugar (fructose), Sustain Sport uses the artificial sweetener sucralose.


Sucralose, also known as Splenda, has been associated with weight gain and linked to bad gut health including leaky gut.¹⁰


In our book, artificial sweeteners are a big no-no as they cause havoc to the body.


5. Artificial Flavors
Sustain Sport uses artificial flavors as part of their formula.


Artificial flavors are derived from chemicals, and don't have to be disclosed on labels. Therefore, you don't really know what's in the flavoring used by Sustain Sport or another other artificial flavored hydration drink.¹¹


Downsides of using artificial flavors have been documented including depression, headaches, fatigue, dizziness, nausea, chest pain, allergies, and more.¹¹


In conclusion, these five downsides of using Melaleuca Sustain Performance Hydration Drink are alarming — which includes using synthetic vitamins, high amounts of sugar, synthetic antioxidants, harmful artificial sweeteners, and artificial flavors.


6 Advantages Of Zaca Hydration Chewables
We believe Zaca is a much healthier alternative to Melaleuca Sustain Sport powders.
Our hydration chewables help you rehydrate, replenish, and recover faster — without the unnatural and harmful ingredients. 
Here's five advantages of Zaca Hydration Chewables:
1. Zero Sugar
These hydration chewables are made with stevia and xylitol as a natural sweetener instead of sugar or artificial sweeteners. All the sweetness and great taste without the unhealthy consequences of sugar.


2. No Synthetic Vitamins
Our formula is made from natural ingredients that you can actually pronounce! We use prickly pear for example, which is high in naturally-occurring minerals and vitamins — including vitamin C, potassium, and magnesium.


3. Natural & Powerful Antioxidants
Featuring glutathione in our chewable formula, this powerful nutrient is considered "the mother of all antioxidants". Using a proprietary fermented process, our antioxidants are made naturally rather than chemically.


4. Fast, Convenient Chewables
You can take our chewables fast — anytime, anywhere. Unlike powders capsules, they don't need to be taken with water or food. The small size and light weight packets make it easy to carry several in your pocket, purse, backpack or luggage when you're on-the-go.


5. Performance-Enhancing Amino Acids
Zaca is superior for performance. Powered by
glutamine
, this performance-enhancing amino acid can promote muscle growth, improve recovery time, beat fatigue, and replenish glycogen energy stores.¹²
6. Pure, Non-GMO Ingredients
At Zaca we believe in using pure, non-GMO ingredients. Our chewables are also gluten-free, vegan, keto friendly, paleo friendly, and soy free — making them an excellent option for those on diets or seeking a healthy lifestyle.


Overall, these six advantages give you an edge when using Zaca — which includes using zero sugar, no synthetic vitamins, formulated with natural and powerful antioxidants, fast and convenient chewable delivery, powered with performance-enhancing amino acids, and made with only pure and non-GMO ingredients.


Zaca Hydration Vs Sustain Sport Hydration Comparison
We put Sustain Sport it to the test and compared it to Zaca. Which supplement is better?
From our Melaleuca Sustain Sport Hydration review — Zaca is clearly the healthier, more bioavailable, and even more powerful hydration supplement.
In the comparison, reasons Zaca is better than Sustain Sport include — GMO free, vegan friendly, no artificial sweeteners, nut free, bioavailable nutrients, soy free, liver supporting, high in antioxidants, standardized herbs, sugar free, free of synthetic vitamins, no water required, easy to take, keto & diet friendly, amino acid enhanced, and fast-acting.
Zaca vs Sustain Sport Comparison Chart: 
| | | |
| --- | --- | --- |
|   | Zaca | Sustain Sport |
| Calories | 5 | 30 |
| Carbs | 2g | 6g |
| Sugar | 0g | 6g |
| Hydration Support | ✓ | ✓ |
| Performance Enhancing | ✓ | ✓ |
| Multi-Purpose | ✓ | ✓ |
| Travel Friendly | ✓ | ✓ |
| Gluten Free | ✓ | ✓ |
| Vegan Friendly | ✓ | ✓ |
| Take On-The-Go | ✓ | ✓ |
| Beat Fatigue | ✓ | ✓ |
| Tastes Great | ✓ | ✓ |
| Portable Packets | ✓ | ✓ |
| GMO Free | ✓ |   |
| No Artificial Sweeteners | ✓ |   |
| Vegan Friendly | ✓ |   |
| Nut Free | ✓ |   |
| Bioavailable Nutrients | ✓ |   |
| Soy Free | ✓ |   |
| Liver Support | ✓ |   |
| High In Natural Antioxidants | ✓ |   |
| Standardized Herbs | ✓ |   |
| Sugar Free | ✓ |   |
| Free of Synthetic Vitamins | ✓ |   |
| No Water Required | ✓ |   |
| Easy To Take | ✓ |   |
| Keto & Diet Friendly | ✓ |   |
| Amino Acid Enhanced | ✓ |   |
| Fast-Acting | ✓ |   |
By reviewing the comparison of Zaca Hydration Chewables and Sustain Performance Hydration Drink Sport — we think Zaca comes out as the clear winner as a cleaner, healthier, bioavailable, and overall better option.


Zaca Hydration + Recovery Supplement

Zaca is a unique, proprietary blend of ingredients designed to help you rehydrate, replenish and recover. These chewables contain key amino acids including glutamine that your body craves when you push it to its limit. Scientifically formulated, Zaca is designed to enhance performance during activities when hydration and recovery is crucial: running, biking, traveling, hiking, drinking, altitude climbing, and endurance training. Simply eat 2-4 chewables before, during, or after your activity. Try Zaca hydration chewables today and replenish your body faster.
SOURCES:
1. Melaleuca Sustain Sports Performance Hydration Drink - Sustain® Sport: Raspberry Lemonade Packets
https://www.melaleuca.com/productstore/healthy-foods-and-drinks/sustain-sport-packets8496
2. Melaleuca Jobs
https://www.melaleucajobs.com/
3. About Melaleuca
https://www.melaleucanews.com/about-melaleuca/
4. Forbes - If You Believe Melaleuca
https://www.forbes.com/forbes/2004/1011/089.html?sh=57e412028b2f
5. Natural vs. Synthetic Vitamins – What's the Big Difference?
https://sunwarrior.com/blogs/health-hub/natural-vs-synthetic-vitamins
6. Sustain Sport Performance Hydration Drink 20pk - Raspberry Lemonade
https://www.amazon.com/Sustain-Sport-Performance-Hydration-Drink/dp/B00332YU3A
7. Oral rehydration salts
https://www.who.int/publications/i/item/WHO-FCH-CAH-06.1
8. 10 Reasons Why Sugar Is Bad for Your Health
https://www.atkins.com/how-it-works/library/articles/10-ways-sugar-harms-your-health
9. Synthetic Vitamins
https://ntischool.com/synthetic-vitamins/
10. Sucralose: 5 Reasons to Avoid This Artificial Sweetener
https://draxe.com/nutrition/sucralose/
11. Danger of Artificial Flavors
https://myplatebodyandmind.com/danger-of-artificial-flavors/
12. Five L Glutamine Benefits For The Gym
https://zacalife.com/blogs/blog/l-glutamine-benefits-gym