Travel Size Vitamins: Zaca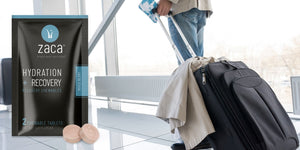 Whether you're looking for travel size vitamins or travel size supplements, Zaca chewables provide the best travel-friendly solution.


Travel Size Vitamins
Zaca is the perfect travel size vitamins.
Packaged in individual packets, Zaca is easy to pack for travel. They are small enough to fit in any travel bag, luggage, packet or purse and can be easily carried with you wherever you go.
These small, fast-acting chewable contains all the essential herbs, antioxidants and amino acids to help you feel better. Rehydrate, replenish, and recover fast.


The Benefits of Travel Size Vitamins
With Zaca, you can take on-the-go anywhere your travels take you. 
And as a fast-acting chewable, you can use Zaca anytime without the hassles of pills, powders, or drinks and no water required.
Here's the benefits of Zaca's travel size vitamins:
Take on-the-go
Individually wrapped packets
Fits in pocket, purse or luggage
TSA friendly
Water resistant packaging (beach and pool friendly)
Easy-to-use chewables
Fast results

Zaca will give you all the results you need as the ultimate travel size vitamins.


What Are The Ingredients In Travel Size Vitamins?
Zaca is made with a 4-herb formula to help you bounce back faster while traveling.
The ingredients in Zaca's travel size vitamins are:
Japanese Raisin (common names are: Oriental Raisin Tree, Raisin Tree, Hovenia Dulcis, Kenpo Nashi, Dihydromyricetin, DHM)
L-Alanyl-L-Glutamine (Glutamine)
Prickly Pear extract
L-Glutathione (Setria®)
The synergy of these ingredients will fuel your body for flying, adventuring, traveling and more.


What Size Vitamins Can I Take On A Plane?
If you're wondering, what size vitamins can I take on a plane or can you take vitamins on a plane carry-on? The truth is that you can take any size of travel vitamins on a plane as they comply with the TSA regulations for traveling with liquids in carry-on bags.
Liquids larger than 3.4 oz is not allowed, so make sure to not bring liquid vitamins or drinks.
Zaca is designed as a superior travel size vitamin that can travel through TSA security, on a plane, in your luggage or in your pocket. Simply open a packet of Zaca while on the plane and eat a few chewable to feel your best.


7 Reasons Zaca Is The Best Travel Size Supplements
Zaca is the best travel size supplement for those looking to take immune supporting, hydrating, and recovery ingredients on-the-go.
Whether you're going on vacation, a business trip, a mountain adventure such as skiing, flying overseas such as Europe, or simply a long road trip ━ Zaca gives you what you need so you can feel your best.
Here are sevens reasons why Zaca is the best travel size supplements:

1. Small and Portable
One of the best things about Zaca travel size supplements is that they are small and portable!


They're easy to pack, they don't take up much space. You can take them with you anywhere without having to worry about powders, mixing water, or taking up space.


These tiny packets can fit in anything, whether a purse, pocket, backpack, or luggage.


Since each serving is in individually wrapped packets, they will always be ready for you when you need them most!


2. TSA Friendly
Zaca is TSA friendly, without any liquids.


It's about the size of a deck of cards, but thinner, so it can easily be tucked in your carry-on or bag. You won't need to take your supplements out when going through security, and you're never at risk of Zaca spilling all over your clothes or luggage as there's no liquids or powders.


Zaca makes it easier and faster to travel with through airports.


3. Water Resistant 
The Zaca travel size supplements come in water resistant packaging, which makes them perfect for use at the pool or beach when traveling.


These chewables can be in your pock, purse or bag for any adventure without worry of water damage.


4. Pure, High-Quality Ingredients
Zaca uses only the purest, highest quality ingredients in their travel size supplements. This exclusive blends of ingredients ensures that you feel your best.


The ingredients in the chewable are natural, non-GMO, gluten-free, and diet friendly.


In addition, no sugar is used like many other travel size vitamins that can cause an energy crash. Only xylitol and stevia, so you can take as much as you need without worry of being unhealthy while on the road.


5. Great Tasting Berry
Zaca is the only travel size supplement with a flavor that's delicious, yet also natural.


The flavor has been described as "berrylicious" by our customers who love it as much as we do!


The taste of berry is not just great for adults but also kids who may be that extra nutrition boost, but are picky with products and flavors. One parent reported that her son would not drink Pedialyte, but loved the Zaca chewables.


6. Super Antioxidant Boosting
Studies have shown that oxidative stress is a major part of feeling lag while traveling.


Zaca contains high levels of antioxidants with antioxidant boosting nutrients such as Glutathione and Japanese Raisin.


Glutathione has been shown to deplete from traveling:


Glutathione levels are shown to decrease due to jet lag, proven in a study out of Illinois.²
With the altitude conditions of planes, glutathione has been shown to decrease by up to 45% in high altitudes in a study out of India

.¹
By replenishing these antioxidants such as supplementing Glutathione, you can help combat the oxidative stress from traveling. Not many travel size supplements contain high-quality antioxidants like Zaca.


7. Easy-To-Use Chewables
Some people just don't like swallowing pills or having the hassle to mix powders. Luckily Zaca's chewables are easy-to-use, which you can take anytime on-the-go.


These chewables do not require water, nor mixing. It's as simple as taking 2 chewables and going on your way.


In addition, these chewables are easy to digest and absorb into your system quickly — no more waiting for hours for your body to process it before getting the benefits!


This means that you get what you need faster so that you can go back to enjoying your travels.


This concludes our list of the top reasons Zaca is the best travel size supplements.


Top Rated Travel Size Vitamin

Zaca chewables are a travel vitamin supplement with essential nutrients to help you rehydrate, replenish and recover. Formulated with travel vitamins such as Glutathione, you can boost your antioxidant levels to better fight oxidative stress. These fast-acting chewables are convenient to take on-the-go while traveling, and are TSA friendly to fly with. Simply take 2-4 chewables each day while traveling. Try Zaca Chewables today to revitalize and rejuvenate your body during your travel adventures.