Altitude Adjustment All Natural: Zaca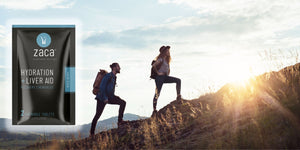 With only the highest quality raw materials as ingredients, Zaca offers an altitude adjustment all natural supplement.


Altitude Adjustment All Natural
Zaca strives to be the most natural and highest quality provider of altitude adjustment all natural supplements. Whether mountain hiking, climbing, skiing, vacationing or airplane travel, Zaca chewables helps you rehydrate, replenish and recover faster.
Below are 9 ways Zaca's altitude adjustment supplement is all natural:


No Petrochemicals


We use no petrochemicals in any of our products, which means you can enjoy the benefits of Zaca without having to worry about exposure to dangerous or harsh chemicals in its formulas.



GMO Free


Zaca chewables are GMO free to avoid genetically modified organisms. We believe that GMOs are harmful to human health and the environment, and are concerned by the fact that they are not required to be labeled as such in the United States.

There has been an increase in scientific evidence showing negative impacts from GMOs on human health, animals and the environment.



Natural & Fermented, Not Synthetic


Zaca is a true natural product, made with real herbs and amino acids either naturally derived from foods or fermented. These are natural ingredients that you can trust without highly used synthetic alternatives.

By some of the ingredients being fermented, such as Glutathione and Glutamine, improved their bioavailability so you can feel the best results.



No Artificial Flavors or Sweeteners


Zaca chewables uses no artificial flavors or sweeteners. It's a great-tasting chewable that even kids love. Zaca is made with naturally-derived berry extracted flavoring. It's also naturally sweetened with Xylitol and Stevia, no artificial sweeteners like aspartame.



Gluten Free


Zaca chewables are gluten free, grain free and wheat free. As an altitude adjustment all natural supplement, you can safely use the product if you suffer with celiacs disease or gluten sensitivity.



No Fillers or Additives


Zaca is the only chewable that contains no fillers or harmful additives. Made with 4 key active ingredients formulated for altitude and recovery, this is the best alternative to other supplements.



No Animal Origins


Zaca chewables use no animal origins or byproducts in its product or any of its product's ingredients. While naturally-derived, this means that there are no animal products in the manufacturing process and no animal products used as ingredients.



Sugar Free


Zaca is a delicious, sugar-free chewable tablet that contains Xylitol and Stevia as a natural alternative. Due to constant and excessive sugar consumption being harmful, and causing health issues like obesity, Zaca believes no sugar packets is the better solution.



Diet Friendly


Whether you're looking for a product that's keto friendly, vegan friendly, kosher friendly or paleo friendly, Zaca has your back! Providing you an altitude adjustment all natural supplement that's clean of diet restricted and unhealthy ingredients.
Zaca's Top-Rated Natural Altitude Supplement

Ready to take on the high country? Zaca's chewable tablets can help you fuel your body naturally in high altitude conditions. Made with a proprietary blend of natural ingredients including antioxidants, herbs and amino acids, you get the benefits of performance in a fast-acting chewable. Try Zaca's chewable tablet altitude supplement today and feel your best on your mountain trip.