Altitude Assist Supplement Review vs Zaca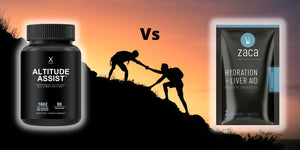 Table of Contents
As a Colorado-based company with a lot of experience with high altitude, we review Altitude Assist Supplement and compare it to our Zaca Supplement.


Altitude Assist Supplement
Altitude Assist Supplement is an herbal supplement that is known aiding individuals in altitude adjustment. As an altitude adjustment supplement, it's designed for athletes and adventurers to help with peak performance. It touts the ability to increase the efficiency of oxygen in the body.


Made by HumanX Supplements
Altitude Assist is made by HumanX Supplements. HumanX makes just over a dozen supplements, that are made in the USA and manufactured at a GMP-certified facility. 
Supplements they make include Turkesterone for male vitality, Lactoferrin and Artemisinin for immune support, TUDCA+ for liver aid, and VertiGone for vertigo.

In our research, there's not a lot of information we could find about the company HumanX, like how many years in business nor how the company was founded.
 

Developed As Altitude Adjustment Pills
Altitude Assist is developed as altitude adjustment pills. If you prefer pills, these are a good natural, non-prescription solution.

Altitude Assist Ingredients
The ingredients in Altitude Assist are designed to help the body adapt to high altitudes. The ingredients work with your body to supposedly increase blood oxygen efficiency to reduce symptoms of altitude sickness.
Altitude Assist ingredients include:
Rhodiola Rosea (Root Powder)
Ginko Biloba Extract
Alpha Lipoic Acid (ALA)
Vitamin E (as D Alpha Tocopheryl Acetate)
Vitamin C (as Ascorbic Acid)
Magnesium (as Malate)
Sodium (as Chloride)
Potassium (as Chloride)
While some of these ingredients are synthetically made, Ginko Biloba Extract and Rhodiola Rosea are herbal based. If you want to know does Ginko Biloba help with altitude sickness, you can read our research article.
In a 2013 study done on Rhodiola Rosea in Taiwan, they concluded that the herb was not effective in reducing or eliminating altitude sickness in comparison to a placebo.¹


How To Take Altitude Assist?
Altitude assist directions have a recommended dose of taking three capsule per day with water.
Although it does not indicate how to take the pills when preparing for a high altitude trip, we would suggest with any altitude supplement that you start taking it at least a week before departing and then every day during your high altitude stay.


Altitude Assist Supplement Vs Zaca Altitude Supplement
When comparing Altitude Assist to our Zaca altitude supplement, there's a few significant differences.
Zaca gives an edge, first and foremost by being a chewable that you can take anytime on-the-go. No water needed like Altitude Assist, which makes it convenient when you're hiking, climbing, athletically competing, or even just vacationing at high altitude.
In addition, Zaca is a multi-purpose formula that has many usages beyond high altitude. It enhances hydration, and when it comes to high altitude it replaces Glutathione that's scientifically known to be depleted.²
Packaged in portable packets, takes Zaca chewables gives you numerous advantages and benefits to your body.
Here's Altitude Assist Supplement compared to Zaca Altitude Supplement:

| | | |
| --- | --- | --- |
|   | Altitude Assist Pills |  Zaca Chewables |
| Proprietary Blend | ✔️ | ✔️ |
| Altitude Formula | ✔️ | ✔️ |
| Enhance Performance | ✔️ | ✔️ |
| Safe & Effective | ✔️ | ✔️ |
| Free Of Banned Substances (WADA & USADA) | ✔️ | ✔️ |
| Sugar Free | ✔️ | ✔️ |
| Clinically Tested Ingredients | ✔️ | ✔️ |
| Gluten Free | ✔️ | ✔️ |
| GMO Free | | ✔️ |
| Enhance Hydration  |   | ✔️ |
| Multi-Purpose Formula |   | ✔️ |
| Glutathione Altitude Replenishment |   | ✔️ |
| Portable On-The-Go Packets |   | ✔️ |
| Easy & Quick To Take Chewables |   | ✔️ |
| Fast-Acting |   | ✔️ |
Zaca's Top Pick Altitude Supplement

As the best tasting, effective and natural altitude supplement on the market, Zaca is exactly what you need when traveling to high altitudes. Our tiny packet contains pure, natural ingredients that have been shown to help your body acclimate more quickly. It's formulated with antioxidants and herbs such as Glutathione, to replenish what's lost when you're at high altitude. Feel better faster, less stressed, and more comfortable at high altitude destinations like Colorado. Simply take 2 chewables a day leading up to your trip, and 2-4 chewables during your stay. Try Zaca's altitude supplement today and have peak performance during your next mountain adventure.
SOURCES
1. Rhodiola crenulata extract for prevention of acute mountain sickness
https://www.ncbi.nlm.nih.gov/pmc/articles/PMC4228457/
2. Effect of high altitude (7,620 m) exposure on glutathione
https://pubmed.ncbi.nlm.nih.gov/11320641/