Altitude Sickness Breckenridge Forum: What They Say & 6 Tips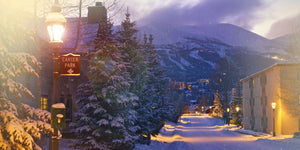 As you plan your trip to Breckenridge, it's crucial to be aware of altitude sickness and how it can impact your trip. As a company based on Colorado, we'll share a summary on what people are saying on altitude sickness Breckenridge forum, as well as everything you need to know about Breckenridge altitude sickness and six tips to avoid it.


Altitude Sickness Breckenridge Forum
We'll give you the insights you need for your trip on altitude sickness Breckenridge forums.
Keep reading to hear what people say, the forums that mention Breckenridge altitude sickness include FodorsTravel, TripAdvisor, and SnowboardingForum.


What People Are Saying On Altitude Sickness Breckenridge Forums
To gain insights into altitude sickness experiences in Breckenridge, we turned to the forums talking about Breckenridge altitude sickness where travelers share their personal accounts.
Here's What People Are Saying On Altitude Sickness Breckenridge Forums:
"I live at sea level and traveled to Breckenridge year and a half ago. The altitude sickness only bothered me the first day."
─ Jessicam40


"I've been to Vail or Breck three times in the last year and have had varying bouts of altitude sickness. The third time this past winter, we traveled again directly up to Breck and suffered much more severely. My daughter was sick throughout dinner on the way up and I was awake much of the night with a bad headache."
 ─ Birdie


"A friend went to Breckenridge in February had altitude sickness for about 3 days. But, then again, we live BELOW sea level."
 ─ Neworleanslady
"I went to Breckenridge last year for the first time last year(we're from Florida). Stayed overnite in Denver for this very reason. It made no difference in our case. My son got Altitude sickness and so did others in our group."
 ─ Sailorche


"Breckenridge is definitely high, and I feel it (even though I live at 6,500)."
 ─ TumbleweedandCactus
"We just came from Breck. About a 1/3 of us were hit with altitude sickness (including me) which means splitting headaches and weird body aches."
─ Jdang307
In summary, these Breck experiences shared on forums confirm the struggle of altitude sickness to help you know what to expect on your trip.
As one of the highest destinations in Colorado, we'll reveal more info about Breckenridge altitude sickness and our top tips to avoid it.


How Likely Is It To Get Altitude Sickness In Breckenridge?
It is very likely to get altitude sickness in Breckenridge, Colorado.
The base altitude of Breckenridge sits at 9,600 feet, which is considered a very high elevation. Altitude sickness is shown in 40% to 50% of people at 10,000 feet, which Breckenridge is close to and exceeds on the ski mountain reaching up to 12,998 feet (3962 m).⁴


Breckenridge Elevation
The elevation of Breckenridge is 9,600 feet above sea level. This is a big jump in elevation from Denver, which is 5,280 feet high.
Breckenridge elevation - 9,600 feet (2,900 m)
Other places in Colorado that are high like Breck includes Leadville, Vail and Aspen.


Cause Of Breckenridge Altitude Sickness
Breckenridge altitude sickness is a result of ascending rapidly with decreasing oxygen levels, which leads to hypoxia.
Additional factors in Breckenridge Colorado includes the dry climate, which increases the risk of dehydration.
Symptoms of Breckenridge altitude sickness may include:
Headaches
Trouble breathing
Sleeping issues or insomnia
Nausea
Dizziness
Extreme fatigue
Lightheadedness
Weakness
Loss of appetite
When visiting Breckenridge, these altitude sickness symptoms can typically develop within 6-24 upon arrival.


6 Tips To Avoid Altitude Sickness in Breckenridge
With its breathtaking mountain scenery and world-class skiing, Breckenridge attracts tourists from around the world. Being the highest ski town in Colorado, altitude sickness is a common problem for individuals traveling to Breckenridge.
As a company based in Colorado with years of high-altitude experience and research, we'll share our top tips to avoid altitude sickness in Breckenridge.
Here's 6 Tips To Avoid Altitude Sickness in Breckenridge:


1. Limit Alcohol
Alcohol can contribute to dehydration and even lower sleep quality, which can add to your sleeping issues.⁵ While it may be tempting to indulge in alcoholic beverages while on vacation in Breck, it's important to limit your alcohol intake when you first arrive until you feel free of any altitude sickness signs.


2. Drink Plenty Of Water
It has been shown in high altitude places (like Breckenridge), fluid can decrease at twice the rate than at sea level.⁶ With also combating the dry mountain air can, hydrate yourself by drinking plenty of water, at least half a gallon a day.


TIP:
To enhance hydration, add sea salt (containing electrolytes) to your foods, and take Zaca's
hydration supplement
to help increase water absorption.
3. Acclimate Gradually
An effective way to avoid altitude sickness is to allow your body time to acclimate before proceeding to higher elevations. If possible, plan your trip to stay in Denver a few nights before heading straight to Breckenridge, giving your body time to adapt to the change.


4. Avoid Strenuous Activity
Engaging in too much intense and strenuous physical activity at high altitudes will increase your risks.
While Breckenridge offers an array of outdoor activities, such as skiing,
hiking
, and biking, it's important to listen to your body ─ take it easy, and take breaks often, especially during the first few days of your trip.
5. Get Ample Sleep
A good night's sleep is essential for your body to adapt and adjust. Quality sleep helps you recover quicker, and even maintain proper oxygen levels.⁷ Aim for 7-9 hours of sleep, and try to get a lot of sunlight during the day which can improve sleep and melatonin production.


6. Take Glutathione
Glutathione, a powerful antioxidant, was shown in a study to be depleted by high altitudes up to 45%.¹⁰
With the increased oxidative stress at high altitudes,⁸ taking
antioxidants supplements like glutathione
has been shown to be a promising solution.⁹
By following these six tips, you can increase your chances of avoiding altitude sickness and fully enjoy your time in Breckenridge ─ including limiting alcohol, drinking plenty of water, acclimating gradually, avoiding strenuous activity, getting ample sleep, and taking glutathione.


Top Mountain Supplement In Colorado

Founded in Colorado, Zaca's chewable supplement is made to help you rehydrate, replenish, and revive faster. With these chewables you'll discover a unique formula crafted to optimize your performance and recovery. Loaded with antioxidants such as glutathione, and herbs such as Japanese Raisin, elevate your journey when you need it most. Simply take 2-4 chewables per day. Try Zaca's chewable supplement today and fortify your body to power through the mountains.
SOURCES:

1. Altitude Sickness In Breckenridge? - Forum
https://www.fodors.com/community/united-states/altitude-sickness-in-breckenridge-522562/
2. Altitude Sickness Breckenridge Colorado - TripAdvisor Forum
https://www.tripadvisor.com/ShowTopic-g33327-i838-k2443611-Altitude_sickness-Breckenridge_Colorado.html
3. Breckenridge Forum, Drinking, And Altitude Sickness
https://www.snowboardingforum.com/threads/breckenridge.21137/
4. Patient education: High-altitude illness (including mountain sickness)
https://www.uptodate.com/contents/high-altitude-illness-including-mountain-sickness-beyond-the-basics/
5. Effects of Alcohol
https://www.ahajournals.org/doi/full/10.1161/01.HYP.29.6.1278#
6. Why Do You Need to Drink a Lot of Water at a High Altitude?
https://www.livestrong.com/article/360485-how-to-train-for-high-altitude-hiking
7. Sleep: The Secret Ingredient of Injury Recovery
https://www.orthocarolina.com/media/sleep-the-secret-ingredient-of-injury-recovery
8. High altitude and oxidative stress
https://pubmed.ncbi.nlm.nih.gov/17482529/
9. Oxidative Stress and Diseases Associated with High-Altitude Exposure
https://www.ncbi.nlm.nih.gov/pmc/articles/PMC8868315/
10. Effect of high altitude (7,620 m) exposure on glutathione
https://pubmed.ncbi.nlm.nih.gov/11320641/