6 Ways Zaca Is The Best L Glutamine Supplement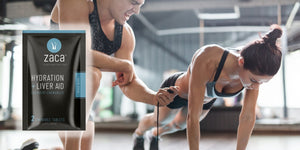 If you're seeking for the best L Glutamine supplement, then you've come to the right place. Zaca chewables are one of the most popular and sought after L Glutamine supplements out there.
Zaca was established in 2008 and has since served its L glutamine supplement to people across the globe. We are considered one of the top U.S based health supplements companies as they have a reputation for producing superior products that do what they promise.


L Glutamine Benefits in Zaca Chewables
L Glutamine is a natural amino acid. It becomes an important nutrient because it not only helps the body to build muscle and tissue, but also aids in recovery after intense workouts and assist in building immune function. Glutamine is also one of the most popular bodybuilding supplements.
By taking Zaca, there are numerous benefits from its L glutamine source:¹
Muscle recovery
Immunity support
Hydration via enhanced water absorption
Electrolyte enhancement
Improved physical performance
Boost gut cell activity¹
Help intestinal tissue¹
Improves nutrient absorption
Faster overall recovery
Supports replenishment of glycogen stores
 
6 Ways Zaca Is The Best L Glutamine Supplement
Zaca is the best L-Glutamine supplement for many reasons.  Let us give you the 6 most important ones!


1. Most stable and absorbable L Glutamine supplement.
Zaca uses l-alanyl-l-glutamine instead of free form l glutamine. This dipeptide combines l-alanyl with l-glutamine, and is shown to be superior to l glutamine standalone due to it's more stable state and absorbable properties.


L-alanyl-l-glutamine has been shown to absorb up to 200% better than L glutamine free form, which means better and faster results!² Which also makes it the the
best L glutamine powder for leaky gut
, in a chewable form.
2. Chewable for the fastest and easiest to use L Glutamine supplement.
If you don't love pills or powders, then you'll love Zaca. As a chewable L glutamine supplement, not only does it work fast, it's easy to use on-the-go! As convenient as it comes in portable packets - you can throw these into your gym bag or purse and take them wherever you go. You can keep them handy in your car, pocket or bag for any workout, bike ride, hike or run that you might do during the day.


3. Science-backed L Glutamine supplement.
Since Zaca uses l-alanyl-l-glutamine versus standalone L glutamine, there's loads of science-backed research proving it's benefits and efficiency. Some of the research shows:


L-alanyl-l-glutamine significantly improves time to exhaustion during intense exercise.⁵
L-alanyl-l-glutamine produces an ergogenic effect which is likely produced by enhancing water and electrolyte absorption.⁴
L-alanyl-l-glutamine is effective in the gastrointestinal tract to both support intestinal barrier functions and fortify the integrity of intestinal mucosa.¹ (which makes it the best L glutamine brand for leaky gut)
L-alanyl-l-glutamine can assist in the absorption of other nutrients.¹
4. Cleanest, most natural L Glutamine supplement
Zaca was designed to be the cleanest L Glutamine supplement available. We maintain our commitment to the highest quality and most natural by:


Manufacturing in an FDA-registered facility in the USA
Exclusive use of high-grade, natural ingredients
No artificial preservatives, additives or fillers
L Glutamine is gmo free, kosher certified, vegan friendly, no animal origin, and gluten free
Enzyme technology used to avoid any synthetic chemicals
Natural, no use of petrochemicals
5. Best tasting L Glutamine supplement.
Zaca is a delicious berry flavored chewable tablet that makes taking your L glutamine supplement pleasant as well as easy! You also don't need to worry about mixing your L Glutamine powder into liquid all the time like most L Glutamine supplements. Simply just pop our great-tasting chewable to get immediate results from L Glutamine.


6. Most powerful formula for L Glutamine supplements.
Not only is Zaca loaded with the superior dipeptide form of L glutamine, it's formulation includes glutathione, japanese raisin, and prickly pear. These powerful 4 key ingredients gives you benefits that are rare to find in any L glutamine supplement. Zaca helps you rehydrate, replenish and recover so you can feel better faster.


In summary, Zaca is the best L-Glutamine supplement because it is 100% pure, contains no fillers or additives, and has an excellent amino acid profile along with optimal absorption and delivery. Quality, excellence, results – Zaca has it all and it is great to have the peace of mind that this quality L-Glutamine supplement is going to work! Zaca is the premier L-Glutamine supplement that works wonders for you in terms of hydration, water and nutrient absorption, enhanced physical performance, muscle recovery, cellular energy, and intestinal and digestion support. Try Zaca chewables today!
SOURCES
1. Compound Summary l-Alanyl-l-glutamine
https://pubchem.ncbi.nlm.nih.gov/compound/l-Alanyl-l-glutamine
2. Better performance for improved hydration
https://www.nutraceuticalbusinessreview.com/news/article_page/Better_performance_for_improved_hydration/142369
3. Sustamine absorbs from gut to blood better than glutamine alone
https://kyowa-usa.com/news/2012/05-07
4. Examination of the efficacy of acute L-alanyl-L-glutamine ingestion during hydration stress in endurance exercise
https://www.ncbi.nlm.nih.gov/pmc/articles/PMC2851582/
5. Examination of the efficacy of acute L-alanyl-L-glutamine ingestion during hydration stress in endurance exercise
https://www.ncbi.nlm.nih.gov/pmc/articles/PMC2851582/