Cellular Hydration Supplements: Zaca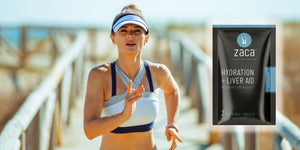 If you're looking for a health supplement that supports your body's natural ability to absorb fluids, strengthen cells, and improve electrolyte intake then you'll want to look into Zaca's cellular hydration supplements.


Cellular Hydration Supplements: Zaca
Zaca is a cellular hydration supplement that helps your body to maintain optimal cellular hydration. All in a small tasty chewable tablet that you can eat whenever you need hydration the most.
Each serving of Zaca contains a proprietary blend of ingredients designed to support cell health and promote optimal cellular hydration. Zaca is a great option for anyone looking for an alternative to sugary sports drinks and powders, especially those who want to get more out of their daily water intake.
It contains no artificial or synthetic ingredients or fillers, making it an ideal choice for those with sensitive stomachs, allergies or just generally wanting the healthiest option. The formula also includes some key amino acids and herbs that are rarely found in cellular hydration supplements.
Cellular hydration packed a small chewable tablet.
Rehydrate, replenish and recover faster.
No synthetic ingredients, GMO free, gluten free, sugar free. 
Zaca is perfect for athletes, fitness fanatics, competitors, travelers and jet setters, party-goers, and everyday wellness enthusiasts.


Formula That Powers Cellular Hydration
Zaca is not just another sports drink. Zaca has a proprietary, science-based formula that's designed to power cellular hydration. Zaca is one of the first cellular hydration supplements that harnesses the power of Glutamine in a dipeptide form called L-Alanyl-L-Glutamine, an amino acid that your body uses to repair itself.
Glutamine is an amino acid that's abundant in our bodies, but it can become depleted when we exercise and especially during times of intense stress. Zaca's L-Alanyl-L-Glutamine supports cellular hydration by replenishing Glutamine that increases water absorptions and electrolyte intake, and which also supports muscle recovery and repair.
The unique blend, including Glutamine, has 4 key ingredients that work together to support your body's natural ability to maintain optimal levels of hydration, electrolyte intake and cellular energy during exercise. These ingredients include Glutamine as mentioned, Glutathione, Japanese Raisin and Prickly Pear.
With vast amounts of research to back it, L-Alanyl-L-Glutamine alone in Zaca helps with so many cellular functions, hydration, and overall performance. Those benefits include:
Increase cell hydration⁴
Boost water absorption⁴
Better performance⁴
Enhance electrolyte intake⁴
Increase glycogen synthesis¹
Speed up recovery³
Lessen muscle breakdown³
Improve absorption of nutrients³
Maintain a healthy gut⁶
Increase cellular energy stores¹
Reduce fatigue⁴
Increases time to exhaustion⁴
Zaca helps restore these vital nutrients to support athletic performance, recovery, and cellular hydration.


Cellular Dehydration Symptoms
Cellular dehydration when body has lost more water than it retains. This leads to a loss of cellular fluid, which causes the cells to become dehydrated and can lead to muscle cramps, headaches and other health risks.
Cellular dehydration is caused by a number of factors including heat and humidity, excessive sweating and also vomiting or diarrhea. It can also be associated with certain medical conditions such as diabetes, kidney stones and high blood pressure.
The body requires water to perform its basic functions, including digestion and circulation. Dehydration can also suppress your immune system, making you more susceptible to illness. 
It's important to replenish lost fluids immediately when you notice signs of dehydration. Cellular dehydration symptoms may include:
Fatigue
Low energy levels
Headaches and migraines
Bloating
Digestive issues
Diarrhea
Difficulty concentrating
Poor mental performance
Dry, itchy skin and scalp
Dry mouth and throat
Dry eyes and burning sensation
Joint pain and stiffness
Aches and pains
Poor sleep patterns


Fast-Acting Cellular Hydration
Zaca is designed as a fast absorbing and bioavailable chewable packed with herbs, amino acids and antioxidants your body needs to stay hydrated.
The L-Alanyl-L-Glutamine Zaca uses is shown in research to have better stability and absorption than free form Glutamine. Also being in a chewable form, the blend of ingredients are fast-acting for maximum results.


Take On-The-Go Hydration
Zaca's formula is loaded into small chewables and packaged in on-the-go packets so you can take them anywhere. Whether running, cycling, traveling, hiking, or on any adventure, it's suitable to take Zaca anytime you need hydration most.
These hydration packets are TSA friendly, and small enough to fit in your pocket, purse, or bag. Making Zaca one of the easiest and convenient cellular hydration supplements to take.


Try Zaca's Cellular Hydration Supplements

Zaca chewables provide great-tasting and fast-acting hydration. The first chewable electrolyte tablets designed to boost water absorption, Zaca supports electrolyte intake and helps maintain endurance during all-day activity with less fatigue. Formulated with a superior form of Glutamine and other essential nutrients, stay hydrated on-the-go when you need it most. Try Zaca's cellular hydration supplements today and give your body what it needs to rehydrate.
SOURCES
1. Glutamine as an Anti-Fatigue Amino Acid in Sports Nutrition
https://pubmed.ncbi.nlm.nih.gov/30999561/
2. How L-Alanyl L-Glutamine Improves Endurance Performance
https://firstendurance.com/how-l-alanyl-l-glutamine-improves-endurance-performance/
3. Compound Summary l-Alanyl-l-glutamine
https://pubchem.ncbi.nlm.nih.gov/compound/l-Alanyl-l-glutamine
4. Better performance for improved hydration
https://www.nutraceuticalbusinessreview.com/news/article_page/Better_performance_for_improved_hydration/142369
5. Examination of the efficacy of acute L-alanyl-L-glutamine ingestion during hydration stress in endurance exercise
https://www.ncbi.nlm.nih.gov/pmc/articles/PMC2851582/
6. Glutamine for Endurance Athletes: Hype or Hoax?
https://ultraversesupplements.com/glutamine-for-endurance-athletes
TO READ MORE ARTICLES ON HYDRATION AND GLUTAMINE: Hydration Chews for Running, Cycling Hydration Tablets, Chewable Hydration Tablets, Chewable Electrolytes, Hydration Packets No Sugar, Hydrated On Keto, Best L Glutamine, The Best L Glutamine.