Zaca's DHM Detox Recovery Blend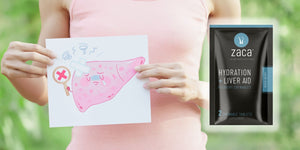 Zaca's DHM detox recovery blend is a 100% natural proprietary blend of pure herbal extracts that combines superior liver support and hepatoprotective properties for your liver.
It's formulated to harness the synergy of nature's most powerful plant constituents, DHM, and while being gentle on the body. Zaca's a hybridized extract that provides high-potency and absorption DHM derived from Hovenia Dulcis. Rapid delivery in an easy-to-use chewable tablet.


3 Ways Zaca's DHM Detox Blend Is The Top Choice


1. Highest-potency DHM detox recovery blend.
Zaca is the highest-potency DHM detox recovery blend. It promotes alcohol recovery, enhances hydration, and supports
liver aid
and function to work as a full body recovery supplement. 
Each packet of Zaca is packed with a powerful dose of DHM that's derived from Hovenia Dulcis and other natural ingredients to help you feel better the next morning. Unlike other products, Zaca utilizes all parts of plant including the fruit, seeds and peduncle. This proprietary process assures all synergistic healing components and flavonoids are a part of Zaca's DHM detox blend. Where other products only include only the isolated DHM, which shows much less benefits than the plant as a whole.


Lastly, Zaca combines a proprietary blend of ingredients beyond just DHM for robust liver aid and recovery -- including glutathione, glutamine and prickly pear. These added science-back ingredients give an edge when taking Zaca to be the
best DHM supplement
option. Forget about feeling run down from a night out -- get back on track with Zaca.
Our DHM detox recovery blend:

DHM (from Hovenia Dulcis Extract)
Glutathione
Glutamine
Prickly Pear
2. Fastest-absorbing DHM in a chewable.
Zaca's DHM detox recovery blend is the most convenient, fastest-absorbing DHM in a chewable. This delicious mixed berry flavored chewable is easy to eat and won't leave any chalky aftertaste. Just take 1-2 packets to feel your best.


Zaca is made with a bioavailable form of DHM that absorbs quickly into your system, so you feel the effects almost immediately. Our DHM is derived from Hovenia Duclis, combined with glutamine in a dipeptide form l-alanyl-l-glutamine and glutathione as l-glutathione -- all forms which enable maximum absorption ability.


Feel better faster which Zaca's chewables!


3. Cleanest DHM detox recovery blend.
The Zaca recovery blend is the cleanest DHM detox on the market. No fillers or unhealthy preservatives.


Based in Denver, Colorado, Zaca is committed to delivering the highest quality product with no added sugars or
artificial flavors and sweeteners
. Friendly to many diets,
Zaca's DHM detox recovery blend chewables are vegan, gluten-free, non-GMO, and low carb. In addition, our DHM is naturally derived from the Hovenia Dulcis tree, and not created synthetically in a lab.

You can be assured to have the cleanest, healthiest DHM detox recovery blend when using Zaca.


4. Standardized and science-back DHM ingredients.
After years of study and research, a team of scientists, researchers and chemists created Zaca's proprietary formula to provide the best liver aid and recovery possible. Our
DHM detox recovery blend
contains 100% standardized form of Hovenia Dulcis extract to guarantee the same potency is delivered every time.
Furthermore, all 4 of the key ingredients in our DHM detox recovery blend has studies backing their claims and efficiencies. If you want to read more about the research, look at the
science behind Zaca chewables
with dozens of studies listed.
Drinking alcohol, detoxification and liver support are fantastic reasons to try out this prized formula. Combined with its high-quality ingredients and powerful effects, Zaca's DHM detox recovery blend is a great product that can help you with a whole host of issues associated with healthy liver function. It also tastes great, which is always a plus. With the highest DHM supplement review, try these recovery chewables today!