Does CBD Help With Altitude Sickness?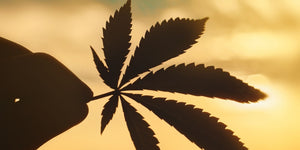 CBD has been getting a lot of attention lately in the mainstream world, and for good reason. Studies have shown that using CBD products can help people cope with several ailments. But does CBD help altitude sickness? If you're planning a trip to higher altitudes and wondering how to prevent altitude sickness naturally potentially with CBD, you'll want to keep reading this post!
What Is Altitude Sickness?
You've finally arrived in Denver after a long plane ride, and you're excited to get out, enjoy the fresh mountain air, and hit the slopes. But, as soon as you step outside of the airport, you begin coughing and can't seem to catch your breath.
If you've ever been to Colorado, you know that it's not uncommon for people from sea level to experience altitude sickness. It can be a real bummer if you've planned a vacation around outdoor activities like hiking and skiing but end up feeling sick and exhausted instead.
Attitude sickness, also known as Acute Mountain Sickness (AMS), is a condition that causes symptoms from mild to severe and occurs when you travel to an area with a higher altitude with less oxygen. It typically starts at 8000 feet, but can start lower like in our city of Denver at 5280 feet.
Altitude sickness is a condition high-altitude hikers, pilots and frequent flyers might be prone to. The effects are caused when the body is not able to provide enough oxygen for the body's organs to function normally. The most common symptoms include headaches, nausea, vomiting, shortness of breath, trouble sleeping, and dizziness.


What is CBD?
Cannabidiol, or CBD, is one of 86 known cannabinoids in the cannabis plant. Statistics show that over the past decade, it has become the most sought-after natural remedy used in case of symptoms of many ailments.
Unlike the THC cannabinoid, CBD is completely non-psychoactive therefore making it a safe alternative. CBD is extracted from hemp plants and is known to help with a variety of ailments such as chronic pain, stress, anxiety, and insomnia.
But does CBD help altitude sickness? We'll explore further below.


Does CBD help altitude sickness?
You may have heard some rumors that CBD could alleviate some of the symptoms of altitude sickness. We did not find any research specifically showing CBD to prevent or avoid altitude sickness. The short answer is no, however, there is evidence of CBD helping some related or similar symptoms of altitude sickness.
Symptoms helped from CBD that may help altitude sickness include improved sleeping, mild to moderate headache relief, decreasing nausea, and increased oxygen intake.
A Colorado study showed improved sleep and anxiety in the participants from CBD.¹
CBD was found to subdue vomiting and nausea in a Canadian study.²
Research in Brazil showed CBD to have strong anti-inflammatory effects on mice and improve lung function.³
A medical reviews show promising results from CBD on headaches, chronic pain, and migraines.⁶
Based on the research we found, there may be some overlapping benefits of CBD to your high altitude encounter. Although anecdotal evidence only points to CBD helping altitude sickness, it's possible it may help you with some symptoms.


Does Weed Help With Altitude Sickness?
It has been proven in a study that CDB concentrations in blood were detected after smoking weed.⁷
Based on this information, combined with the benefits of CBD in relation to altitude sickness, smoking weed might have similar altitude benefits than straight CBD.
The downside is that smoking has been proven to cause long-term damage and effects to your lungs.


Best Altitude Supplement

With its fast-working, powerful blend of herbs and amino acids, Zaca chewables help fight the effects of high altitude. Packed with Glutathione, which is known to be depleted up to 45% at high altitudes, can be quickly replaced. This berry-flavored chewable is a convenient way to have mountain-friendly nutrients wherever you travel. Don't let the altitude ruin your fun, grab Zaca chewables today for your next trip.
SOURCES
1. Cannabidiol in Anxiety and Sleep: A Large Case Series
https://www.thepermanentejournal.org/issues/43-the-permanente-journal/original-research-and-contributions/6960-cannabidiol-in-anxiety-and-sleep-a-large-case-series.html
2. Regulation of nausea and vomiting by cannabinoids
https://www.ncbi.nlm.nih.gov/pmc/articles/PMC3165951/
3. Cannabidiol improves lung function and inflammation in mice
https://pubmed.ncbi.nlm.nih.gov/25356537/
4. High Altitude Trekking & CBD
https://oneworldtrekking.com/himalayan-trekking-tours/high-altitude-trekking-cbd/#
5. How CBD Helps With Altitude Sickness?
https://www.cibadol.com/cbd-helps-with-altitude-sickness/
6. Medical Cannabis, Headaches, and Migraines
https://www.ncbi.nlm.nih.gov/pmc/articles/PMC8459575/
7. Impact of smoking cannabidiol (CBD)-rich marijuana
https://www.ncbi.nlm.nih.gov/pmc/articles/PMC8635612/