Is Liquid IV Keto Friendly? (The Truth)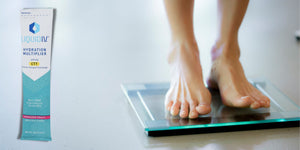 With the growth of the Keto and low-carb diets, you want to make sure no product messes with the process of ketosis. As a supplement maker, we'll answer everything you need to know about if Liquid IV is keto friendly.


What Does It Mean To Eat Keto?
Keto is short for the word ketogenic, which refers to a diet that's high in fat and low in carbs. This diet is commonly referred to as a low carb diet or keto diet.
The goal of a ketogenic diet is to put your body into a state of ketosis, and typically limited carbs to less than 50 grams. When you're in ketosis, your body burns fat instead of carbohydrates for energy. Keto is also low in sugar and helps you lose weight because you're consuming fewer calories than usual.
A lot of people start eating keto because they want to lose weight, but there are other benefits too such as improved mental clarity and energy levels.


Can You Eat Sugar On Keto?
No, according to Men's Health "sugar is a no-go" on keto.¹
Keto requires you to limit carbohydrates to no more than 50 grams. Each gram of sugar adds a gram of carbs.
1 gram of sugar = 1 gram of carbs
It's common practice to eliminate sugar as it easily jumps your carb intake and therefore makes it very hard to hit your carb limits on food. It's also unhealthy!
If you need some sweetness, or needing a hydration product that tastes good, you'll want to use sugar alternatives that are keto-friendly and low-carb — including stevia, xylitol, munkfruit, and sugar alcohols.


Is Liquid IV Keto Friendly?
Is Liquid IV keto friendly? No.
If you're wondering if you can have Liquid IV while on keto — we do not recommend using Liquid IV when on keto due to the high sugar amount.
Each stick pack of Liquid IV Hydration Multiplier contains 11 grams of sugar! That contains 11 grams of carbs, which is nearly one quarter of the daily keto limit of carbs!
Liquid IV sugar: 11 g
Liquid IV carbs: 11 g
Liquid IV is not keto friend with this amount of sugar and carbs.


Can You Have Liquid IV While On Keto?
No, in our opinion based on expert keto advice, you should not have Liquid IV while on keto.
It has too many carbs and contains sugar, which are both no-nos when keto dieting.


Is Drip Drop Keto-Friendly?
DripDrop is one of the searched alternatives to liquid IV, however, is it keto friendly?
From reviewing DripDrop, it is not keto-friendly as its made with 7 grams of sugar and contains 9 grams of carbs per stick pack.³
DripDrop sugar: 7 g
DripDrop carbs: 9 g
While a slightly better carbohydrate count than Liquid IV, we would still not consider this keto-friendly. DripDrop ORS Electrolyte Hydration uses up about one fifth of your daily carbs with only 1 pack.


Does Liquid IV Have Sugar And Carbs?
Yes, Liquid IV has both sugar and carbs.
With 11 grams of sugar and 11 grams of carbs, the Hydration Electrolyte Multiplier can easily max out the carbs allowed on the keto diet.


How Many Carbs In A Liquid IV?
Liquid IV Hydration Multiplier contains 11 grams total carbs.


Liquid IV Alternative
Zaca Chewables are considered a top liquid IV alternative.
Made with zero sugar, and containing only 2 grams of carbs — these chewables are keto-friendly as a favorite Liquid IV alternative. 
Zaca is an all-natural supplement made from premium ingredients that will help you rehydrate, replenish, and recover.


What Makes Zaca Chewables Keto-Friendly?
Whether losing weight or getting healthier, Zaca Chewables are a great choice for those following a ketogenic diet.
Designed to be keto-friendly hydration packets, Zaca contains no sugar and are instead sweetened with stevia leaf extract and xylitol. This means that they're low carb, and so should not significantly impact your blood sugar or ketone levels.
Zaca's keto-friendly hydration packets are:
Zero sugar
Low carb (2 g)
Made with natural sugar alternatives
Stevia and xylitol natural sweeteners
No artificial colors or flavors
No synthetic vitamins
As as Liquid IV alternative, Zaca has all you want in a keto-friendly hydration product.


5 Advantages Of Zaca Chewables
Zaca Chewables are a great option for anyone who wants to take their health into their own hands, and follow a keto or low-carb diet.
As family-owned company based in Colorado, we value health and quality very highly for our product. We'll share with you a few of the top advantages of using Zaca as your keto-friendly supplement of choice.
Here's five advantages of Zaca Chewables:
1. Low Carb
Zaca Chewables only have 2 carbs per serving!


That's because we use a proprietary formula with natural and safe alternatives to sugar — and real fruit extract flavoring — when making our chewable tablets.


The result is a low-carb vitamin supplement that tastes great and won't spike your blood sugar levels like other products do.


2. Sugar Free
These chewables taste like candy, but without the sugar they contain!


Not only for the keto diet, sugar is known to be an unhealthy additive with all sorts of unheahlthy downsides including weight gain.


Zaca Chewables are sugar-free, made with natural ingredients xylitol and stevia, and contain no artificial flavors or colors. Making it keto-friendly and a healthier Liquid IV alternative, and you won't have to worry about exceeding your low carb count!


3. Fast-Acting
Zaca is an innovative fast-acting tablet that delivers the benefits in a convenient and delicious chewable.


Unlike powders and drinks — by using a chewable you can get fast, immediate results. 


4. No Synthetic Vitamins

Many would be shocked to learn that synthetic vitamins are used in most hydration products — including Liquid IV Multiplier, SiS Hydration Tablets, and DripDrop ORS Electrolyte Hydration. Zaca contains zero synthetic vitmains.


Vitamin C for example, is most commonly formulated with a synthetic ingredient called L-ascorbic acid. It's missing vital bioflavonoids and typically made from gmo corn syrup.⁴ There's evidence it can actually kill good stomach bacteria which negatively effects gut health.⁴


For these reasons, Zaca brings the market a synthetic-free hydration packet without unnatural vitamins.


5. Convenient Chewables
Zaca was designed specifically for those who want to get more from their daily lives, without the common hassles of pills and powders.


Avoid swallowing large capsules or the mess of mixing powders. Zaca brings you convenience in on-the-go packets and quick-to-take chewables.


These convenient on-the-go chewables are used around the world by travelers, athletes, weekend warriors, working professionals, stay-at-home moms — on of course popular among low carb keto dieters!


To summarize, Zaca is a perfect alternative to Liquid IV for keto and low carb dieters with many advantages including — being low carb, sugar free, fast-acting, no synthetic vitamins, and formulated in convenient on-the-go chewables.


Top Choice Keto-Friendly Hydration

Zaca is a keto-friendly hydration supplement that provides a unique blend of herbs and amino acids. Formulated with no sugar and low carbs — only 2 grams — it's everything you need for a low-carb or keto diet. Made with performance and hydration enhancing amino acid glutamine — you can trust these chewables to power your body. Simply open and pop 2 delicious-tasting chewables anytime you need. Try Zaca keto-friendly hydration packets today and live healthier.
SOURCE:
1. These Keto-Friendly Sweeteners Won't Make You Miss Sugar
https://www.menshealth.com/nutrition/g26293358/keto-sweeteners/
2. Liquid I.V. Hydration Multiplier - Lemon Lime - Powder Packets - Electrolyte Drink Mix - Easy Open Single-Serving - Non-GMO - 16 Sticks
https://www.amazon.com/Liquid-I-V-Multiplier-Electrolyte-Supplement/dp/B01IT9NLHW
3. DripDrop ORS Electrolyte Hydration Powder Sticks
https://www.amazon.com/DripDrop-Electrolyte-Hydration-Powder-Servings/dp/B00PM0D77G
4. Synthetic vitamin C, or ascorbic acid, kills beneficial probiotic bacteria in the gut
https://www.naturalnews.com/040147_vitamin_c_ascorbic_acid_synthetic_vitamins.html