Johannesburg Altitude Sickness: Complete Travel Guide & 5 Tips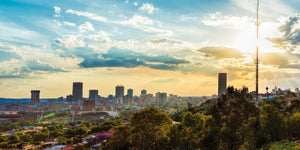 Johannesburg is a city of great natural beauty and many attractions, but it's also a high-altitude city that can cause altitude sickness.  In this article, we will discuss everything you need to know about Johannesburg altitude and how to avoid Johannesburg altitude sickness.


Johannesburg Altitude
Johannesburg altitude sits at 5,751 feet above sea level. This is higher than many other cities in the world, exceeding places like Denver.
Johannesburg altitude - 5,751 ft (1,753 m)
Johannesburg, also known as Jozi or Joburg, is the largest city in South Africa, with a population of over 5 million people. One of the unique features of this bustling metropolis is its high altitude. The plateau that Johannesburg sits on is known as the Highveld, which is a high-altitude grassland region that stretches across central South Africa.
When you fly into Johannesburg, the airport (O.R. Tambo International Airport JNB) is considered high altitude too at 5,558 feet.
Johannesburg International Airport altitude - 5,558 ft (1,694 m)
Johannesburg is surrounded by several mountain ranges and destinations that offer stunning views and opportunities for outdoor activities.
High altitude destinations nearby Johannesburg:
Suikerbosrand Nature Reserve altitude - 5,069 to 6,289 ft (1,545 to 1,917 m)
Waterberg Biosphere Reserve altitude - 6,000 ft (1,830 m)
Pilanesberg National Park altitude - 5,535 ft (1,687 m)
Magaliesberg Mountains altitude - 6,076 ft (1,852 m)
Mount Sheba altitude - 6,017 ft (1 834 m)
Drakensberg Mountains altitude - 11,424 ft (3,482 m)
With the high heights of Johannesburg, you want to be well prepared for your trip.


Is Johannesburg At High Altitude?
Yes, Johannesburg is at high altitude.
Mountain Medicine indicates high altitude to start at 4900 feet — and at 5751 feet, Johannesburg meets the criteria.⁸ Johannesburg exceeds other high altitude metropolitan cities including Denver and Salt Lake City.


Is Johannesburg A Mile High?
Yes, just like Denver, Johannesburg is a mile high and exceeds it.
A mile is 5280 feet, soJohannesburg surpasses it at 5751 feet.


Can I Get Altitude Sickness In Johannesburg?
Yes, you can get altitude sickness when visiting Johannesburg.
While altitude sickness can get worse at 8000 feet, research shows that altitude sickness starts at around 5000 feet.¹⁷ Johannesburg exceeds this minimum altitude, and in comparison visitors of Denver around this similar height report experiencing altitude sickness.
Take precautions when visiting Johannesburg to avoid altitude sickness, and make sure to read our top tips below.


Which Towns In South Africa Have The Highest Altitude?
Outside of Johannesburg having the highest altitude of all the metropolitan cities, there's a handful of other cities in the range of 3,000 to 5,000 feet.
To add, while not a major city, Dullstroom is the highest town in South Africa at 6,900 feet above sea level. 
Here's the highest altitude cities and towns in South Africa:
Dullstroom altitude - 6,900 ft (2,100 m)
Pretoria altitude - 4,393 ft (1,339 m)
Bloemfontein altitude - 4,577 ft (1,395 m)
Polokwane altitude - 4,300 ft (1,310 m)
Rustenburg altitude - 3,840 ft (1,170 m)


Is Cape Town Higher Altitude Than Johannesburg?
Johannesburg Africa is higher than Cape Town.
Cape Town is at sea level, however, it does have mountains that go as high as 5,217 feet.⁹ While the city is mostly at sea level, this indicates that some areas are high-altitude.
Cape Town highest altitude - 5,217 ft (1,590 m)
Cape Town lowest altitude - 0 ft (0 m)


Is There Less Oxygen In Johannesburg?
Yes, there is less oxygen in Johannesburg.
There's approximately 17% oxygen levels in Johannesburg, while at sea level there's 20.9%.¹⁵ With nearly 4% less oxygen at these high elevations of Johannesburg, it can make it harder to breathe.



Johannesburg Altitude Sickness
Johannesburg altitude sickness, also known as AMS (acute mountain sickness), can occur while visiting from the lower oxygen levels.
These low oxygen levels can cause hypoxia in the body leading to physiological stress and oxidative stress. Symptoms can develop between 6-24 hours after arrival and can include headaches, nausea, and extreme fatigue. Similar to symptoms of jet lag, if combined with altitude sickness it make your feel much worse.
Symptoms of Johannesburg altitude sickness may include:
Headache
Nausea and vomiting
Fatigue and lack of energy
Dizziness or lightheadedness
Shortness of breath or difficulty breathing
Increased heartbeat
Feeling ill
Trouble sleeping or insomnia
Altitude sickness in Johannesburg may not be life-threatening, but it can make you feel miserable and ruin your trip.


5 Tips How To Avoid Johannesburg Altitude Sickness
Johannesburg, as the most popular destination in South Africa, is at high elevation that causes visitors many problems. Altitude sickness can take visitors by surprise.
As a company with years of high altitude experience, we'll share with you our top researched tips that you can follow to make your trip a better experience.
Here's 5 Tips How To Avoid Johannesburg Altitude Sickness:
1. Hydrate Yourself
The colder, drier air and increase respiration at high elevations can cause dehydration. It's estimated by the Wilderness Medical Society that you can lose water twice as fast than compared to sea level.¹⁸
You should drink plenty of water to keep yourself hydrated, and avoid symptoms of dehydration such as headaches and fatigue. Most experts recommend drinking an ounce of water per every pound of body weight.
TIP: To enhance hydration, use sea salt (electrolytes) in your food or water, and take Zaca hydration chewable tablets to help increase water absorption.
2. Take It Easy 
It's important that you take it slow and easy when you first arrive in Johannesburg. Strenuous workouts, hikes, or activities can exacerbate the potential risk of altitude sickness.
Try not to exert yourself too much during the first 1-3 days as physical activity can trigger symptoms faster than usual in those who haven't yet acclimatised themselves fully.
3. Get Proper Sleep 
While insomnia or difficulty sleeping can be a symptom of altitude sickness, it's vital in combating it too. Sleep helps your body repair, recover, along with blood flood and oxygen¹⁹ — which is important for altitude adjustment.


7-9 hours of sleep a night is optimal according the National Sleep Foundation.²⁰ Getting plenty of natural sunlight during the day can also help your melatonin production and sleep cycles.
4. Limit Alcohol

Drinking alcohol not only can cause dehydration, it lowers your sleep quality and oxygen saturation.²¹ These factors can make it harder to acclimate.
While it's hard to limit a vacation drink, you should limit your alcohol intake the first few days visiting Johannesburg or until you show no signs of altitude sickness.
5. Take Antioxidants
Oxidative stress and oxidative damage is shown to happen to your body at high elevations.²²  Antioxidants vitamins have proven to be a viable solution to fighting the oxidative stress.²³
India did a study that further confirmed high altitude oxidative damage to the body, which could deplete glutathione by 45%, which is the body's master antioxidant.²⁴ Supplement antioxidants to replenish your levels and combat free radical damage at high elevations.
In conclusion, follow these top researched tips to avoid Johannesburg altitude sickness — including hydrating yourself, taking it easy, getting proper sleep, limiting alcohol, and taking antioxidants.



Top Rated Altitude Supplement
Zaca is your one-stop shop for hydration, replenishment, and recovery. With premium ingredients like glutathione and other antioxidants, Zaca chewables deliver the essential nutrients you need to feel your best while traveling. Whether long flights, mountain adventures, or enjoying a few drinks — these chewables help your body revive faster.  Made in a convenient and portable packet that can go anywhere with you, simply take 2-4 chewables per day or as needed.
Try Zaca chewable tablets today and fuel your next adventure.
SOURCES:

1. Johannesburg Elevation
https://en.wikipedia.org/wiki/Johannesburg
2. Suikerbosrand Nature Reserve Elevation
https://en.wikipedia.org/wiki/Suikerbosrand_Nature_Reserve
3. Waterberg Biosphere Elevation
https://en.wikipedia.org/wiki/Waterberg_Biosphere
4. Pilanesberg Elevation
https://en.wikipedia.org/wiki/Pilanesberg
5. Magaliesberg Elevation
https://en.wikipedia.org/wiki/Magaliesberg
6. Mount Sheba Elevation
https://peakvisor.com/peak/mount-sheba.html
7. Drakensberg Elevation
https://en.wikipedia.org/wiki/Drakensberg
8. Effects of high altitude on humans
https://en.wikipedia.org/wiki/Effects_of_high_altitude_on_humans
9. Cape Town Elevation
https://en.wikipedia.org/wiki/Cape_Town
10. Dullstroom Elevation
https://en.wikipedia.org/wiki/Dullstroom
11. Pretoria Elevation
https://en.wikipedia.org/wiki/Pretoria
12. Bloemfontein Elevation
https://en.wikipedia.org/wiki/Bloemfontein
13. Polokwane Elevation
https://en.wikipedia.org/wiki/Polokwane
14. Rustenburg Elevation
https://en.wikipedia.org/wiki/Rustenburg
15. Oxygen Levels at Altitude
https://wildsafe.org/resources/ask-the-experts/altitude-safety-101/oxygen-levels/
16. Altitude Johannesburg International Airport
https://ortambo-airport.com/airport/airport-bio.html#
17. Patient education: High-altitude illness (including mountain sickness)
https://www.uptodate.com/contents/high-altitude-illness-including-mountain-sickness-beyond-the-basics
18. Why Do You Need to Drink a Lot of Water at a High Altitude?
https://www.livestrong.com/article/360485-how-to-train-for-high-altitude-hiking/
19. Sleep: The Secret Ingredient of Injury Recovery
https://www.orthocarolina.com/media/sleep-the-secret-ingredient-of-injury-recovery
20. National Sleep Foundation
https://www.thensf.org/how-many-hours-of-sleep-do-you-really-need/
21. Effects of Alcohol
https://www.ahajournals.org/doi/full/10.1161/01.HYP.29.6.1278#
22. High altitude and oxidative stress
https://pubmed.ncbi.nlm.nih.gov/17482529/
23. Oxidative Stress and Diseases Associated with High-Altitude Exposure
https://www.ncbi.nlm.nih.gov/pmc/articles/PMC8868315/
24. Effect of high altitude (7,620 m) exposure on glutathione
https://pubmed.ncbi.nlm.nih.gov/11320641/