Joshua Tree Altitude Sickness: Must-Read Guide & 6 Tips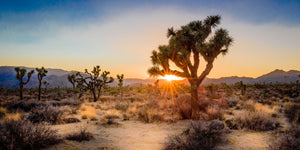 If you're planning a trip to Joshua Tree National Park, the high desert could put you at risk for altitude sickness. With many years of experience with high altitudes, we'll discuss everything you need to know about Joshua Tree altitude, and our best tips to avoid joshua tree altitude sickness.


Joshua Tree Altitude
Joshua Tree Altitude sits at 2,700 feet above sea level, and Joshua Tree National Park sits at 3081 feet above sea level. 
Joshua Tree altitude - 2,700 ft (820 m)
Joshua Tree National Park altitude - 3081 ft (939 m)
The elevations of Joshua Tree fluctuate depending where you are, and go as high as 5,816 feet at Quail Mountain. One of the most popular trails is at Ryan Mountain standing at 5,457 feet with panoramic views of Joshua Tree.
Quail Mountain altitude - 5,816 ft (1,773 m)
Ryan Mountain altitude - 5,456 ft (1,663 m)
Located in southeastern California, Joshua Tree National Park is a unique and beautiful place to explore. The park is known for its stunning rock formations, desert landscapes, and, of course, its namesake Joshua trees.
Joshua Tree National Park is considered to be a part of the "High Desert" region of California, which is around 2,000 feet and 4,000 feet above sea level.
High Desert altitude - 2,000 ft (610 m) to 4,000 ft (1,200 m)
On average, be prepared for Joshua Tree elevations ranging between 2,700 and 5,816 feet above sea level.


What Is The Highest Elevation In Joshua Tree?
The highest elevation in Joshua Tree is at Quail Mountain, reaching 5,816 feet high.
A part of the San Bernardino Mountains, many of the mountains in Joshua Tree exceed 5,000 feet including Quail Mountain, Peak 5787, Queen Mountain, Queen Benchmark, Mount Inspiration, Eureka Peak East, Eureka Peak, Ryan Mountain, Little Berdoo Peak, and Peak 5435.


Can You Get Altitude Sickness In Joshua Tree?
Yes, depending on where you visit in Joshua Tree, you can have a risk of altitude sickness. While the elevation of Joshua Tree on average is mild, the higher than sea level altitude combined with the climate can be a recipe for altitude sickness.
If you only stay in the lower elevations of Joshua Tree around 2,700 feet high, you should be at very low risk. However, if you're exploring and going into the higher elevations or mountains of Joshua Tree, your risk of altitude sickness will go up drastically. Research shows altitude sickness starts around 5,000 feet, but there's a lot of anecdotal evidence to show it can develop lower than that too.⁸
As an example, visitors of Denver (at 5280 feet) and Salt Lake City (4,227 feet) often report mild feelings of altitude sickness. Compared to Joshua Tree exceeding those altitudes at 5,816 feet, altitude sickness is a real threat there.


Joshua Tree Altitude Sickness
If you are planning to visit Joshua Tree National Park, be aware that this high desert area has a lower level of oxygen than sea level. This can cause Joshua Tree Altitude Sickness from physiological stress, oxidative stress, and exacerbated by the very dry climate.
Oxygen levels in Joshua Tree can be between 3% to 4% lower than sea level at the highest points.⁷ Altitude sickness can develop usually within 6-24 hours, which most commonly can include headaches and fatigue.
Symptoms of Joshua tree altitude sickness include:
Shortness of breath
Dizziness or lightheadedness
Nausea or vomiting
Fatigue
Increased heart rate
Trouble breathing
Insomnia or sleeping issues
Loss of appetite
As you increase in altitude at Joshua Tree National Park, be on the outlook for these signs of altitude sickness.


6 Tips To Avoid Joshua Tree Altitude Sickness
With the beauty of Joshua Tree National Park comes with the risks of a dry, arid, and high altitude desert.
Being based in Colorado, we have years of experience with visitors in high altitude conditions. While Joshua Tree's risk of altitude sickness is much more mild than some of the Rocky Mountains, we'll share with you our best and most researched tips to avoid altitude sickness in Joshua Tree National Park.
Here's 6 Tips To Avoid Joshua Tree Altitude Sickness:
1. Hydrate Often
The dry desert air combined with high altitudes can dehydrate you very quickly, which is one of the biggest risks in Joshua Tree. Wilderness Medical Society estimates that you lose water twice as fast as high elevations.⁹


Be sure to drink plenty of water throughout each day. Experts commonly recommend drinking half your weight in ounces of water, and more if doing intense exercise or hiking.


TIP:
Use sea salt (electrolytes) in your food or water to enhance hydration, and take Zaca's
hydration chewables
to increase water absorption.
2. Take It Easy
When you first arrive at Joshua Tree, take it easy for the first few days to give your body time to acclimate to the altitude. Too much intense activity could worsen potential altitude sickness if going to areas between 4000 to 6000 feet.


If you're planning to go on hikes, either say a night before going, or go slow and steady. Take breaks as needed while hiking or just in general throughout the day, especially if you're having a hard time breathing.


3. Climb High, Sleep Low
Mountaineers know this term best, "climb high, sleep low". If you plan to hike or climb in Joshua Tree, do so during the day and then go to lower altitude to sleep.


For example, Quail Mountain and Ryan Mountain elevations are over 5,000 feet where you could start really feeling the higher altitude. After hiking those mountains, if you retreat lower to sleep and rest, your body will feel much better and be able to better acclimate.


4. Limit Alcohol
Drinking alcohol in the tranquil desert or while camping can be fun, but problematic in the high desert. Alcohol can not only increase dehydration, it also decreases sleep quality and even blood oxygen saturation.¹⁰


It's best to limit alcohol your first night, at least until you feel clear of dehydration or any signs of altitude sickness.


5. Sleep Well
Getting enough restful sleep is essential for your body to acclimate and recover to the high desert. Sleep helps your body's cells repair and can even improve oxygen and blood flow.¹¹


So be sure to get a good night's sleep each night, 7-9 hours is optimal. You can also help your natural melatonin and sleeping cycles by getting plenty of natural sunlight during the day, which should be too hard in Joshua Tree National Park!


6. Supplement Antioxidants
Oxidative damage is shown to take a toll on the body at high altitudes.¹² You can combat this by taking antioxidants, which helps your body fight off free radical damage.¹³


One study revealed that high elevations lower your glutathione levels, which is your body's master antioxidant.¹⁴ By supplementing antioxidants you can help replenish your levels and manage oxidative stress.


In summary, follow these best tips to avoid Joshua Tree altitude sickness — including hydrating often, taking it easy, climbing high and sleeping low, limiting alcohol, sleeping well, and supplementing antioxidants.


Top-Rated Altitude & Travel Supplement

If you're a frequent traveler or an adventurer who loves exploring new heights, Zaca chewables are the ultimate solution. Our powerful chewable is designed help your body rehydrate and recover while at altitudes and during long-distance travel. This chewable formula is packed with essential vitamins, antioxidants, and amino acids to replenish your body. And with its delicious berry flavor and portable packets, simply take 2-4 chewables per day or as needed. Try Zaca chewable tablets today and get ready for your next adventure!
SOURCES:

1. Joshua Tree Elevation
https://en.wikipedia.org/wiki/Joshua_Tree,_California
2. Joshua Tree National Park Elevation
https://en.wikipedia.org/wiki/Joshua_Tree_National_Park
3. High Desert Elevation
https://en.wikipedia.org/wiki/High_Desert_(California)
4. Quail Mountain Elevation
https://en.wikipedia.org/wiki/Quail_Mountain_(California)
5. Ryan Mountain Elevation
https://en.wikipedia.org/wiki/Ryan_Mountain
6. Joshua Tree Mountain Range Elevations
https://www.peakbagger.com/range.aspx?rid=12323
7. Oxygen Levels at Altitude
https://wildsafe.org/resources/ask-the-experts/altitude-safety-101/oxygen-levels/
8. Patient education: High-altitude illness (including mountain sickness)
https://www.uptodate.com/contents/high-altitude-illness-including-mountain-sickness-beyond-the-basics
9. Why Do You Need to Drink a Lot of Water at a High Altitude?
https://www.livestrong.com/article/360485-how-to-train-for-high-altitude-hiking
10. Effects of Alcohol
https://www.ahajournals.org/doi/full/10.1161/01.HYP.29.6.1278#
11. Sleep: The Secret Ingredient of Injury Recovery
https://www.orthocarolina.com/media/sleep-the-secret-ingredient-of-injury-recovery
12. High altitude and oxidative stress
https://pubmed.ncbi.nlm.nih.gov/17482529/
13. Oxidative Stress and Diseases Associated with High-Altitude Exposure
https://www.ncbi.nlm.nih.gov/pmc/articles/PMC8868315/
14. Effect of high altitude (7,620 m) exposure on glutathione
https://pubmed.ncbi.nlm.nih.gov/11320641/