Keto Friendly Multivitamin: Zaca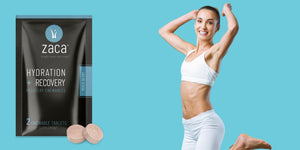 Maintaining good nutrition is important being on the keto diet. As a supplement company since 2008, we'll review how Zaca is a great option as a keto friendly multivitamin that provides more than the average product.


Keto Friendly Multivitamin
While the Ketogenic Diet is restricted in foods, your body may need missing vitamins and minerals. That's where most people seek out keto friendly multivitamins.
Zaca chewables are a great keto friendly multivitamin. It's no secret that you need to cut back on carbs and sugar, and Zaca contains zero sugar and only 2 carbs.
They're made with natural ingredients, and they don't contain any artificial sweeteners or flavors. Sweetened with natural alternatives include xylitol and stevia.


What Vitamins Are Best On Keto?
A 2010 study was done on popular diets and the prevalence of micronutrient deficiencies, which points to the best keto vitamins. In the four diets, it included Atkins which was the original low carb keto kiet, and the South Beach Diet which is another lower-carb diet.¹
According to the study, it was concluded that these diets carry a "high likelihood of becoming micronutrient deficient." They found that on average the dieter was 56% deficient in the Recommended Daily Intake (RDI) of nutrients, meaning they were lacking 15 of the 27 essential micronutrients.¹
6 nutrients were consistently non-existent or low, including:¹
Biotin (B7)
Vitamin D
Vitamin E
Chromium (Cr)
Iodine (I)
Molybdenum (Mo)
Another study out of London also showed Magnesium to decrease on the ketogenic diet.²
These studies confirm the best keto vitamins. Not only do you want to include the deficient micronutrients including Biotin (B7), Vitamin D, Vitamin E, Chromium (Cr), Iodine (I), Molybdenum (Mo) and Magneisum ━ you'll want to supplement as many micronutrients as possible.


Are Vitamin Gummies Keto Friendly?
Many will look for a keto-friendly multivitamin gummy, not knowing that they aren't the best option for the ketogenic diet.
Problem is, gummies are commonly made with gelatin and high amounts of sugar or corn syrup. The sugar level and carbohydrate levels are typically too high to follow the keto diet.
For example, SmartyPants vitamins contain 11 grams of carbs and 8 grams of sugar in one serving.⁴ This would consume a significant amount of your allowed carbs for the day.
Zaca solves this problem by making a chewable tablet instead of a gummy. These chewables only have 2 grams of carbs, and 0 sugar.
Zaca Chewables vs Traditional Gummies Comparison
| | | |
| --- | --- | --- |
|   | Zaca Chewables | Gummies |
| | | |
| Low Carb | |   |
| No Sugar | |   |
| No Gelatin | ✓ | |
| No Heat Used | |   |
| No Artificial Flavors | ✓ | |
| High Potency | ✓ | |
Overall, Zaca is significantly more keto-friendly than gummies.


7 Ways Zaca Is The Best Keto-Friendly Multivitamin Chewable
Zaca is the best keto-friendly multivitamin chewable that is formulated to help you get the nutrients you need to perform at your best.
If you're on a ketogenic diet, it can be hard to find a keto friendly vitamin that fits into your macros. Zaca has been specially designed for people who are following a ketogenic diet, but it is also suitable for those who want to boost their general health and well-being.
Here are seven ways that Zaca is the best keto-friendly multivitamin chewable:


1. Fast and Easy
The easiest way to take your vitamins is by popping a chewable.


Zaca is a chewable, so it only takes seconds to pop one in your mouth and get on with your day. Is the fastest way to get your daily dose of vitamins.
 
On the go? No problem. Zaca's small size makes it easy to take anywhere, anytime.


2. Naturally Occurring Vitamins and Minerals
While Zaca is not your traditional keto friendly multivitamin with a large list of vitamins, it instead has naturally occurring vitamins and minerals.


Formulated with prickly pear extract, this herbs is loaded with natural vitamins and minerals. The nutrition facts show prickly pear contains everything from vitamin C and B vitamins to minerals like magnesium and potassium.⁵


Prickly Pear vitamins and minerals:⁵


Magnesium
Vitamin C
Potassium
Calcium
Vitamin B6
Vitamin B2
Iron
Flavonoids, Polyphenol and Carotenoid Antioxidants
With it's prickly pear included formula, Zaca provides vitamins and minerals in a plant-based way that's bioavailable.


3. Restores Vitamin C & E With Glutathione
Zaca is formulated with pure glutathione. While glutathione is technically an amino acid, it helps restore and reactivate other keto friendly vitamins such as Vitamin C and Vitamin E.⁷


Vitamin E and Vitamin C play an important role not only as key vitamins, but as antioxidants to neutralize free radicals. As shown in the research on diets, Vitamin E is also consistently shown to be low or depleted.¹


Glutathione in Zaca, referred to as the body's master antioxidant, will help restore these vitamins to give you body balance and protection.


4. Sugar Free
On the keto diet it's recommended to have zero sugar.⁶ Just a small amount of sugar can kick you out of ketosis.


Zaca contains
no sugar
. It uses natural sweeteners including stevia leaf extract and xylitol.
You get all of the benefits of our keto friendly vitamins without having to worry about the negative health effects of sugar.


5. Low Carb
With only 2 grams of carbohydrates per serving, these Zaca chewables are the perfect addition to any keto or
low carb
diet plan!
Zaca is one of the few and only keto-friendly multivitamin chewable formulated to be low in carbs. Also low in calories for other dieters at only 5g.


We use natural sweetener outside of sugar to keep the grams of carbs in serving at a mere 2g while still delivering the same great taste you expect.


6. Natural Ingredients
Zaca uses natural, plant-based, non-GMO ingredients for our keto friendly multivitamin chewable.


Our products are also grain free and gluten free, which means that people with Celiac disease or gluten intolerance can still take them without worrying.


In addition, Zaca is also free of soy, sugar, artificial flavors or sweeteners, stimulants, and other harmful chemicals or additives.


It's hard to find a keto friendly vitamin as pure and natural as Zaca.


7. More Than Just A Multivitamin
Zaca is lot more than just a multivitamin. It's formulated as a functional chewable to help you rehydrate, replenish and recover.


Even though it might not have a long list of nutrients in a traditional keto friendly multivitamin, it has more functionality. Many want to
stay hydrated on keto
, which Zaca helps with.
The many functions Zaca may provide:


Immune support
Liver support
Increase hydration
Boost antioxidants
Reduce fatigue
Enhance recovery
Replenish nutrients
More than just a keto friendly multivitamin, Zaca gives you a full spectrum of benefits to maximize your health and performance.


This concludes our list of how Zaca is the best keto friendly multivitamin chewable.


Best Keto Friendly Vitamin

Zaca's supplement is among the best keto friendly vitamins available with comprehensive blend of superfoods that are nutrient dense. These fast-acting, highly absorbable chewables help your body rehydrate, replenish, and recover. Each serving has zero sugar, only 2 carbs, and is formulated with a great flavor! Take 2 low-carb chewables as needed. Try Zaca Chewables today and feel your best while on keto.










SOURCES:
1. Prevalence of micronutrient deficiency in popular diet plans
https://www.ncbi.nlm.nih.gov/pmc/articles/PMC2905334/
2. The effect of the classical and medium chain triglyceride ketogenic diet on vitamin and mineral levels
https://pubmed.ncbi.nlm.nih.gov/21615805/
3. Thrive on the Keto Diet By Avoiding These (Common) Nutrient Deficiencies
https://coremedscience.com/blogs/wellness/thrive-on-the-keto-diet-by-avoiding-these-common-nutrient-deficiencies
4. SmartyPants Daily Gummy Multivitamin Adult: Vitamin C, D3, & Zinc for Immunity, Omega 3 Fish Oil (DHA/EPA), Iodine, Choline, Vitamin B6, E, B12, 180 count (30 Day Supply)
https://www.amazon.com/SmartyPants-Adult-Complete-Daily-Vitamins/dp/B005LR7WOY/
5. What Is Prickly Pear? The Native American Superfruit
https://draxe.com/nutrition/prickly-pear/
6. Sugar on Keto: How Much Is Too Much?
https://ketogenic.com/sugar-on-keto-how-much-is-too-much/
7. Setria Glutathione the master antioxidant
https://setriaglutathione.com/en/antioxidant-powers-of-glutathione