Liver Plus Supplement vs Zaca Liver Supplement: Which Is Better?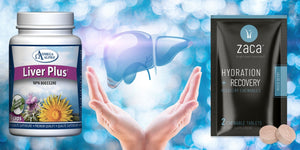 By using these liver support supplements, you can achieve a healthy liver naturally. As a supplement maker, we'll tell you everything you need to know and compare Liver Plus Supplement versus Zaca Liver Supplement.


What Is Liver Plus?
As a Canadian-based company, Liver Plus® makes human, equine, and pet supplements.
Liver Plus® is their liver support supplement for adults. It's herbal medicine used to support liver function.
While not much information exists online or on Amazon about Liver Plus® Supplement, we'll share with you all the information available.
Made in a capsule, each pill contains the following 5 ingredients:
Silybum marianum (Milk Thistle Seed Extract)
Schisandra chinensis (Schisandra Fruit)
Taraxacum officinale (Dandelion Root)
Cnicus benedictus (Blessed Thistle Herb)
Cellulase
DELIVERY: Pills
Liver Plus® supplement pills are made with veggie capsules out of hypromellose.


ALLERGENS: Gluten free, wheat free, yeast free, corn free, and dairy free.


DIRECTIONS: Take 1 pill with food three times a day.



Science Behind Liver Plus Supplement
Liver Plus® supplement contains the key ingredient silybum marianum extracted from milk thistle. This is well known in scientific circles to be good for you liver.
By digging into the science and research on milk thistle, we found numerous benefits to liver function.


Science Behind Milk Thistle:
1. Increase Glutathione²
Silymarin from milk thistle was found to increase glutathione in the liver, and may assist the liver with antioxidant defense.²


2. May Help Liver Damage²
A study found that treatment with Silymarin slightly increased survival rates of cirrhotic alcoholism patients having severe liver damage.²


3. Liver Antioxidant Boosting³
Silymarin was found to benefit non-alcoholic fatty liver disease via various way including fighting oxidative stress.³


Liver Plus® Supplement has clear benefits for the liver by using milk thistle or its extract silybum.



What Is Zaca Liver Supplement?
Zaca is a company based out of Colorado making recovery supplements since 2008. 
Zaca's Liver Supplement is designed to improve liver health, liver function, and promote overall well-being. It's the first liver support product of its kind to be a chewable tablet.
It contains a proprietary blend of ingredients, including Japanese Raisin, Glutathione, and Prickly Pear.
Made in a chewable, each tablet contains the following 4 ingredients:
Japanese Raisin (including DHM flavonoids)
Glutathione
Prickly Pear
Glutamine
Delivery: Chewable
Made as a chewable, Zaca is easy-to-take and on-the-go friendly.


ALLERGENS: Gluten free, wheat free, sugar free, petroleum byproduct free, soy free, yeast free, corn free, animal ingredient free, and dairy free.


DIRECTIONS: Take 2 chewables (one packet) each day.



Science Behind Zaca Liver Supplement
Zaca Liver Supplement contains not only one key liver support ingredient, but three. Japanese Raisin (DHM), Glutathione, and Prickly Pear all have science-backed research on aiding the liver.
The synergistic combination of these three ingredients make Zaca a superior liver supplement. There's numerous studies on each of these liver aiding nutrients that we reveal.


Science Behind Japanese Raisin:
1. Promote Liver Health⁴
2. May Reduce Liver Damage⁴
Research showed that DHM (extracted from Japanese Raisin) could counteract alcohol induced liver injury.


3. Liver Regeneration⁶
A 2019 study found DHM to regulate the expression of liver regeneration-related proteins.⁶



Science Behind Glutathione:
1. Improve Liver Metabolism⁷
A Japanese study suggests that glutathione can support hepatic or liver metabolism.⁷


2. Liver Injury Related To Glutathione Health⁸
Liver research points out that liver injury largely happens when the expression of the glutathione synthetic enzymes fail.⁸


3. Supports Liver Function⁹
Setria expresses how glutathione supports the body's detoxication pathways, liver function being a main one.⁹



Science Behind Prickly Pear:
1. Decreases Liver Oxidative Stress¹⁰
Research out of Mexico found nopal (prickly pear) to lower fatty liver by decreasing oxidative stress.¹⁰


2. May I

mprove Liver Insulin¹⁰
The 2012 research showed nopal (prickly pear) improving liver insulin signaling.¹⁰


3. Help After Alcohol¹¹
Opuntia ficus indica (prickly pear) had positive
hepatoprotective or liver effects after alcohol consumption, which could be due to its antioxidants a
ctivities.
¹¹


Zaca Liver Supplement has vital benefits to the liver by using a combination of Japanese Raisin, Glutathione, and Prickly Pear.


Is Liver Plus Or Zaca Better?
Is Liver Plus® supplement or Zaca Liver supplement better? As with everything, it comes down to preference.
While both are great products, we believe Zaca is better.
Our analysis comes down to numerous factors. Each product has a solid formula of ingredients to support the liver, studies on ingredients for the liver, and standardized ingredients. So we cannot evaluate the supplements on these factors alone.
Although Zaca appears to have some more liver-related research behind the ingredients, we look at other factors including reviews, spectrum of benefits, ease of use, where it's made, and more.
The advantages of Zaca include the following:
GMO Free: Zaca is devoted to the high quality, natural ingredients
Take On-The-Go: chewables with no hassles of a pill
Made In USA: trustworthy and regulated manufacturing
No Water Required: no water nor food required to use
Multi-Purpose: many benefits beyond liver support including hydration
1000+ Reviews: Liver Plus® has a very low review count compared to Zaca
Travel Friendly: Zaca is made in individual packets to take anywhere
Fast-Acting: the nutrients don't have to dissolve in a capsule
Based on these factors, we conclude Zaca is the better option. You can read our full comparison chart below.


Comparison Chart: Liver Plus Supplement vs Zaca Liver Supplement 
| | | |
| --- | --- | --- |
|   | Zaca Liver Supplement | Liver Plus Supplement |
| Liver Support | ✓ | ✓ |
| Science-Backed Studies | ✓ | ✓ |
| Standardized Ingredients | ✓ | ✓ |
| Gluten Free | ✓ | ✓ |
| GMO Free | ✓ |   |
| Take On-The-Go | ✓ |   |
| Made In USA | ✓ |   |
| No Water Required | ✓ |   |
| Multi-Purpose | ✓ |   |
| 1000+ Reviews | ✓ |   |
| Travel Friendly | ✓ |   |
| Fast-Acting | ✓ |   |
Overall, Zaca has significantly more advantages than Liver Plus®.


What Is Liver Supplement Good For?
The liver is a vital organ that plays a number of important roles in the body. It functions as a filter for toxins, produces bile for digestion, supplies energy, helps with alcohol, stores nutrients, and regulates hormones. Liver supplements can help to improve these functions and promote overall health.
6 Things Liver Supplements Are Good For:
1. Removes harmful toxins

2. Produces bile which aids digestion

3. Supplies energy by helping store glycogen

4. Helps with alcohol by enzyme breakdown

5. Stores nutrients and utilizes for future use

6. Regulates hormones, major role with sex hormones, thyroid hormones, and cortisol
Liver supplements contain nutrients that support the liver's detoxification process, which removes harmful substances from the body. These nutrients include glutathione. 
Another reason why people take supplements containing glutathione is because it can help protect against harmful effects from alcohol consumption. Glutathione has been shown to be reduced by alcohol consumption.¹³


Best Liver Supplement

Zaca chewables are the perfect, convenient way to give your liver a boost. This delicious, natural supplement contains powerful antioxidants that support healthy liver function so you can feel better. These chewable are uniquely formulated with four active ingredients – including Japanese Raisin and Glutathione – to help support your liver and hydrate your body. Simply take 2 fast-acting chewables a day, or when needed. Try Zaca Chewables today the get the rejuvenation and strength your body needs.
SOURCES:

1. Liver Plus Supplement
https://www.omegaalpha.ca/products/human-products/liver-plus/
https://www.omegaalphastore.us/product/liver-plus/
2. Hepatoprotective effect of silymarin
https://www.ncbi.nlm.nih.gov/pmc/articles/PMC3959115/
3. Silymarin/Silybin and Chronic Liver Disease: A Marriage of Many Years
https://www.ncbi.nlm.nih.gov/pmc/articles/PMC6155865/
4. Dihydromyricetin Protects the Liver via Changes in Lipid Metabolism and Enhanced Ethanol Metabolism
https://onlinelibrary.wiley.com/doi/full/10.1111/acer.14326
5. Dihydromyricetin Ameliorates Nonalcoholic Fatty Liver Disease by Improving Mitochondrial Respiratory Capacity and Redox Homeostasis Through Modulation of SIRT3 Signaling
https://pubmed.ncbi.nlm.nih.gov/29310441/
6. Dihydromyricetin alleviates acetaminophen-induced liver injury via the regulation of transformation, lipid homeostasis, cell death and regeneration
https://pubmed.ncbi.nlm.nih.gov/30974116/
7. Efficacy of glutathione for the treatment of nonalcoholic fatty liver disease: an open-label, single-arm, multicenter, pilot study
https://www.ncbi.nlm.nih.gov/pmc/articles/PMC5549431/
8. Dysregulation of glutathione synthesis in liver disease
https://www.sciencedirect.com/science/article/pii/S2542568420300234
9. Setria Glutathione detoxifies
https://www.setriaglutathione.com/en/glutathione-detoxification
10. Opuntia ficus indica (nopal) attenuates hepatic steatosis and oxidative stress in obese
https://pubmed.ncbi.nlm.nih.gov/23014486/
11. Evaluation of Opuntia ficus indica f. inermis fruit juice hepatoprotective effect upon ethanol toxicity in rats
https://pubmed.ncbi.nlm.nih.gov/23047946/
12. Prickly Pear: Nutrition, Benefits, Recipes, and More
https://www.healthline.com/nutrition/prickly-pear-benefits#downsides
13. Changes in glutathione in acute and chronic alcohol intoxication
https://www.sciencedirect.com/science/article/abs/pii/S0091305780800098#
14. Liver Plus Omega Alpha Amazon
https://www.amazon.com/Omega-Alpha-Liver-Plus-90CAP/dp/B00FIIL5IU