The Ultimate Oh Shit Kit For Bachelorette Parties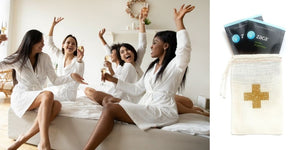 Bachelorette parties are a staple for the bride leading up to the wedding. There is something about pre-wedding parties that separates them from regular ol' grownup evenings out. Maybe it's the pressure to be cute and have fun, but there is something about a bachelorette party that puts one in the mood for fun.
We think if you really want the bachelorette party experience to shine, incorporating this ultimate oh shit kit into your festivities could be your best planning decision for your evening. Below we'll explain why this is the ultimate oh shit kit for your bachelorette party.


The Ultimate Oh Shit Kit
Whether it's a day at the spa or a weekend in Las Vegas, this is got you covered with the ultimate oh shit kit.  
A must-have for your next bachelorette party. Our gold cross oh shit kits are perfectly packaged in classy muslin bags with sparkled gold crosses and can easily fit in your purse or luggage so you're prepared on the fly. It's the perfect kit to take anywhere your bachelorette party goes.
These bags are paired with our Zaca hydration + liver aid chewables, which is what makes it the ultimate oh shit kit. Our chewables help you rehydrate, replenish and recover fast. A must-need for the bachelorette party night-out, and all the activities included.
Most kits will include essentials that won't help the girls recover, such as gum, hair pins, makeup wipes, lip balm. Although those oh shit kit items can certainly come in handy, they aren't the most important! You need a bachelorette item to help with the night out -- hence being called an oh shit kit. Look no further, Zaca is the perfect item.


Benefits of Zaca In Your Oh Shit Kit
That's where our hydration + liver aid chewables come into play for your oh shit kit or bachelorette party survival kit, we got your bachelorette crew covered when you need it most!
Accelerate your recovery whether your bachelorette party goes out and needs liver aid, does a spa day and needs detox, or needs a pick-me-up with all the traveling and activities. Zaca's proprietary formula of antioxidants, amino acids and herbs -- so you feel your best the next day.
Here's how Zaca is the ultimate item for oh shit kit:
Help bachelorettes feel better faster
Assist hydration if at a hot beach or desert destination
Liver aid for your bachelorette night out
Bounce back faster no matter what the bachelorette party throws at you
TSA friendly to travel in your luggage
Feedback we receive is "the bachelorettes LOVED these chewables"
Taste great, unlike many hydration or recovery products
Small in size that can fit anywhere, including your purse
Chic packets that doesn't look weird if you're out partying
Individual packaged so it's easy to fit in oh shit kits or give to each bachelorette

Options For Your Oh Shit Kit
For your bachelorette oh shit kit, incorporate our Zaca chewables into your own dyi kit, or buy our pre-made gold cross bachelorette kits. Either choice, you'll delight your bachelorette crew and enhance how they feel during the party!
Can you add more items in our gold cross oh shit kits?
Yes. They are 3x5 inch bags, there's room for some smaller items if you wish to include, such as gum, lip balm, and makeup removes. If you'd like more item ideas, go read our post on 28 things you need for a bachelorette survival kit.
Want to include Zaca into DIY oh shit kits? Buy them here. Want to buy our cute gold or red cross pre-made bachelorette kits? Buy them here.