Peak Liver Support (vs Zaca)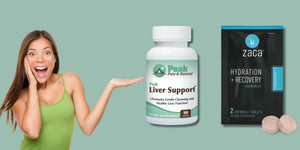 In today's high toxic world, maintaining good liver health health has become a top priority for many. With expertise as a supplement manufacturer, we'll review everything you need to know about Peak Liver Support and compare it to our Zaca supplement.


Peak Liver Support
Made by Peak Pure & Natural, Peak Liver Support is a nutritional supplement capsule that is based on Milk Thistle. As a a liver support supplement it is designed to assist detox and improve general liver health.
As a gentle liver detox supplement, with Peak Liver Support you can safely detoxify toxins, support digestion, boost energy, promote healthy skin, and support optimal liver health.
Peak Liver Support comes in bottles of 90 capsules.


Understanding the Importance of Liver Health
The liver is one of the most vital organs in the human body, playing a multifaceted role in maintaining our health and well-being. With over 500 diverse and essential functions, liver health is crucial for us to prioritize and understand the significance.
Lifestyle choices and environments can lead to an unhealthy liver, including bad diets, lack of exercise, alcohol consumption, obesity, toxin exposure, and overall unhealthy lifestyles.
Key Benefits Of Liver Health:
1. Detoxification
2. Metabolism
3. Nutrient Storage
4. Digestion
5. Immune Function
6. Hormone Regulation
7. Storage of Glycogen
8. Toxin Conversion
In summary, the liver is a remarkable organ with a wide range of functions that are critical to our health and vitality.


Peak Liver Support Ingredients
The effectiveness of Peak Liver Support is attributed to its carefully selected blend of natural ingredients.
Peak Liver Support Ingredients (30 Capsules):
With 1343mg of ingredients, mostly NAC and Milk Thistle, you can get a healthy dose of liver aiding herbs in each serving of capsules.


What Are The Ingredients In Peak Liver Support? What They Do
Now that you know what ingredients are in Peak Liver Support, let's dive into what they do.
Promoted as a Milk Thistle based supplement, Peak Liver Support has a six-ingredient formulated blend.
What Peak Liver Support Ingredients Do:
Milk Thistle
Milk thistle, a key ingredient in Peak Liver Support, is known for its potent antioxidant properties. It contains a compound called silymarin, which helps with toxins and oxidative stress.
Turmeric
Turmeric is renowned for its multi-beneficial properties due to its active compound, curcumin. In Peak Liver Support, turmeric plays a role in promoting healthy liver function.


Alpha Lipoic Acid
Alpha Lipoic Acid can enhance the production of glutathione, the body's master antioxidant.


Selenium 
Selenium is used by the liver to make glutathione in the body, which is important for detoxifying.³


NAC (N-acetyl-L-cysteine)
An antioxidant, NAC can help with oxidative balance in the liver and even help restore glutathione levels.³


Schisandra Fruit Extract
Schisandra is noted by WebMD to appear to help with liver function.⁴


These ingredients in Peak Liver Support work synergistically towards the common goal of liver health.


Peak Liver Support Reviews
The 3rd party reviews of Peak Liver Support are available on Amazon. While there's some reviews on PeakNatural.com, it doesn't show a total star ranking.
Peak Liver Support Reviews:
Amazon: 3.9 stars (15 reviews)
These are the total of the Peak Liver Support reviews we could find online.


Peak Liver Support Directions
The suggested use of Peal Liver Support for adults is to take three (3) capsules with water and a meal, or as directed by a healthcare professional.


Milk Thistle vs Hovenia Dulcis For Liver Support
Milk Thistle (Silybum) is a flowering herb used for centuries as a natural remedy for the liver. With a high standard for liver-supporting benefits, hovenia dulcis has been shown to have stronger properties and even popularly used for alcohol.
In research from Japan dating back to 1997, Hovenia duclis was found to not only have more potent effects than silymarin (milk thistle), it displayed high radical-scavenging activity as an antioxidant.⁵
Hovenia Dulcis was shown to be more potent than Silymarin (Milk Thistle).⁵
Hovenia Dulcis was shown to have strong radical-scavenging activity being an antioxidant.⁵
Overall, for these reasons Hovenia Dulcis appears to be the superior liver-supporting herb. This is considering the fact that Milk Thistle is renowned for its liver aiding abilities and even used clinically in Europe for the liver.


Peak Liver Support vs Zaca
We reviewed Peak Liver Support and compared it to our Zaca chewables.
For liver support, we determine that Zaca is the easier-to-use, faster-acting, and may stand to be more powerful featuring the the superior liver-supporting herb hovenia dulcis.
As a delicious berry-flavored chewable, Zaca is a delight to eat for its liver-supporting benefits. With 1100mg of ingredients it combines hovenia dulcis used in ancient Asian cultures with amino acids like glutathione that plays a key role as the body's master antioxidant.
These chewables provide a high amount of  bioavailability with natural and fermented ingredients, and are commonly used by customers to rehydrate, revive, and recover.
Comparison Chart: Peak Liver Support vs Zaca
| | | |
| --- | --- | --- |
|   | Zaca | Peak Liver Support |
| Amazon Review Star Rating | 4.5 | 4.0 |
| Liver Support | ✔️ | ✔️ |
| Herbal Ingredients | ✔️ | ✔️ |
| Sugar Free | ✔️ | ✔️ |
| Gluten Free | ✔️ | ✔️ |
| GMO Free | ✔️ | ✔️ |
| Amino Acid Fortified | ✔️ | ✔️ |
| High In Antioxidants | ✔️ | ✔️ |
| High Bioavailability | ✔️ | ✔️ |
| Synthetic Vitamin Free | ✔️ | ✔️ |
| Hovenia Dulcis Enhanced | ✔️ |   |
| Portable Packets | ✔️ |   |
| Multi-Purpose Formula | ✔️ |   |
| Fast-Acting | ✔️ |   |
| Easy To Take | ✔️ |   |
| Performance Enhancing | ✔️ |   |
| No Water Required | ✔️ |   |
To conclude, we believe Zaca stands out as the easier, faster-acting, and superior liver-supporting supplement.


Top Rated Liver Support Supplement

Welcome to a healthier you with Zaca Chewables, your ultimate liver support supplement. we believe in the power of nature to replenish and revitalize. That's why we've carefully selected a blend of premium, all-natural ingredients including the cherished for centuries herb hovenia dulcis, and science-backed antioxidant glutathione. Boost cellular energy, detoxify, and revive your body. Made in convenient to use portable packets, take 2-4 chewables per day or when you need it most. Try Zaca's chewable supplement today and feel its liver-supporting power. 
SOURCES:
1. Peak Pure & Natural Peak Liver Support Milk Thistle Based Liver Support Supplement | Liver Cleanse and Detox | 90 Capsules | Amazon
https://www.amazon.com/Peak-Liver-Support-Health-Capsules/dp/B06XHT1TS5
2. Peak Liver Support™ Supplement
https://peaknatural.com/products/peak-liver-support-supplement
3. Vitamins For Liver Health That Support Whole-Body Detoxification
https://www.elliotdinetz.com/post/8-vitamins-for-liver-health-that-support-whole-body-detoxification
4. Schisandra: Uses and Risks - WebMD
https://www.webmd.com/vitamins-and-supplements/schisandra-uses-and-risks
5. Hepatoprotective effect of Hovenia dulcis THUNB. on experimental liver injuries induced by carbon tetrachloride or D-galactosamine/lipopolysaccharide
https://www.researchgate.net/publication/14073672_Hepatoprotective_Effect_of_Hovenia_dulcis_THUNB_on_Experimental_Liver_Injuries_Induced_by_Carbon_Tetrachloride_or_D-GalactosamineLipopolysaccharide