Top 3 Super Antioxidant Supplements (Revealed)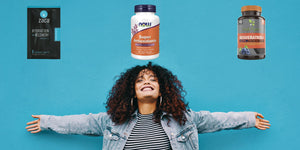 Antioxidants play a vital role in our overall well-being and neutralize harmful free radicals in our bodies. As a supplement company, we'll share our years of research on what antioxidants can do for you and the top three super antioxidant supplements.


Super Antioxidant Supplements
Super antioxidant supplements are the easiest and fastest way to boost your body's antioxidant levels and support.
We'll share more to understand free radicals, the vast health benefits of antioxidants, and the top three super antioxidant  supplements.


Understanding Free Radicals Risk
Free radicals are are formed naturally during cellular metabolism, but external factors such as alcohol, exercise, and unhealthy diets can increase their production. Most people would be surprised to find out how many factors in their daily life are causing free radical damage and health risk
When free radicals accumulate it turns into oxidative stress. It can cause cellular damage and even contribute to the development of health issues. 
Factors Causing Free Radical Damage (Oxidative Stress):
Strenuous exercise
Drinking alcohol
Diets high in sugar, and processed foods
High altitudes
Airplane cabin conditions
Obesity
Smoking
Pesticides or chemicals
Radiation exposure
Certain medications
The combination of these factors can be very damaging on your body.


What Are Super Antioxidants Good For?
Antioxidants are essential for maintaining optimal health and well-being.
Due to the high amount of processed foods and modern farming, they are less prevalent and potent in our diets. The more need and importance for taking super antioxidants from herbs and supplements to fight off free radical damage and oxidative stress.
Antioxidants Benefits:
Fight oxidative stress
Neutralize free radicals
High altitude support
Exercise recovery
Travel and flight support
Slow aging
Overall wellness
To ensure an adequate supply of antioxidants, incorporating super antioxidant supplements or multi antioxidant supplements into your daily routine can give your body of blend of antioxidant it needs.


Top 3 Super Antioxidant Supplements
In today's fast-paced world with many oxidative stresses, it's important fortify your body with super antioxidants to support your well-being and vitality.
As a pioneer in the recovery supplement industry knowing the importance of antioxidants, we'll reveal the top super antioxidant supplements.
Here's The Top 3 Super Antioxidant Supplements:
1. Zaca Chewables
Zaca Chewables are a the most convenient and delicious way to take super antioxidants in your daily routine or on-the-go. These chewable tablets are packed with a powerful blend of antioxidants in a berry-flavored chewable to strengthen your body.


With the multi-use aspect of these chewables, customer use them for everything from exercising and drinking to traveling and high altitude exposure.


Loaded with Japanese Raisin, a superior herb used in Asia for hundreds of years with high levels of antioxidants.
Featuring glutathione (Setria) which is known as the body's master antioxidant and recycles others including Vitamin C and Vitamin E.
Formulated with Prickly Pear that's popularly known as a strong antioxidant super food.
Naturally occurring flavonoids from using real herbs and not synthetic vitamins.
Quick and effective results from a chewable delivery.
1,100 mg potent blend in every serving.
Instructions: Take 2-4 chewables per day or as needed.


2. NOW Super Antioxidants
NOW Super Antioxidants is a comprehensive formula that combines a wide range of antioxidants to provide maximum protection and overall support.


NOW supplements have been owned and operated since 1968.


Contains a potent blend of twelve antioxidants.
Made with herbs including milk thistle, turmeric, and green tea extract.
Phytoflavonoid formula focused.
Vegan friendly capsules.
770 mg in each serving.
Instructions: Take 2 capsules one to two times per day with food.


3. Simple Organics Resveratrol
Simple Organics Resveratrol is a multi antioxidant supplement derived from natural sources of resveratrol, known for its exceptional health benefits.

Resveratrol is a powerful antioxidant found in red wine, grapes, and certain plants.


Concentrated dose of resveratrol.
Formulated with multi antioxidant plants including grapeseed, acai fruit, quercetin, and red wine.
Resveratrol is shown to have - It is a powerful Antioxidant that has been known to protect adults from many age-related diseases. It prevents cell damage caused by free radicals which studies have linked to be the cause of aging and health issues.
 1600 mg in each serving.
Instructions: Take 2 capsules daily, or as directed by a healthcare practitioner.


In summary, these three super antioxidant supplements are the best to fortify your body with multi antioxidants and fight oxidative stress — including Zaca Chewables, NOW Super Antioxidants, and Simple Organics Resveratrol.


What Are The Two Most Powerful Antioxidants?
This can be very objective because there's so many powerful antioxidants, however, in our research Japanese Raisin and Glutathione are two very powerful antioxidants among them all.
Many of the superfoods in the world are often high in antioxidants.
The most powerful antioxidants include:
Glutathione
Japanese Raisin (Hovenia Dulcis)
Milk Thistle
Acai Berry
Red Wine
Grapeseed
Turmeric
In our research, we find the two most powerful antioxidants to be Japanese Raisin and Glutathione based on science-backed data.
Two Most Powerful Antioxidants:
1. Glutathione
Glutathione has been coined the "body's master antioxidant" due to its strength and potency.⁸ Glutathione even recharges other powerful antioxidants like vitamin C, making them more effective and why glutathione is also referred to as the mother of antioxidants.


2. Japanese Raisin 
Japanese Raisin, also known as
Hovenia Dulcis
or
DHM
, has been used for centuries in Asia and in Traditional Chinese Medicine showing very high antioxidant properties. The University in Japan found Japanese Raisin to be even more potent than milk thistle.⁷
In summary, these two herbs either alone or in combination have very powerful antioxidant properties — Glutathione and Japanese Raisin.


Our Secret Weapon Super Antioxidant Supplement

Introducing Zaca, a chewable packed with an arsenal of potent antioxidants, this supplement is your ultimate shield against the stresses of modern life. Boosted by some of nature's most powerful antioxidants, including glutathione and japanese raisin. Made in on-the-go packets to conveniently take anywhere, you can replenish and rejuvenate fast. Simply eat 2-4 chewables per day, or as you need. Try Zaca chewable antioxidant supplement today and feel your best.
SOURCES:
1. How does oxidative stress affect the body?
https://www.medicalnewstoday.com/articles/324863
2. Oxidative stress: role of physical exercise and antioxidant nutraceuticals in adulthood and aging
https://www.ncbi.nlm.nih.gov/pmc/articles/PMC5908316/
3. Alcohol, Oxidative Stress, and Free Radical Damage
https://pubs.niaaa.nih.gov/publications/arh27-4/277-284.htm
4. NOW Supplements, Super Antioxidants with Herbal Extracts and a Broad Spectrum of Flavonoids, 120 Veg Capsules
https://www.amazon.com/NOW-Super-Antioxidants-120-Capsules/dp/B0013OXK8Q/
5. Resveratrol Organic Potent Antioxidants, Pure Extra Strength Complex, Anti-Aging, Radiant Skin, Immunity Support- 90 Capsules - 45 Day Supply
https://www.amazon.com/Resveratrol-Serving-Organic-Strength-Trans-Resveratrol/dp/B07N95VS9T/
6. Buy Super Antioxidant Supplements On Amazon
https://www.amazon.com/s?k=super+antioxidants+supplements
7. Hepatoprotective effect of Hovenia dulcis THUNB. on experimental liver injuries (full in PDF)
https://pubmed.ncbi.nlm.nih.gov/9145214/
8. Glutathione: The "Master" Antioxidant
https://coremedscience.com/blogs/wellness/glutathione-the-master-antioxidant
9. Glutathione: "Mother of All Antioxidants" From Anti-Aging to Hacking Hangovers
https://hormonetherapyntx.com/2019/05/22/glutathione-the-mother-of-all-antioxidants/