5 Steps To Avoid Brian Head Altitude Sickness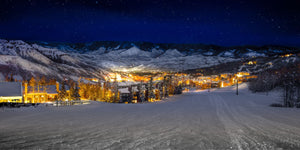 Table of Contents
Brian Head is a Utah skiing destination with very high altitudes. With our years of high elevation experience, we'll share with you everything you need to know about Brian Head altitude sickness and the top ways to avoid it.


Brian Head Altitude
Brian Head altitude sits at 9,800 feet above sea level.¹ This is specifically the city of Brian Head, which is considered the highest town in Utah.¹
Brian Head altitude - 9,800 ft (3,000 m)
Brian Head Ski Resort altitude sits at a base elevation of 9,600 feet high. It rises to a peak elevation of 11,307 feet.² It's comprised of two different mountains, including Brian Head Peak and Navajo Peak.
Brian Head Ski Resort altitude - 9,600 ft (2926 m) to 11,307 ft (3446 m)
Brian Head Peak altitude - 11,307 ft (3446 m)
Navajo Peak altitude - 10,300 ft (3139 m)
Cedar Breaks altitude - 10,000 ft (3,000 m) 
Brian Head Resort is known for having The Greatest Snow on Earth®. With an average snowfall of 360 inches and the dried snow in North America, Brian Head attracts nearly half a million visitors a year.
In the winter Brian head is a destination for skiing and snow boarding, and is only about 3 hours from Las Vegas and 4 hours from Salt Lake City. And also a popular summer destination for hiking, biking and other outdoor activities — and a short drive from Cedar Breaks National Monument and an hour drive from the famous Bryce Canyon National Park.
With altitudes this high in Brian Head Utah, altitude sickness is definitely a concern for visitors.


Is Altitude Sickness Common In Utah?
While not all areas of Utah have a high risk, altitude sickness is common in Utah at places such as Brian Head.
Utah's mean elevation is 6,1000 feet, and is considered the third highest state, which is why Utah altitude sickness can be so common.
According to the University Of Michigan, altitude sickness starts at 6,000 feet high, and worsens the higher you go.⁶ At 9,800 feet, the risk of altitude sickness at Brian Head goes up dramatically.


Brian Head Altitude Sickness
Brian Head altitude sickness is the most common issue for people who visit.
Altitude sickness, known as acute mountain sickness (AMS), is caused by a drop in oxygen levels in higher altitudes. This causes physiological stress in the body and can lead to symptoms such as headache and fatigue.
The elevation of Brian Head is 9,800 feet above sea level, which is significantly higher than Denver's 5,280 feet, which means altitude sickness symptoms can be much worse.
The first signs of Brian Head altitude sickness may include:
fatigue
headache
difficulty sleeping
nausea or vomiting
loss of appetite
dizziness or lightheadedness
shortness of breath
Symptoms usually develop within 24 hours of arrival. To prevent altitude sickness in Utah or Brian Head, you should properly prepare, and we cover those steps and tips below.


5 Steps To Avoid Brian Head Altitude Sickness
If you don't plan ahead, it's easy to experience altitude sickness in Brian Head Utah.
By taking a few steps before and during your trip, you can avoid the unpleasant symptoms of altitude sickness and enjoy the best of what this unique mountain town has to offer.
Being based in Colorado, we have years of experience with altitude sickness and we'll share our top tips.
Here's Five Steps To Avoid Brian Head Altitude Sickness:
1. Acclimate Slowly
One of the best ways to avoid altitude sickness is by acclimating yourself gradually, which allows your body to adjust naturally over time.


For example, if you're planning on going skiing at Brian Head, start off by spending a day or two in Salt Lake City at 4,226 feet or even closer in Cedar City at 5,846 feet — then drive up to Brian Head at 9,800 feet.


By increasing your elevation slowly over several days, your body has time to adjust and helps reduce the risk of altitude sickness.


2. Maximize Your Hydration
Drink plenty of water because dehydration can lead to symptoms similar to altitude sickness like nausea and headaches. With Brian Head's extremely dry climate and increased respiration at higher altitudes, your loss of fluids increases.


Staying hydrated has been shown to improve your body's capability to oxygenate, which is even more important at high altitudes.⁷


Experts recommend drinking at least half you body weight in ounces of water each day. If hiking or skiing at Brian Head, you should drink more.


TIP:
To maximize hydration, add sea salt to your food and drink, and take Zaca
hydration tablets
to enhance water absorption.
3. Get Adequate Rest & Sleep
Take it easy on your first few days, and get adequate rest and sleep. This is important for any traveler but especially if you are going up in elevation at Brian Head!


Going hiking or skiing can take a toll on your body, make you tire out quickly, and slow down your recovery time. If you don't get enough rest and sleep, your chances of altitude sickness can go up, and take sufficient breaks while doing activities.


In fact, sleep was shown to increase blood flow and help the cells get oxygen by OrthoCarolina. As an essential part of recovering, make sleep a priority.⁸ It's commonly recommended to get 7-9 hours of sleep.


Between adequate rest and sleep, and taking it easy the first few days, you can make your trip much easier.


4. Limit Alcohol Consumption
Alcohol increases dehydration, and can make you urinate more frequently than usual being a diuretic.


The combination of alcohol and altitude sickness are not good, with headaches and fatigue both being common symptoms, and dehydration playing a role in both.


In addition, alcohol is also found to lower oxygen saturation in the blood and worsen sleep, in which both of these factors are critical for altitude adjustment.


It's best to limit alcohol consumption for a day or two until you're adjusted and free of any altitude sickness symptoms in Brian Head.


5. Supplement Glutathione
Glutathione, the body's most powerful and master antioxidant, naturally helps fight free radicals at high altitudes.


It's been shown that high altitudes causes oxidative stress and lowers glutathione in the body.


A study in India found high altitude conditions to lower glutathione in the body by up to 45%.¹⁰
If you're going to be at high altitudes in Brian Head, take a supplement containing glutathione to replenish your levels.


In conclusion, these researched steps and tips can help you avoid Brian Head altitude sickness — which includes acclimating slowly, maximizing your hydration, getting adequate rest and sleep, limiting alcohol consumption, and supplementing glutathione.


Top Recommended Altitude Supplement

Zaca is the first of its kind supplement for rehydrating, replenishing, and recovering. Made as chewables that you can take on-the-go — these contain natural, bioavailable herbs and nutrients so you can feel your best during mountain travel. Formulated with glutathione and other antioxidants, you can boost your body's ability to fight off oxidative stress. Simply take 2-4 chewables each day while traveling or as needed. Try Zaca's chewable supplement today and fuel your altitude trips.
SOURCES:


1. Brian Head Altitude 
https://en.wikipedia.org/wiki/Brian_Head,_Utah
2. Brian Head Ski Resort Altitude
https://en.wikipedia.org/wiki/Brian_Head_Ski_Resort
3. USDA - Brian Head Ski Resort 
https://www.fs.usda.gov/recarea/dixie/recarea/?recid=71963
4. Brian Head Resort
https://www.brianhead.com/the-resort/mountain-info/
5. Visit Brian Head
https://www.visitbrianhead.org/
6. Altitude Sickness University Of Michigan Health Service
https://uhs.umich.edu/travel-altitude-sickness
7. Tips to Boost Your Oxygen Saturation Level at Home
https://www.icicilombard.com/blogs/health-insurance/hi/5-tips-to-boost-your-oxygen-saturation-level-at-home
8. Sleep: The Secret Ingredient of Injury Recovery
https://www.orthocarolina.com/media/sleep-the-secret-ingredient-of-injury-recovery
9. Effects of Alcohol
https://www.ahajournals.org/doi/full/10.1161/01.HYP.29.6.1278#
10. Effect of high altitude (7,620 m) exposure on glutathione

https://pubmed.ncbi.nlm.nih.gov/11320641/