Snowbird Altitude Sickness Guide & 5 Tips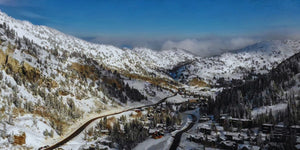 Snowbird, Utah, is a popular ski resort with high altitude that put visitors at risk of altitude sickness. In this guide, we'll review everything you need to know about Snowbird altitude sickness and our top five tips to avoid altitude sickness.


Snowbird Altitude 
Snowbird altitude sits at a base of 7,760 feet above sea level. The summit climbs to heights to 11,000 feet.
Snowbird altitude - 7,760 ft (2,365 m)
Snowbird Ski Resort is located in Little Cottonwood Canyon in the Wasatch Range of the Rocky Mountains in Utah. It's a popular ski destination known for its abundant snowfall and challenging terrain. The resort covers 2,500 acres and has a vertical drop of 3,240 feet. It offers a variety of activities both winter and summer for skiers, snowboarders, snowshoeing, cross-country skiing, snowmobiling, mountain biking, and hiking.
Snowbird ski resort has a variety of altitudes depending on where you are or if you're skiing:
Snowbird lowest chairlift altitude - 7,760 ft (2,365 m)
Snowbird main base altitude - 8,100 feet (2,469 m)
Snowbird summit altitude - 11,000 ft (3,353 m)
Snowbird Ski Resort is located only around 30 miles from Salt Lake City and the Salt Lake City International Airport, making it easily accessible for visitors from around the world.
Salt Lake City altitude - 4,265 ft (1,300 m)
With these high altitudes of Snowbird ski resort, you'll want to be well prepared.


Snowbird Altitude vs Utah Ski Resorts
Salt Lake City is a popular destination for skiing and snowboarding, thanks to its proximity to several world-class ski resorts. Although Snowbird is ranked the second best resort in North America at 8,100 feet above sea level, there many other world-class resorts nearby. 
Here are the top ski resorts near Snowbird in Utah and their altitudes accordingly:
Alta Ski Area - Alta Ski Area is located just 25 miles southeast of Salt Lake City and 5 miles from Snowbird, and offers some of the best powder skiing in the world. Alta resort has a base elevation of 8,530 feet.
Brighton Resort - Brighton Resort is located in Big Cottonwood Canyon, just 35 miles southeast of Salt Lake City. Brighton resort has a base elevation of 8,755 feet.
Solitude Mountain Resort - Solitude Mountain Resort is located in Big Cottonwood Canyon, just a few miles from Brighton Resort. Solitude Mountain resort has a base elevation of 7,988 feet.
Park City Mountain Resort - Park City Mountain Resort is located about 30 miles east of Salt Lake City and is the largest ski resort in the United States by size. The Park City resort has a base elevation of 6,900 feet.
Deer Valley Resort - Deer Valley Resort is located in Park City, and just a short drive from Salt Lake City, is known for its luxury amenities and well-groomed ski runs. Deer Valley has a base elevation of 6,570 feet.
Sundance Mountain Resort - Sundance Mountain Resort is located in Provo Canyon, about an hour south of Salt Lake City. Sundance has a base elevation of 6,100 feet.
Powder Mountain - Powder Mountain is located about an hour north of Salt Lake City and offers over 8,000 skiable acres, making it one of the largest ski resorts along with Park City. Powder Mountain has a base elevation of 6,900 feet.
Snowbasin Resort - Snowbasin Resort is located about an hour north of Salt Lake City. The resort has a base elevation of 6,391 feet.
These are just the many popular ski resorts near Snowbird and Salt Lake City that offer a wide range of skiing and snowboarding experiences. Overall, Snowbird comes in as the third highest ski resort when looking at the base elevation.


Can You Get Altitude Sickness In Snowbird Utah?
Yes, you can get altitude sickness in Snowbird.
Snowbird Ski Resort elevation is 8,100 feet on average at its base. Although people report altitude sickness in elevations as low as Salt Lake City (4,265 ft), elevations above 8,000 feet have significantly higher risk.
In fact at over 10000 feet in which Snowbird's summit exceeds (11,000 ft), altitude sickness can be shown in as much as 50% of people.⁹


Snowbird Altitude Sickness
Snowbird altitude sickness, or acute mountain sickness, is caused by lower oxygen conditions. The oxygen levels in Snowbird are only around 15%.⁹
This can cause oxidative and physiological stress on the body and lead to symptoms such as headaches, fatigue and even insomnia.
Symptoms of Snowbird altitude sickness may include:
headache
nausea or vomiting
dizziness or confusion
loss of appetite
fatigue or weakness
trouble breathing or increased respiration
difficulty sleeping or insomnia
feeling ill
Keep an eye out for these type of symptoms when you arrive at Snowbird, which usually develop within 6-24 hours. Read further to learn about our best tips to avoid altitude sickness on your Snowbird trip.


5 Tips To Avoid Snowbird Altitude Sickness
If you're planning a trip to Snowbird Ski Resort or Utah's many other high-altitude ski destinations, it's crucial to be prepared for the risk of altitude sickness so it doesn't put a damper on your vacation.
As a company based in Colorado, loaded with high altitude ski resorts like Utah, we'll share with you our best tips based on over a decade of experience.
Here's Our Top 5 Tips To Avoid Snowbird Altitude Sickness:
1. Acclimate Slowly
Acclimating slowly is one the best ways to naturally prevent altitude sickness. If coming from sea level to visit Snowbird, it's a big jump in elevation that could shock your body.


When you first fly into Salt Lake City, spend at least a night or two before proceeding to Snowbird.
At 4,265 feet in elevation, Salt Lake City
will give your body the ability to gradually adjust to the higher altitudes.
2. Stay Hydrated
According to the Wilderness Medical Society, you can lose fluids in your body twice as fast in high altitude conditions.¹⁰ These conditions at Snowbird can easily lead to dehydration.


Staying hydrated by drinking at least half your body weight in water each day, and more if skiing or doing high amounts of activity.
3. Limit Alcohol
Alcohol can be very harmful to you body and may worsen altitude sickness. It can be dehydrating, decrease oxygen saturation, and lower sleep quality.¹¹


It's best to avoid or limit alcohol until you feel clear of any symptoms or negative effects of Snowbird's high altitude.


4. Prioritize Sleep
Sleep is vital to recovery and is shown to even increase oxygen and blood flow in the body. You'll need to prioritize sleep to help your body adjust.¹²


Experts say to get at least 7-9 hours of sleep a night. Getting plenty of natural sunlight during the day is also shown stimulate melatonin production which is correlated to good sleep.


5. Take Glutathione
Oxidative stress is known to cause free radical damage from high altitude conditions.¹³ In India it was shown that high altitudes can even deplete glutathione, the body's master antioxidant, by up to 45%.¹⁵


Therefore, antioxidants are a great high-altitude solution due to its ability to combat oxidative stress.¹⁴
Supplement
antioxidants, or even better glutathione, to naturally fortify and support the body's antioxidants and natural glutathione.
In summary, follow these top five tips to avoid Snowbird altitude sickness and maximize your experience — including acclimating slowly, staying hydrated, limiting alcohol, prioritizing sleep, and taking glutathione.


Top-Rated Altitude & Travel Chewable

Introducing Zaca - the ultimate travel companion! Whether you're climbing mountains or flying high, this chewable allows you to feel refreshed and ready to explore. Made with a unique blend of natural herbs and antioxidants including glutathione, the formula is designed to replenish your body with essential nutrients, support hydration, and help recovery. Plus, the chewables are in portable packets o they're compact and easy to carry, making them the perfect travel companion. Simply take 2-4 chewables each travel day or as you prefer. Don't let travel slow you down, try Zaca's chewable supplement today.
SOURCES:
1. Snowbird Elevation
https://en.wikipedia.org/wiki/Snowbird,_Utah
2. Salt Lake City Utah Elevation
https://en.wikipedia.org/wiki/Salt_Lake_City
3. Brighton Ski Resort Elevation
https://en.wikipedia.org/wiki/Brighton_Ski_Resort
4. Solitude Mountain Resort Elevation
https://en.wikipedia.org/wiki/Solitude_Mountain_Resort
5. Sundance Resort Elevation
https://en.wikipedia.org/wiki/Sundance_Resort
6. Powder Mountain Elevation
https://en.wikipedia.org/wiki/Powder_Mountain
7. Snowbasin Elevation
https://en.wikipedia.org/wiki/Snowbasin
8. High-altitude illness (including mountain sickness)
https://www.uptodate.com/contents/high-altitude-illness-including-mountain-sickness-beyond-the-basics
9. Oxygen Levels at Altitude
https://wildsafe.org/resources/ask-the-experts/altitude-safety-101/oxygen-levels/
10. Why Do You Need to Drink a Lot of Water at a High Altitude?
https://www.livestrong.com/article/360485-how-to-train-for-high-altitude-hiking
11. Effects of Alcohol
https://www.ahajournals.org/doi/full/10.1161/01.HYP.29.6.1278#
12. Sleep: The Secret Ingredient of Injury Recovery
https://www.orthocarolina.com/media/sleep-the-secret-ingredient-of-injury-recovery
13. High altitude and oxidative stress
https://pubmed.ncbi.nlm.nih.gov/17482529/
14. Oxidative Stress and Diseases Associated with High-Altitude Exposure
https://www.ncbi.nlm.nih.gov/pmc/articles/PMC8868315/
15. Effect of high altitude (7,620 m) exposure on glutathione
https://pubmed.ncbi.nlm.nih.gov/11320641/
16. Snowbird - What is Snowbird's elevation?
https://www.snowbird.com/faq/