3 Tips To Avoid Winter Park Altitude Sickness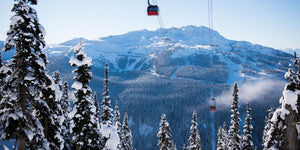 If you're heading to Winter Park to ski or snowboard, you should be aware of the risks involved with altitude sickness before you  travel. Here are the three best tips you can use to help avoid Winter Park altitude sickness.


Winter Park altitude
Winter Park is one of the highest towns in Colorado, just under Leadville, with an elevation of 9,052 feet feet above sea level.
Winter Park altitude - 9,052 ft (2,780 m)
Furthermore, Winter Park Resort's summit sits at 12,060 feet high. This can be particularly troublesome for visitors to Colorado who go from sea level to Winter Park.
Winter Park Ski Resort altitude summit - 12,060 ft (3,676 m)
Winter Park is nearby many other high altitude destinations — which include Fraser, Grand Lake, Hot Sulphur Springs, Berthoud Falls, Kremmling, and Georgetown.
High altitudes destinations near Winter Park:
Fraser altitude - 8,574 ft (2,613 m)
Grand Lake altitude - 8,369 ft (2,551 m)
Hot Sulphur Springs altitude - 7,680 ft (2,341 m)
Berthoud Falls altitude - 9,800 ft (2987 m)
Kremmling altitude 7,313 ft (2,229 m)
Georgetown altitude - 8,530 ft (2,600 m)
With these high elevations of Winter Park, you'll want to be well prepared for altitude sickness.


Winter Park Altitude Sickness
Many people visit Winter Park for the skiing, snowboarding and other outdoor sports and activities. While the Rocky Mountains are beautiful, they can also be dangerous for those who do not take precautions.
This means that there are many people who get sick when they visit Winter Park. Altitude sickness, or acute mountain sickness, can affect anyone who travels to a higher altitude too quickly. It's caused by having less oxygen than your body is used to, also called hypoxia. 
The most common symptoms of altitude sickness include:
Headaches
Fatigue or tiredness
Weakness
Dizziness
Nausea or vomiting
Shortness of breath
Difficulty sleeping or insomnia
Being prepared for Winter Park altitude sickness is essential to making your trip enjoyable.


3 Tips To Avoid Winter Park Altitude Sickness
A little bit of precaution and education can help you prevent altitude sickness in Winter Park so that your vacation doesn't go downhill before it even begins! If you want to know how to avoid altitude sickness, read below our top researched solutions so you can be best prepared.
Here are the three best tips to avoiding Winter Park altitude sickness:


1. Slow Down and Acclimate
When traveling to higher elevations, it's important that you take it slow, get good sleep, and acclimate properly. This will give your body time to adjust to the decreased amount of oxygen available in the air at higher altitudes.


When we travel to higher elevations, our bodies need more time to adjust because our red blood cells are less efficient at carrying oxygen up to our brains and other organs. Exertion can also make symptoms worse, so make sure that you don't overdo it when exercising or participating in strenuous activities at high altitudes such as skiing or hiking up a mountain trail.


Not only take it easy the first day or two, if possible stay in Denver a night if you're visiting Colorado before heading to Winter Park. At an altitude of 5,280 feet, this will help your body start adjusting before the drastic increase in altitude in Winter Park at 9,121 feet.


2. Get Lots Of Hydration
Since dehydration can lead to symptoms like headaches, it's important to stay hydrated while visiting Winter Park. One of the best ways to avoid altitude sickness is to drink plenty of water.


As you ascend to higher altitudes, the atmospheric pressure decreases, which causes water to evaporate more quickly from your body. Dehydration at high altitudes is common.


Drinking plenty of water before and during your trip will help your body acclimate to the lower oxygen levels and dry climate. The average recommendation is an ounce of water per every pound of your body weight per day. We'd recommend drinking more than that, as it's best to drink more than enough water than not enough.


3. Take Altitude Supplements
No matter the supplement you pick, in our research there's two
herbs for altitude adjustment
that have proven research. Here are those two ingredients:
Glutathione - Research shows that Glutathione starts to become depleted at high altitudes.¹ As the body's master antioxidant, supplementing Glutathione can help replenish your lost levels and fight free radical damage in high elevations.
Glutamine - A Brazilian study revealed that Glutamine may reduce high altitude induced inflammation.³ Glutamine was also shown to help enhance mood and cognition in high elevation conditions.³
As the research shows, these two ingredients are great altitude supplements to take so that your body is best equipped to combat altitude sickness.



Zaca chewables are a natural herbal dietary supplement containing a unique blend of herbs amino acids including Glutamine and Glutamine. These fast-acting chewables are optimize to help your body rehydrate, replenish, and recover faster during high altitude journeys. With a delicious berry flavor and natural ingredients, it's a healthy aid for those vacationing or training at altitude. Try Zaca chewable tablets today and be better prepared for your next trip!
SOURCES:
1. Effect of high altitude (7,620 m) exposure on glutathione
https://pubmed.ncbi.nlm.nih.gov/11320641/
2. High Altitude and Free Radicals
https://www.jssm.org/hf.php?id=jssm-03-64.xml
3. The Possible Importance of Glutamine Supplementation to Mood and Cognition in Hypoxia from High Altitude
https://www.ncbi.nlm.nih.gov/pmc/articles/PMC7760805/
4. Winter Park Colorado Elevation
https://en.wikipedia.org/wiki/Winter_Park,_Colorado
5. Fraser Colorado Elevation
https://en.wikipedia.org/wiki/Fraser,_Colorado
6. Grand Lake Colorado Elevation
https://en.wikipedia.org/wiki/Grand_Lake,_Colorado
7. Hot Sulphur Springs Colorado Elevation
https://en.wikipedia.org/wiki/Hot_Sulphur_Springs,_Colorado
8. Berthoud Falls Colorado Elevation
https://en.wikipedia.org/wiki/Berthoud_Falls,_Colorado
9. Kremmling Colorado Elevation
https://en.wikipedia.org/wiki/Kremmling,_Colorado
10. Georgetown Colorado Elevation
https://en.wikipedia.org/wiki/Georgetown,_Colorado
11. Winter Park Resort Elevation
https://en.wikipedia.org/wiki/Winter_Park_Resort