Cheyenne Mountain Altitude Sickness: Complete Guide & 6 Tips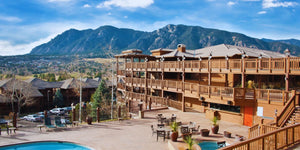 Cheyenne Mountain is a popular destination in Colorado Springs, but also brings the difficulty of altitude sickness. As a local Colorado company, we'll share with you everything you need to know about Cheyenne Mountain altitude and our proven tips to avoid Cheyenne Mountain altitude sickness.


Cheyenne Mountain Altitude
Cheyenne Mountain altitude peaks at 9,570 feet above sea level. Even the base of the mountain in Colorado Springs is 6,035 feet feet high.
Cheyenne Mountain is one of the most famous mountains in Colorado and it's easy to see why. It's a massive mountain that towers over the city of Colorado Springs and gives you a stunning view of the city and the plains below. It's a very popular hiking and sight seeing destination.
Cheyenne Mountain is situated in the Front Range of the Rocky Mountains. At the base of the mountain includes two parks, the Cheyenne Mountain State Park and the North Cheyenne Cañon Park. Part of Cheyenne Mountain is in Pike National Forest, and oOther mountain peaks include Mount Baldy, Cameron's Cone, Mount Arthur, Mount Garfield, and Mount Rosa.
Nearby, Colorado Springs is loaded with other high altitude mountain destination including Pikes Peak (14115 feet in altitude), Manitou Springs Incline (8590 feet in altitude), and Seven Falls (7200 feet in altitude).
With these high altitudes, it's best to be prepared for the risk of altitude sickness.


Cheyenne Mountain Resort Altitude
At the base of Cheyenne Mountain, Cheyenne Mountain Resort sits slightly higher than Colorado Springs at 6,200 feet. Nestled in the foothills of the Rocky Mountains, Cheyenne Mountain Resort is a luxurious retreat that offers stunning views, top-notch amenities, and a peaceful escape from the hustle and bustle of everyday life. They sell our Zaca chewables for visitors dealing with altitude, lag from flying, or overall recovery.
Cheyenne Mountain Resort altitude - 6,200 ft (1890 m)
Also at the mountain base is The Broadmoor, which is at an altitude almost identical to Cheyenne Mountain Resort at 6,230 feet above sea level. The Broadmoor is another luxurious and iconic getaway resort. Zaca chewables are also featured in the hotel's marketplaces.
The Broadmoor altitude - 6,230 ft (1,900 m) 
Can You Get Altitude Sickness At Cheyenne Mountain?
Yes, you can get altitude sickness at Cheyenne Mountain.
Altitude sickness is considered to start at 5000 feet, in which Cheyenne Mountain well exceeds. At the peak of 9,570 ft, Cheyenne Mountain has approximately 6% less oxygen than sea level.⁹
With Cheyenne Mountain close to the elevation of Leadville Colorado, research shows between 40% to 50% of people exceeding 10,000 feet experience altitude sickness.¹⁰


Cheyenne Mountain Altitude Sickness
Cheyenne Mountain altitude sickness is caused by spending time at high altitudes with air that contains less oxygen than it does at sea level.
This means your body has less oxygen available for normal functions — causing physiological and oxidative stress. In addition, Colorado's climate is very dry and high altitudes lead to increased respiration, which may cause dehydration and further complicate your issues.
The symptoms of Cheyenne Mountain altitude sickness may include:
Headaches
Nausea or vomiting
Dizziness or lightheadedness
Shortness of breath, especially while exercising
Fatigue (extreme tiredness)
Insomnia or sleeping issues
Confusion and disorientation
Feeling bad or ill
Symptoms of Cheyenne Mountain altitude sickness usually come on within 6-24 upon high altitude arrival. Keep an eye out for any signs and follow our best tips to help avoid the mountain sickness.


6 Tips To Avoid Cheyenne Mountain Altitude Sickness
If you're planning a trip to Cheyenne Mountain or any of its luxury resorts like The Broadmoor and Cheyenne Mountain Resort, you should be prepared for the altitude sickness that can occur at this lofty altitude.
As a local-based Colorado company, we have years of experience with high altitudes and we'll share with you our top tips to avoid Cheyenne Mountain altitude sickness.
Here's our top 6 tips to avoid Cheyenne Mountain altitude sickness.
1. Acclimate Gradually
When you first arrive at Cheyenne Mountain, it's important to acclimate gradually. The best way to avoid altitude sickness is to gradually increase your body's exposure to higher altitudes over several days instead of suddenly going from sea level to 9,570 feet in one day. The change in oxygen levels will shock your body.


For example, if you're going to stay at one of the Cheyenne Mountain resorts or hotels between 6035 feet and 6230 feet, spend a few nights before you start doing any major hiking or exploring higher in the mountains.


2. Maximize Your Hydration
Many people visiting Colorado are dehydrated and don't even know it due to the dry climate and increase respiration at high elevations. According to the Wilderness Medical Society, you actually lose water twice as fast at high elevations compared to sea level.¹¹


Maximize your hydration by drinking a lot of water before and during your trip. A typical expert recommendation is drinking half your weight in ounces of water per day.


TIP:
To enhance your daily hydration, add sea salt (electrolytes) to your water or food, and take Zaca
hydration chewables
to increase water absorption.
3. Limit Alcohol
If you're planning to wine and dine on your Cheyenne Mountain vacation, this is not a step anyone wants to follow. But unfortunately alcohol can have a negative effect on your sleep, lower blood oxygen saturation, and further dehydrate you being a diuretic.¹²


Limit alcohol for at least the first day or two, until you know you show no signs of altitude sickness. This is help your body's ability to
adjust to altitude
easier.
4. Don't Overexert Yourself
Remember that the higher you go, the harder it can be to breathe and it puts high stress on your body. Take it easy, if you're not used to high altitudes overexerting yourself can make it worse.


Avoid strenuous exercise for a few days after arriving at your destination. Don't push yourself too hard in outdoor activities like hiking or skiing. And rest when you need to and take frequent breaks during your trip.


5. Get Plenty Of Sleep
While sleep can be harder at higher altitudes like Cheyenne Mountain, it's vital for your adjustment. Sleep can improve recovery, increase blood flow and oxygen, and help cellular repair.¹³


To help improve your sleep, get plenty of natural sunlight during the day which assists melatonin production and your sleeping cycles. 7-9 hours of sleep is optimal and important for rejuvenation at these high elevations.


6. Supplement Antioxidants
Oxidative damage to the body is shown to be caused by high elevations.¹⁴ In research, antioxidants are proven to be a solution to fight the oxidative stress.¹⁵


In one study alone out of India, the high altitude conditions was discovered to deplete glutathione by up to 45% from the body.¹⁶ Considering glutathione is the body's master antioxidant, supplementing glutathione or an antioxidant supplement can help your body fight the free radical damage.


In conclusion, follow these proven tips to help avoid Cheyenne Mountain altitude sickness  — by acclimating gradually, maximizing your hydration, limiting alcohol, not overexerting yourself, getting plenty of sleep, and supplementing antioxidants.



Top Altitude Supplement

Sold in Cheyenne Mountain Resort and The Broadmoor, Zaca is a chewable supplement to help you replenish and recover faster. Formulated with powerful antioxidants including glutathione, you can fuel your body to hydrate + revive. Founded in Colorado, these chewables are used by travelers, skiers, climbers, athletes, and locals alike. Conveniently made in a to-go packet, simply take 2-4 chewables per day or as needed. Try Zaca chewable supplement today and power your mountain adventure.
SOURCES:

1. Cheyenne Mountain Elevation
https://en.wikipedia.org/wiki/Cheyenne_Mountain
2. Colorado Springs Colorado Elevation
https://en.wikipedia.org/wiki/Colorado_Springs,_Colorado
3. Pikes Peak Elevation
https://en.wikipedia.org/wiki/Pikes_Peak
4. Manitou Incline Elevation
https://en.wikipedia.org/wiki/Manitou_Incline
5. Seven Falls Elevation
https://en.wikipedia.org/wiki/Seven_Falls
6. Cheyenne Mountain Resort Elevation
https://www.athletesinsight.com/cheyenne-mountain-resort-colorado-springs-full-review/
7. The Broadmoor Elevation
https://en.wikipedia.org/wiki/The_Broadmoor
8. High-altitude illness (including mountain sickness)
https://www.uptodate.com/contents/high-altitude-illness-including-mountain-sickness-beyond-the-basics
9. Oxygen Levels at Altitude
https://wildsafe.org/resources/ask-the-experts/altitude-safety-101/oxygen-levels/
10. Patient education: High-altitude illness (including mountain sickness)
https://www.uptodate.com/contents/high-altitude-illness-including-mountain-sickness-beyond-the-basics/print#
11. Why Do You Need to Drink a Lot of Water at a High Altitude?
https://www.livestrong.com/article/360485-how-to-train-for-high-altitude-hiking
12. Effects of Alcohol
https://www.ahajournals.org/doi/full/10.1161/01.HYP.29.6.1278#
13. Sleep: The Secret Ingredient of Injury Recovery
https://www.orthocarolina.com/media/sleep-the-secret-ingredient-of-injury-recovery
14. High altitude and oxidative stress
https://pubmed.ncbi.nlm.nih.gov/17482529/
15. Oxidative Stress and Diseases Associated with High-Altitude Exposure
https://www.ncbi.nlm.nih.gov/pmc/articles/PMC8868315/
16. Effect of high altitude (7,620 m) exposure on glutathione
https://pubmed.ncbi.nlm.nih.gov/11320641/