3 DIY Bachelorette Hangover Kit Ideas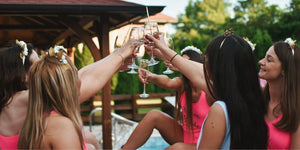 Are you a bride to be? Are you the maid of honor? Or are you helping to host a bachelorette party? Then you've come to the right place! Hangovers can ruin the bachelorette weekend, but with these three DIY hangover kits the bachelorette crew is guaranteed to feel better each morning.
You're going to need a lot of useful items for your bachelorette party, but you want them to be fun and something your guests will enjoy the next morning. These three DIY hangover kit bachelorette ideas will help you put together something easy to help make the bachelorette party a success!


3 Ideas For DIY Bachelorette Hangover Kit
If you're looking for something fun at your next bachelorette party, we've got three DIY hangover kit bachelorette party ideas that are sure to help your crew!


1. Cactus DIY Hangover Kit Bachelorette
We love this cactus diy hangover kit bachelorette favor bag because it's clever, fun and oh-so-cute! Not only will the guests love these adorable kits, but they will also be able to use them at the end of the night once the party is over. 
These DIY hangover kit bags come in multiple size and colors, to make sure you fit all the hangover essentials you need! A few hangover kit item ideas:
For more ideas, visit our 28 things you'll need in a bachelorette survival kit or 3 must-haves for what to put in a hangover kit.
Suggestion: For superior hydration, replenishment and recovery, add our recovery chewables into your dyi kits.

2. Hangover DIY Recovery Kit Bachelorette
Planning is stressful enough as it is, so why not make your life easier with this DIY bachelorette hangover kit? The zip bag will catch anyones attention, and with enough room to make it easy to fit anything!

These hangover recovery kits are optional to come in different sayings, and as a bonus you can even order them pre-filled with some essentials. Those items can include:
advil packet

makeup remover
bandaid
chapstick
tic tacs
For more DYI bachelorette hangover kit ideas, read our 15 essentials for a bachelorette oh shit kit.
Suggestion: Individually packaged, Zaca's hydration chewables are a great addition to these bachelorette kits.


3. Chic DIY Bachelorette Survival Kit

Save your tribe from the horrors of big night out with these chic DIY bachelorette party survival kits, designed to help you get back to your awesome self after a night of too many cocktails!
These bachelorette survival kits come in a gold designed muslin bag, and include our hydration + liver aid chewables to help your bachelorette party feel better faster.


Final Thoughts On DIY Bachelorette Hangover Kit
In conclusion, whether you're the creative maid of honor throwing a bachelorette party, or a guest attending one, these hangover kits are a fun way to contribute your own custom touch to the festivities and show the bride-to-be that you care.
Cactus DYI Hangover Kit Bachelorette
Hangover DYI Recovery Kit Bachelorette
Chic DYI Bachelorette Survival Kit
These kits are sure to be a hit at any bachelorette party, along with items to have the bachelorettes thanking you in the morning!
Want to add hydration packets to your DIY Bachelorette Hangover Kit? Include our recovery chewables that everyone will love.